Research article | 21 Oct 2019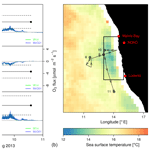 1

Biogeochemical Systems Department, Max Planck Institute for Biogeochemistry, Jena, Germany

2

GEOMAR Helmholtz Centre for Ocean Research, Kiel, Germany

3

Institute for Atmospheric and Earth System Research (INAR)/Physics, University of Helsinki, Helsinki, Finland

a

now at: Scripps Institution of Oceanography, University of California, San Diego, La Jolla, CA, USA
Correspondence: Eric J. Morgan (ejmorgan@ucsd.edu)
Received: 20 Mar 2019 – Discussion started: 26 Mar 2019 – Revised: 13 Sep 2019 – Accepted: 18 Sep 2019 – Published: 21 Oct 2019
Ground-based atmospheric observations of CO2, δ(O2∕N2), N2O, and CH4 were used to make estimates of the air–sea fluxes of these species from the Lüderitz and Walvis Bay upwelling cells in the northern Benguela region, during upwelling events. Average flux densities (±1σ) were 0.65±0.4 µmol m−2 s−1 for CO2,  µmol m−2 s−1 for O2 (as APO), 0.61±0.5 nmol m−2 s−1 for N2O, and 4.8±6.3 nmol m−2 s−1 for CH4. A comparison of our top-down (i.e., inferred from atmospheric anomalies) flux estimates with shipboard-based measurements showed that the two approaches agreed within ±55 % on average, though the degree of agreement varied by species and was best for CO2. Since the top-down method overestimated the flux density relative to the shipboard-based approach for all species, we also present flux density estimates that have been tuned to best match the shipboard fluxes. During the study, upwelling events were sources of CO2, N2O, and CH4 to the atmosphere. N2O fluxes were fairly low, in accordance with previous work suggesting that the evasion of this gas from the Benguela is smaller than for other eastern boundary upwelling systems (EBUS). Conversely, CH4 release was quite high for the marine environment, a result that supports studies that indicated a large sedimentary source of CH4 in the Walvis Bay area. These results demonstrate the suitability of atmospheric time series for characterizing the temporal variability of upwelling events and their influence on the overall marine greenhouse gas (GHG) emissions from the northern Benguela region.
Coastal margins, particularly those associated with the upwelling of nutrient-rich subsurface waters, are biogeochemically active regions (Levin et al., 2015). The air–sea fluxes of greenhouse gases (GHGs, referring to the long-lived greenhouse gases CO2, N2O, and CH4) from or to such systems can vary markedly, both spatially and temporally (Torres et al., 1999; Naqvi et al., 2010; Evans et al., 2011; Reimer et al., 2013; Capone and Hutchins, 2013). This is because both the occurrence and intensity of coastal upwelling events are variable in nature, as they are forced by surface winds that occur under specific synoptic conditions; even large events happen only on a timescale of days (Blanke et al., 2005; Goubanova et al., 2013; Desbiolles et al., 2014a, b). The sporadic nature of upwelling implies that observations made during short-term campaigns may not capture the full range of flux variability.
Upwelled water is usually colder than the surrounding surface water, which means that the solubility of dissolved gases will decrease with increasing temperature as water masses warm at the surface. A competing influence for CO2 exists in that the supply of inorganic nutrients from an upwelling event can lead to blooms of phytoplankton and a net drawdown of atmospheric CO2. For O2, the ventilation of deeper water masses can drive a net flux into the ocean, or net productivity can create oversaturation of dissolved O2. Hence, coastal upwelling regions can oscillate between being sources and sinks of O2 and CO2 (Torres et al., 1999; Santana-Casiano et al., 2009; González-Dávila et al., 2009; Gregor and Monteiro, 2013; Cao et al., 2014; Evans et al., 2015). Most coastal upwelling systems are also known to be regional hotspots of N2O emissions (Bange et al., 2001; Lueker et al., 2003; Cornejo et al., 2006; Bianchi et al., 2012; Arévalo-Martínez et al., 2015; Babbin et al., 2015). Air–sea fluxes of CH4 are less constrained, but may be a significant term in the marine CH4 budget (Rehder et al., 2002; Sansone et al., 2001).
A well-established method of estimating budgets of air–sea fluxes for GHGs in upwelling regions is to take wind fields and interpolated or representative surface measurements, use them to calculate a flux density, and scale it up over a selected area. The high variability of air–sea exchange means that determining budgets of air–sea fluxes of GHGs is challenging without a high degree of spatial and temporal sampling. We refer to this in the text as the "bottom-up" approach.
Another approach, and one that sidesteps some of these difficulties, is to use a "top-down method", i.e., using atmospheric measurements to infer fluxes from the surface, using simple models (Lueker et al., 2003; Lueker, 2004; Nevison et al., 2004; Thompson et al., 2007; Yamagishi et al., 2008) or more complex inverse methods (e.g., Rödenbeck et al., 2008). A simple top-down approach has been successfully employed to detect air–sea fluxes of CO2, O2, and N2O from the California Current region from a coastal atmospheric monitoring station at Trinidad Head, California (Lueker et al., 2003; Lueker, 2004; Nevison et al., 2004). This work motivated our own efforts to see whether anomalies related to upwelling events could be seen in continuous observations from an atmospheric measurement site located near the upwelling region in the northern Benguela region, which is one of the least sampled EBUS for air–sea fluxes of GHGs (Nevison et al., 2004; Naqvi et al., 2010; Laruelle et al., 2014).
In this study, 2 years of continuous observations from a ground-based atmospheric observatory for greenhouse gases, the Namib Desert Atmospheric Observatory (NDAO), were utilized to create top-down estimates of the air–sea flux densities of CO2, O2, N2O, and CH4 from the Lüderitz and Walvis Bay upwelling cells, during upwelling events. We focus on individual upwelling events as we expect them to be distinguishable from other sources of intraseasonal variability based on their apparent stoichiometry in the atmosphere and because there are relatively few observation-based studies from this region, relative to other EBUS. This area of the coastal shelf, stretching from ca. 22 to 28∘ S, is subject to the strongest surface winds and upwelling fluxes of water in the region, and surface chlorophyll is at a minimum (Lutjeharms and Meeuwis, 1987; Hagen et al., 2001; Demarcq et al., 2007; Veitch et al., 2009; Hutchings et al., 2009). These estimates were then compared with shipboard measurements from a cruise in the two upwelling centers.
4
 Summary and conclusions
We have shown that coastal atmospheric anomalies of CO2, O2, N2O, and CH4 can be related to upwelling events in the Lüderitz and Walvis Bay upwelling cells. Using a simple model, we have estimated the flux density of the four species during upwelling events. These top-down estimates of surface fluxes have been found to be in reasonable agreement with in situ surface flux densities as determined from shipboard measurements, although the top-down method underestimates the flux density before the model was tuned. Our study highlights the usefulness of continuous monitoring in order to achieve a more accurate estimation of the emissions of GHGs from coastal upwelling systems, since the large impact of small temporal and spatial scales of variability is prone to be overlooked by in situ surveys.
The Lüderitz and Walvis Bay upwelling cells have been shown to potentially be an unusually large source of CH4 to the atmosphere for the marine environment. In contrast, the region is a weaker source of N2O compared to other upwelling regions, a fact which has been predicted from modeling studies and noted in observations of dissolved concentrations and air–sea fluxes. This upwelling area also functions as a significant source term in the CO2 budget of the Benguela Current.
We have focused here on upwelling events, because they are distinguishable from other sources of intraseasonal variability in the atmospheric record. A full top-down accounting of the greenhouse gas budget of the Benguela could be accomplished through a Bayesian atmospheric inversion of one or more coastal stations. Based on our results and previous studies (Nevison et al., 2004; Lueker et al., 2003), we suggest establishing a network of high-resolution atmospheric GHG measurements adjacent to major coastal upwelling regions in order to monitor their GHG emissions. Continuous land-based monitoring will help to establish time series of coastal GHG fluxes which are needed to account for the seasonal variability and to detect both short-term and long-term trends of both marine and terrestrial coastal GHG emissions.
Atmospheric data from NDAO are included as part of the supporting information. M99 N2O data are available from the PANGAEA Open Access library (Arévalo-Martínez and Bange, 2019) and CO2 data will be submitted to the Surface Ocean CO2 Atlas (SOCAT, https://www.socat.info/, last access: 16 October 2019).
MH and JVL conceived of the location and motivation for the atmospheric observatory. EJM, JVL, and TS conducted the atmospheric observations in Namibia of all species and on the RV Meteor for CO2, CH4, and δ(O2∕N2). DLAM and TS made the underway measurements of the other dissolved and atmospheric gases on the Meteor. EJM wrote the manuscript, and all the authors made substantial contributions to the text and/or analyses.
The authors declare that they have no conflict of interest.
The authors wish to express their gratitude to the Master, crew, and Chief Scientist (Detlef Quadfasel) of the RV Meteor during leg M99 and to the government of Namibia for permission to work in Namibian territorial waters. This work is a contribution to SOPRAN III (BMBF grant no. FKZ 03F0662). SATRE collaborators Gregor Rehder and Jan Werner (Leibniz Institute for Baltic Sea Research) operated the underway system throughout the cruise. Tim Rixen (Leibniz Center for Tropical Marine Ecology/University of Hamburg) kindly provided the FRS Africana cruise data as well as helpful comments on this paper. We also thank and acknowledge Gillian Maggs-Kölling, Theo Wassenaar, Jessica Sack, Tayler Chicoine, Robert Logan, and the Gobabeb community for their technical support and hospitality. The authors are grateful for the efforts and expertise of Armin Jordan, Willi Brand, Michael Hielscher, Bert Steinberg, Johannes Schwarz, and Jürgen Richter (MPI-BGC) in preparing and analyzing flask samples and gas cylinders. Author Damian L. Arévalo-Martínez was supported by EU FP7 project InGOS (grant agreement no. 284274). Author Eric J. Morgan was a part of the International Max Planck Research School for Global Biogeochemical Cycles when this work was conducted and acknowledges its funding and support. Funding for the research activities presented here was provided by the Max Planck Society.
The article processing charges for this open-access publication were covered by the Max Planck Society.
This paper was edited by S. Wajih A. Naqvi and reviewed by two anonymous referees.
Amante, C. and Eakins, B.: ETOPO1 1 Arc-Minute Global Relief Model: Procedures, Data Sources and Analysis, NOAA Technical Memorandum NESDIS NGDC-24. National Geophysical Data Center, NOAA, https://doi.org/10.7289/V5C8276M, 2009. a
Aoki, N., Ishidoya, S., Matsumoto, N., Watanabe, T., Shimosaka, T., and Murayama, S.: Preparation of primary standard mixtures for atmospheric oxygen measurements with less than 1 µmol mol−1 uncertainty for oxygen molar fractions, Atmos. Meas. Tech., 12, 2631–2646, https://doi.org/10.5194/amt-12-2631-2019, 2019. a
Arévalo-Martínez, D., Kock, A., Steinhoff, T., Brandt, P., Dengler, M., Fischer, T., Körtzinger, A., and Bange, H. W.: Nitrous oxide during the onset of the Atlantic cold tongue, J. Geophys. Res.-Ocean., 122, 171–184, https://doi.org/10.1002/2016JC012238, 2017. a
Arévalo-Martínez, D. L., Beyer, M., Krumbholz, M., Piller, I., Kock, A., Steinhoff, T., Körtzinger, A., and Bange, H. W.: A new method for continuous measurements of oceanic and atmospheric N2O, CO and CO2: performance of off-axis integrated cavity output spectroscopy (OA-ICOS) coupled to non-dispersive infrared detection (NDIR), Ocean Sci., 9, 1071–1087, https://doi.org/10.5194/os-9-1071-2013, 2013. a
Arévalo-Martínez, D. L., Kock, A., Löscher, C. R., Schmitz, R. A., and Bange, H.: Massive nitrous oxide emissions from the tropical South Pacific Ocean, Nat. Geosci., 8, 530–533, 2015. a
Arévalo-Martínez, D. L., Steinhoff, T., Brandt, P., Körtzinger, A., Lamont, T., Rehder, G., and Bange, H. W.: N2O emissions from the northern Benguela upwelling system, Geophys. Res. Lett., 46, 3317–3326, https://doi.org/10.1029/2018GL081648, 2019. a, b, c
Arévalo-Martínez, D. L. and Bange, H. W.: High Resolution Underway Nitrous Oxide Measurements (water) during METEOR cruise M99, PANGAEA, https://doi.org/10.1594/PANGAEA.902507, 2019. 
Babbin, A., Bianchi, D., Jayakumar, A., and Ward, B.: Rapid nitrous oxide cycling in the suboxic ocean, Science, 348, 1127–1130, 2015. a
Bange, H., Ramesh, R., Rapsomanikis, S., and Andreae, M.: Methane in surface waters of the Arabian Sea, Geophys. Res. Lett., 25, 3547–3550, 1998. a
Bange, H., Andreae, M., Lal, S., Law, C., Naqvi, S., Patra, P., Rixen, T., and Upstill-Goddard, R.: Nitrous oxide emissions from the Arabian Sea: A synthesis, Atmos. Chem. Phys., 1, 61–71, https://doi.org/10.5194/acp-1-61-2001, 2001. a, b
Bange, H., Bell, T., Cornejo, M., Freing, A., Uher, G., Upstill-Goddard, R., and Zhang, G.: MEMENTO: a proposal to develop a database of marine nitrous oxide and methane measurements, Environ. Chem., 6, 195–197, https://doi.org/10.1071/EN09033, 2009. a
Bange, H. W., Arévalo-Martínez, D. L., de la Paz, M., Farías, L., Kaiser, J., Kock, A., Law, C. S., Rees, A. P., Rehder, G., Tortell, P. D., Upstill-Goddard, R. C., and Wilson, S. T.: A Harmonized Nitrous Oxide (N2O) Ocean Observation Network for the 21st Century, Front. Mar. Sci., 6, 157, https://doi.org/10.3389/fmars.2019.00157, 2019. a
Bianchi, D., Dunne, J., Sarmiento, J., and Galbraith, E.: Data-based estimates of suboxia, denitrification, and N2O production in the ocean and their sensitivities to dissolved O2, Global Biogeochem. Cy., 26, GB2009, https://doi.org/10.1029/2011GB004209, 2012. a
Blanke, B., Speich, S., Bentamy, A., Roy, C., and Sow, B.: Modeling the structure and variability of the southern Benguela upwelling using QuikSCAT wind forcing, J. Geophys. Res.-Ocean., 110, C07018, https://doi.org/10.1029/2004JC002529, 2005. a
Bopp, L., Le Quéré, C., Heimann, M., Manning, A., and Monfray, P.: Strong CO2 emissions from the Arabian Sea during South-West Monsoon, Global Biogeochem. Cy., 16, 1022, https://doi.org/10.1029/2001GB001445, 2002. a
Brand, W.: O2∕N2 Storage Aspects and Open Split Mass Spectrometric Determination, in: Proceedings of the 12th WMO/IAEA Meeting of Experts on Carbon Dioxide, Other Greenhouse Gases and Related Tracers Measurement Techniques, WMO/TD-No. 1275, edited by: Worthy, D. and Huang, L., WMO, Geneva, Switzerland, 145–150, 2005. a
Brown, I., Torres, R., and Rees, A.: The origin of sub-surface source waters define the sea-air flux of methane in the Mauritanian Upwelling, NW Africa, Dynam. Atmos. Oceans, 67, 39–46, 2014. a
Brüchert, V., Currie, B., Peard, K., Lass, U., Endler, R., Dübecke, A., Julies, E., Leipe, T., and Zitzmann, S.: Biogeochemical and Physical Control on Shelf Anoxia and Water Column Hydrogen Sulphide in the Benguela Coastal Upwelling System Off Namibia, in: Past and Present Water Column Anoxia, edited by: Neretin, L., Springer, the Netherlands, 161–193, 2006. a, b
Brüchert, V., Currie, B., and Peard, K.: Hydrogen sulphide and methane emissions on the central Namibian shelf, Prog. Oceanogr., 83, 169–179, 2009. a, b, c, d, e, f, g
Cao, Z., Dai, M., Evans, W., Gan, J., and Feely, R.: Diagnosing CO2 fluxes in the upwelling system off the Oregon–California coast, Biogeosciences, 11, 6341–6354, https://doi.org/10.5194/bg-11-6341-2014, 2014. a, b
Capone, D. and Hutchins, D.: Microbial biogeochemistry of coastal upwelling regimes in a changing ocean, Nat. Geosci., 6, 711–717, https://doi.org/10.1038/ngeo1916, 2013. a
Carter, B., Feely, R., Williams, N., Dickson, A., Fong, M., and Takeshita, Y.: Updated methods for global locally interpolated estimation of alkalinity, pH, and nitrate, Limnol. Oceanogr.-Method., 16, 119–131, https://doi.org/10.1002/lom3.10232, 2018. a
Cohen, Y. and Gordon, L.: Nitrous Oxide Production in the Ocean, J. Geophys. Res., 84, 347–353, 1979. a, b, c
Cornejo, M., Farías, L., and Paulmier, A.: Temporal variability in N2O water content and its air–sea exchange in an upwelling area off central Chile (36∘ S), Mar. Chem., 101, 85–94, 2006. a
Dee, D., Uppala, S., Simmons, A., Berrisfold, P., Poli, P., Kobayashi, S., Andrea, U., Balmaseda, A., Balsamo, G., Bauer, P., Bechtold, P., Beljaars, A., van de Berg, L., Bidlot, J., Bormann, N., Delsol, C., Dragani, R., Fuentes, M., Geer, A., Haimberger, L., Healy, S., Hersbach, H., Hólm, E., Isaksen, L., Kållberg, P., Köhler, M., Matricardi, M., McNally, A., Monge-Sanz, B., Morcrette, J.-J., Park, B.-K., Peubey, C., de Rosnay, P., Tavolato, C., Thépaut, J.-N., and Vitart, F.: The ERA-Interim reanalysis: configuration and performance of the data assimilation system, Q. J. Roy. Meteor. Soc., 137, 553–597, 1979. a
Demarcq, H., Barlow, R., and Hutchings, L.: Application of a chlorophyll index derived from satellite data to investigate the variability of phytoplankton in the Benguela system, Afr. J. Mar. Sci., 29, 271–282, 2007. a, b
Desbiolles, F., Blanke, B., and Bentamy, A.: Short-term upwelling events at the western African coast related to synoptic atmospheric structures as derived from satellite observations, J. Geophys. Res.-Ocean., 119, 1–23, https://doi.org/10.1002/2013JC009278, 2014a. a
Desbiolles, F., Blanke, B., Bentamy, A., and Grima, N.: Origin of fine-scale wind stress curl structures in the Benguela and Canary upwelling systems, J. Geophys. Res.-Ocean., 119, 7931–7948, https://doi.org/10.1002/2014JC010015, 2014b. a
Dillon, M. B., Lamanna, M. S., Schade, G. W., Goldstein, A. H., and Cohen, R. C.: Chemical evolution of the Sacramento urban plume: Transport and oxidation, J. Geophys. Res., 107, 4045, https://doi.org/10.1029/2001jd000969, 2002. a
Draxler, R. and Hess, G.: Description of the HYSPLIT4 modeling system, Tech. Rep., NOAA Tech. Memo. ERL ARL-224, NOAA Air Resources Laboratory, Silver Spring, MD, USA, 28 pp., 1997. a
Draxler, R. and Hess, G.: An overview of the HYSPLIT4 modelling system for trajectories, dispersion and deposition, Aust. Meteorol. Mag., 47, 295–308, 1998. a
Emeis, K., Eggert, A., Flohr, A., Lahajnar, N., Nausch, G., Neumann, A., Rixen, T., Schmidt, M., Van der Plas, A., and Wasmund, N.: Biogeochemical processes and turnover rates in the Northern Benguela Upwelling System, J. Mar. Syst., 188, 63–80, https://doi.org/10.1016/j.jmarsys.2017.10.001, 2018. a, b, c
Emeis, K.-C., Brüchert, V., Currie, B., Endler, R., Ferdelman, T., Kiessling, A., Leipe, T., Noli-Peard, K., Struck, U., and Vogt, T.: Shallow gas in shelf sediments of the Namibian coastal upwelling ecosystem, Cont. Shelf Res., 24, 627–642, 2004. a, b, c
Evans, W., Hales, B., and Strutton, P.: Seasonal cycle of surface ocean pCO2 on the Oregon shelf, J. Geophys. Res., 116, C05012, https://doi.org/10.1029/2010JC006625, 2011. a
Evans, W., Hales, B., Strutton, P., Shearman, R., and Barth, J.: Failure to bloom: Intense upwelling results in negligible phytoplankton response and prolonged CO2 outgassing over the Oregon shelf, J. Geophys. Res.-Ocean., 120, 1446–1461, https://doi.org/10.1002/2014JC010580, 2015. a
Eyring, H.: Viscosity, Plasticity, and Diffusion as Examples of Absolute Reaction Rates, J. Chem. Phys., 4, 283–291, 1936. a
Ferrell, R. and Himmelblau, D.: Diffusion Coefficients of Nitrogen and Oxygen in Water, J. Chem. Eng. Data, 12, 111–115, 1967. a
Frame, C., Deal, E., Nevison, C., and Casciotti, K.: N2O production in the eastern South Atlantic: Analysis of N2O stable isotopic and concentration data, Global Biogeochem. Cy., 28, 1262–1278, https://doi.org/10.1002/2013GB004790, 2014. a, b, c, d, e, f
Garbe, C., Rutgersson, A., Boutin, J., de Leeuw, G., Delille, B., Fairall, C., Gruber, N., Hare, J., Ho, D., Johnson, M., Nightingale, P., Pettersson, H., Piskozub, J., Sahlée, E., Tsai, W.-T., Ward, B., Woolf, D., and Zappa, C.: Transfer Across the Air–Sea Interface, in: Ocean-Atmosphere Interactions of Gases and Particles, edited by: Liss, P. and Johnson, M., Springer, Heidelberg, Germany, 55–112, 2014. a
García, H. and Gordon, L.: Oxygen solubility in seawater: Better fitting equations, Limnol. Oceanogr., 37, 1307–1312, 1992. a
González-Dávila, M., Santana-Casiano, J., and Ucha, I.: Seasonal variability of fCO2 in the Angola-Benguela region, Prog. Oceanogr., 83, 124–133, 2009. a, b
Goubanova, K., Illig, S., Machu, E., Garçon, V., and Dewitte, B.: SST subseasonal variability in the central Benguela upwelling system as inferred from satellite observations (1999–2009), J. Geophys. Res.-Ocean., 118, 4092–4110, https://doi.org/10.1002/jgrc.20287, 2013. a, b, c, d
Gregor, L. and Monteiro, P.: Is the southern Benguela a significant regional sink of CO2?, S. Afr. J. Sci., 109, 5 pp., https://doi.org/10.1590/sajs.2013/20120094, 2013. a, b
Gruber, N., Gloor, M., Fan, S.-M., and Sarmiento, J.: Air-sea flux of oxygen estimated from bulk data: Implications for the marine and atmospheric oxygen cycles, Global Biogeochem. Cy., 15, 783–803, 2001. a, b
Gutknecht, E., Dadou, I., Le Vu, B., Cambon, G., Sudre, J., Garçon, V., Machu, E., Rixen, T., Kock, A., Flohr, A., Paulmier, A., and Lavik, G.: Coupled physical/biogeochemical modeling including O2-dependent processes in the Eastern Boundary Upwelling Systems: application in the Benguela, Biogeosciences, 10, 3559–3591, https://doi.org/10.5194/bg-10-3559-2013, 2013a. a, b
Gutknecht, E., Dadou, I., Marchesiello, P., Cambon, G., Le Vu, B., Sudre, J., Garçon, V., Machu, E., Rixen, T., Kock, A., Flohr, A., Paulmier, A., and Lavik, G.: Nitrogen transfers off Walvis Bay: a 3-D coupled physical/biogeochemical modeling approach in the Namibian upwelling system, Biogeosciences, 10, 4117–4135, https://doi.org/10.5194/bg-10-4117-2013, 2013b. a, b
Hagen, E., Feistel, R., Agenbag, J., and Ohde, T.: Seasonal and interannual changes in Intense Benguela Upwelling (1982–1999), Oceanol. Acta, 24, 557–568, 2001. a, b
Hardman-Mountford, N., Richardson, A., Agenbag, J., Hagen, E., Nykjaer, L., Shillington, F., and Villacastin, C.: Ocean climate of the South East Atlantic observed from satellite data and wind models, Prog. Oceanogr., 59, 181–221, 2003. a
Hutchings, L., van der Lingen, C., Shannon, L., Crawford, R., Verheye, H., Bartholomae, C., van der Plas, A., Louw, D., Kreiner, A., Ostrowski, M., Fidel, Q., Barlow, R. G., Lamont, T., Coetzee, J., Shillington, F., Veitch, J., Currie, J. C., and Monteiro, P.: The Benguela Current: An ecosystem of four components, Prog. Oceanogr., 83, 15–32, 2009. a, b
Jacob, D.: Introduction to Atmospheric Chemistry, Princeton University Press, Princeton, NJ, 267 pp., 1999. a
Jähne, B., Heinz, G., and Dietrich, W.: Measurement of the Diffusion Coefficients of Sparingly Soluble Gases in Water, J. Geophys. Res., 92, 10767–10776, 1987. a, b, c, d
Justus, C. and Mikhail, A.: Height variation of wind speed and wind distributions statistics, Geophys. Res. Lett., 3, 261–264, 1976. a
Keeling, R. and Shertz, S.: Seasonal and interannual variations in atmospheric oxygen and implications for the global carbon cycle, Nature, 358, 723–727, 1992. a
Kock, A. and Bange, H. W.: Counting the Ocean's Greenhouse Gas Emissions, Eos, 96, 10–13, https://doi.org/10.1029/2015eo023665, 2015. a
Kock, A., Gebhardt, S., and Bange, H. W.: Methane emissions from the upwelling area off Mauritania (NW Africa), Biogeosciences, 5, 1119–1125, https://doi.org/10.5194/bg-5-1119-2008, 2008. a
Laliberté, M.: Model for Calculating the Viscosity of Aqueous Solutions, J. Chem. Eng. Data, 52, 321–335, 2007. a
Landwehr, S., Miller, S. D., Smith, M. J., Saltzman, E. S., and Ward, B.: Analysis of the PKT correction for direct CO2 flux measurements over the ocean, Atmos. Chem. Phys., 14, 3361–3372, https://doi.org/10.5194/acp-14-3361-2014, 2014. a
Laruelle, G., Lauerwald, R., Pfeil, B., and Regnier, P.: Regionalized global budget of the CO2 exchange at the air-water interface in continental shelf seas, Geophys. Res. Lett., 28, 1199–1214, https://doi.org/10.1002/2014GB004832, 2014. a, b
Levin, L., Liu, K., Emeis, K.-C., Breitburg, D., Cloern, J., Deutsch, C., Giani, M., Goffart, A., Hofmann, E., Lachkar, Z., Limburg, K., Liu, S.-M., Montes, E., Naqvi, W., Ragueneau, O., Rabouille, C., Sarkar, S., Swaney, D., Wassman, P., and Wishner, K.: Comparative biogeochemistry-ecosystem-human interactions on dynamic continental margins, J. Mar. Syst., 141, 3–17, https://doi.org/10.1016/j.jmarsys.2014.04.016, 2015. a
Loucaides, S., Tyrrell, T., Achterberg, E., Torres, R., Nightingale, P., Kitidis, V., Serret, P., Woodward, M., and Robinson, C.: Biological and physical forcing of carbonate chemistry in an upwelling filament off northwest Africa: Results from a Lagrangian study, Global Biogeochem. Cy., 26, GB3008, https://doi.org/10.1029/2011GB004216, 2012. a
Lueker, T. J.: Coastal upwelling fluxes of O2, N2O, and CO2 assessed from continuous atmospheric observations at Trinidad, California, Biogeosciences, 1, 101–111, https://doi.org/10.5194/bg-1-101-2004, 2004. a, b
Lueker, T., Walker, S., Vollmer, M., Keeling, R., Nevison, C., and Weiss, R.: Coastal Upwelling air-sea fluxes revealed in atmospheric observations of O2∕N2, CO2 and N2O, Geophys. Res. Lett., 30, 1292, https://doi.org/10.1029/2002GL016615, 2003. a, b, c, d, e, f
Lutjeharms, J. and Meeuwis, J.: The extent and variability of South-East Atlantic upwelling, S. Afr. J. Mar. Sci., 5, 51–62, 1987. a, b
Mackay, D. and Shiu, W.: A Critical Review of Henry's Law Constants for Chemicals of Environmental Interest, J. Phys. Chem. Ref. Data, 10, 1175–1199, 1981. a
Manizza, M., Keeling, R., and Nevsion, C.: On the processes controlling the seasonal cycles of the air–sea fluxes of O2 and N2O: A modelling study, Tellus B, 64, 18429, https://doi.org/10.3402/tellusb.v64i0.18429, 2012. a
Maritorena, S. and Siegel, D.: Consistent merging of satellite ocean color data sets using a bio-optical model, Remote Sens. Environ., 94, 429–440, 2005. a
McGillis, W., Edson, J., Ware, J., Dacey, J., Hare, J., Fairall, C., and Wanninkhof, R.: Carbon dioxide flux techniques performed during GasEx-98, Mar. Chem., 75, 267–280, 2001. a
Millero, F. J. and Huang, F.: The density of seawater as a function of salinity (5 to 70 g kg−1) and temperature (273.15 to 363.15 K), Ocean Sci., 5, 91–100, https://doi.org/10.5194/os-5-91-2009, 2009. a
Millero, F., Graham, T., Huang, F., Bustos-Serrano, H., and Pierrot, D.: Dissociation constants of carbonic acid in seawater as a function of salinity and temperature, Mar. Chem., 100, 80–94, https://doi.org/10.1016/j.marchem.2005.12.001, 2006. a
Monteiro, P.: The Benguela Current System, in: Carbon and Nutrient Fluxes in Continental Margins: A Global Synthesis, edited by: Liu, K., Atkinson, L., Quiniones, R., and Talue-McManus, L., Springer, Berlin, 65–78, 2010. a
Monteiro, P., van der Plas, A., Mohrholz, V., Mabille, E., Pascall, A., and Joubert, W.: Variability of natural hypoxia and methane in a coastal upwelling system: Oceanic physics or shelf biology?, Geophys. Res. Lett., 33, L16614, https://doi.org/10.1029/2006GL026234, 2006. a, b, c
Morgan, E.: Continuous Measurements of Greenhouse Gases and Atmospheric Oxygen in the Namib Desert, Ph.D. thesis, Christian-Albrechts-Universität zu Kiel, 187 pp., 2015. a, b
Morgan, E. J., Lavrič, J. V., Seifert, T., Chicoine, T., Day, A., Gomez, J., Logan, R., Sack, J., Shuuya, T., Uushona, E. G., Vincent, K., Schultz, U., Brunke, E.-G., Labuschagne, C., Thompson, R. L., Schmidt, S., Manning, A. C., and Heimann, M.: Continuous measurements of greenhouse gases and atmospheric oxygen at the Namib Desert Atmospheric Observatory, Atmos. Meas. Tech., 8, 2233–2250, https://doi.org/10.5194/amt-8-2233-2015, 2015. a, b, c
Naqvi, S., Bange, H., Farías, L., Monteiro, P., Scranton, M., and Zhang, J.: Marine hypoxia/anoxia as a source of CH4 and N2O, Biogeosciences, 7, 2159–2190, https://doi.org/10.5194/bg-7-2159-2010, 2010. a, b, c, d, e, f, g
Nevison, C., Butler, J., and Elkins, J.: Global distribution of N2O and the ΔN2O-AOU yield in the subsurface ocean, Global Biogeochem. Cy., 17, 1119, https://doi.org/10.1029/2003GB002068, 2003. a, b, c, d
Nevison, C., Lueker, T., and Weiss, R.: Quantifying the nitrous oxide source from coastal upwelling, Global Biogeochem. Cy., 18, GB1018, https://doi.org/10.1029/2003GB002110, 2004. a, b, c, d, e
Nevison, C., Keeling, R., Weiss, R., Popp, B., Jin, X., Fraser, P., Porter, L., and Hess, P.: Southern Ocean ventilation inferred from seasonal cycles of atmospheric N2O and O2∕N2 at Cape Grim, Tasmania, Tellus B, 57, 218–229, 2005. a
Peard, K.: Seasonal and Interannual Variability of Wind-Driven Upwelling at Lüderitz, Namibia, Master's thesis, University of Cape Town, 108 pp., 2007. a
Pierrot, D., Neill, C., Sullivan, K., Castle, R., Wanninkhof, R., Lüger, H., Johannessen, T., Olsen, A., Feely, R., and Cosca, C.: Recommendations for autonomous underway pCO2 measuring systems and data-reduction routines, Deep-Sea Res. Pt. II, 56, 512–522, https://doi.org/10.1016/j.dsr2.2008.12.005, 2009. a
Price, H., Jaffe, D., Cooper, O., and Doskey, P.: Photochemistry, ozone production, and dilution during long-range transport episodes from Eurasia to the northwest United States, J. Geophys. Res., 109, D23S13, https://doi.org/10.1029/2003JD004400, 2004. a, b
Rehder, G., Collier, R., Heeschen, K., Kosro, P., Barth, J., and Suess, E.: Enhanced marine CH4 emissions to the atmosphere off Oregon caused by coastal upwelling, Global Biogeochem. Cy., 16, 1081, https://doi.org/10.1029/2000GB001391, 2002. a
Reimer, J., Vargas, R., Smith, S., Lara-Lara, R., Gaxiola-Castro, G., Hernández-Ayón, J., Castro, A., Escoto-Rodriguez, M., and Martínez-Osuna, J.: Air–sea CO2 fluxes in the near-shore and intertidal zones influenced by the California Current, J. Geophys. Res.-Ocean., 118, 1–16, 2013. a
Risien, C., Reason, C., Shillington, F., and Chelton, D.: Variability in satellite winds over the Benguela upwelling system during 1999–2000, J. Geophys. Res., 109, C03010, https://doi.org/10.1029/2003JC001880, 2004. a
Rödenbeck, C., Quéré, L., Heimann, M., and Keeling, R.: Interannual variability in oceanic biogeochemical processes inferred by inversion of atmospheric O2∕N2 and CO2 data, Tellus B, 60, 685–705, 2008. a
Roobaert, A., Laruelle, G. G., Landschützer, P., and Regnier, P.: Uncertainty in the global oceanic CO2 uptake induced by wind forcing: quantification and spatial analysis, Biogeosciences, 15, 1701–1720, https://doi.org/10.5194/bg-15-1701-2018, 2018. a
Sansone, F., Popp, B., Gasc, A., Graham, A., and Rust, T.: Highly elevated methane in the eastern tropical North Pacific and associated isotopically enriched fluxes to the atmosphere, Geophys. Res. Lett., 28, 4567–4570, https://doi.org/10.1029/2001GL013460, 2001. a
Santana-Casiano, J., González-Dávila, M., and Ucha, I.: Carbon dioxide fluxes in the Benguela upwelling system during winter and spring: A comparison between 2005 and 2006, Deep-Sea Res. Pt. II, 56, 533–541, 2009. a, b
Scranton, M. and Farrington, J.: Methane Production in the Waters off Walvis Bay, J. Geophys. Res., 82, 4947–4953, 1977. a, b, c
Severinghaus, J.: Studies of the terrestrial O2 and carbon cycles in sand dune gases and in Biosphere 2, Ph.D. thesis, Columbia University, 148 pp., 1995. a
Stephens, B., Keeling, R., Heimann, M., Six, K., Murnane, R., and Caldeira, K.: Testing global ocean carbon cycle models using measurements of atmospheric O2 and CO2 concentration, Global Biogeochem. Cy., 12, 213–230, 1998. a
Suntharalingam, P. and Sarmiento, J.: Factors governing the oceanic nitrous oxide distribution: Simulations with an ocean general circulation model, Global Biogeochem. Cy., 14, 429–454, 2000. a, b
Thompson, R., Manning, A., Lowe, D., and Weatherburn, D.: A ship-based methodology for high precision atmospheric oxygen measurements and its application in the Southern Ocean region, Tellus, 59, 643–653, 2007. a
Torres, R., Turner, D., Silva, N., and Rutllant, J.: High short-term variability of CO2 fluxes during an upwelling event off the Chilean coast at 30∘ S, Deep-Sea Res. Pt. I, 46, 1161–1179, 1999. a, b, c
Trimmer, M., Chronopoulou, P.-M., Maanoja, S., Upstill-Goddard, R., Kitidis, V., and Purdy, K.: Nitrous oxide as a function of oyxgen and archaeal gene abundance in the North Pacific, Nat. Commun., 7, 13451, https://doi.org/10.1038/ncomms13451, 2016.  a
Valentini, R., Arneth, A., Bombelli, A., Castaldi, S., Cazzolla Gatti, R., Chevallier, F., Ciais, P., Grieco, E., Hartmann, J., Henry, M., Houghton, R. A., Jung, M., Kutsch, W. L., Malhi, Y., Mayorga, E., Merbold, L., Murray-Tortarolo, G., Papale, D., Peylin, P., Poulter, B., Raymond, P. A., Santini, M., Sitch, S., Vaglio Laurin, G., van der Werf, G. R., Williams, C. A., and Scholes, R. J.: A full greenhouse gases budget of Africa: synthesis, uncertainties, and vulnerabilities, Biogeosciences, 11, 381–407, https://doi.org/10.5194/bg-11-381-2014, 2014. a
van der Plas, A., Monteiro, P., and Pascall, A.: Cross-shelf biogeochemical characteristics of sediments in the central Benguela and their relationship to overlying water column hypoxia, Afr. J. Mar. Sci.e, 29, 37–47, 2007. a
Veitch, J., Penven, P., and Shillington, F.: The Benguela: A laboratory for comparative modeling studies, Prog. Oceanogr., 83, 296–302, 2009. a, b, c
Walter, S., Bange, H., Breitenbach, U., and Wallace, D.: Nitrous oxide in the North Atlantic Ocean, Biogeosciences, 3, 607–619, https://doi.org/10.5194/bg-3-607-2006, 2006. a
Wanninkhof, R.: Relationship Between Wind Speed and Gas Exchange Over the Ocean, J. Geophys. Res., 92, 7373–7382, 1992. a
Wanninkhof, R.: Relationship between wind speed and gas exchange over the ocean revisited, Limnol. Oceanogr.-Method., 12, 351–362, 2014. a
Weiss, R.: Carbon Dioxide in Water and Seawater: The Solubility of a Non-Ideal Gas, Mar. Chem., 2, 203–215, 1974. a
Weiss, R. and Price, B.: Nitrous Oxide Solubility in Water and Seawater, Mar. Chem., 8, 347–359, 1980. a
Yamagishi, H., Tohjima, Y., Mukai, H., and Sasaoka, K.: Detection of regional scale sea-to-air oxygen emission related to spring bloom near Japan by using in-situ measurements of the atmospheric oxygen/nitrogen ratio, Atmos. Chem. Phys., 8, 3325–3335, https://doi.org/10.5194/acp-8-3325-2008, 2008. a