Articles | Volume 18, issue 9
https://doi.org/10.5194/bg-18-2809-2021
© Author(s) 2021. This work is distributed under
the Creative Commons Attribution 4.0 License.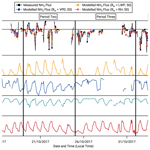 Measurement and modelling of the dynamics of NH3 surface–atmosphere exchange over the Amazonian rainforest
Local and regional modelling of NH3 surface exchange is required to quantify nitrogen deposition to, and emissions from, the biosphere. However, measurements and model parameterisations for many remote ecosystems – such as tropical rainforest – remain sparse. Using 1 month of hourly measurements of NH3 fluxes and meteorological parameters over a remote Amazon rainforest site (Amazon Tall Tower Observatory, ATTO), six model parameterisations based on a bidirectional, single-layer canopy compensation point resistance model were developed to simulate observations of NH3 surface exchange. Canopy resistance was linked to either relative humidity at the canopy level (RH), vapour pressure deficit, or a parameter value based on leaf wetness measurements. The ratio of apoplastic to H+ concentration, Γs, during this campaign was inferred to be 38.5 ± 15.8. The parameterisation that reproduced the observed net exchange of NH3 most accurately was the model that used a cuticular resistance (Rw) parameterisation based on leaf wetness measurements and a value of Γs=50 (Pearson correlation r=0.71). Conversely, the model that performed the worst at replicating measured NH3 fluxes used an Rw value modelled using RH and the inferred value of Γs=38.5 (r=0.45). The results indicate that a single-layer canopy compensation point model is appropriate for simulating NH3 fluxes from tropical rainforest during the Amazonian dry season and confirmed that a direct measurement of (a non-binary) leaf wetness parameter improves the ability to estimate Rw. Current inferential methods for determining Γs were noted as having difficulties in the humid conditions present at a rainforest site.
Received: 11 Jun 2020 – Discussion started: 22 Jul 2020 – Revised: 18 Mar 2021 – Accepted: 26 Mar 2021 – Published: 06 May 2021
The global cycling of nitrogen is of critical importance to Earth's biogeochemistry. One of the major contributors to the global atmospheric reactive nitrogen (Nr) budget is ammonia (NH3), which is primarily generated from anthropogenic sources (Galloway et al., 2003). The emission of NH3 and the subsequent deposition of NH3 or other forms of reactive nitrogen have impacts on terrestrial and marine ecosystems (Erisman et al., 2013). In particular, forests can be impacted through changes to N input in several ways. Fowler et al. (2013) detail how increased deposition of N can lead to increased vegetation growth rates in forests, leading to potentially greater carbon sequestration rates. This potential positive impact, however, is offset by the effect of N saturation on forests as detailed by Nadelhoffer (2008). Here, the combined impact of disturbance to forest soil microbial systems involved in the nitrification–denitrification cycle (Fowler et al., 2009), and damage to vegetation (Krupa, 2003) leads to a sharp decrease in net primary productivity. Even at deposition rates well below the saturation values, atmospheric Nr deposition can lead to changes in plant species composition, with implication not only on biodiversity but also ecosystem services (Fowler et al., 2013). It is therefore important that exchange models be developed for all major biomes to accurately simulate NH3 deposition rates to forests to predict potential environmental consequences.
Ammonia is emitted in small quantities from (semi-)natural sources such as wild fires and the excreta of wild animals, from plants as a result of non-zero concentrations within the leaf apoplast, and from decomposing leaf litter; both plant sources vary with the N status of the plants. Of further importance for nitrogen modelling is therefore the determination of the extent of potential emissions from forest ecosystems and the role such NH3 emission might play in the Nr cycle within natural forests. Forests were once considered to be perfect sinks for ammonia (Duyzer et al., 1992), until bidirectional surface exchange of NH3 – i.e. deposition to and emission from – was recorded in many studies of NH3 fluxes from forests (Langford and Fehsenfeld, 1992; Neirynck and Ceulemans, 2008; Wyers and Erisman, 1998). Predominantly, this has been observed in forests situated close to sources of agriculturally derived Nr pollution, although Hansen et al. (2015) also observed bidirectional fluxes over a more remote forest site.
The modelling of regional and local surface exchange of NH3 is based on parameterisations of the exchange, which remain unverified for many biomes of global importance due to the difficulty and cost of making measurements of NH3 fluxes. Datasets of NH3 flux measurements have mainly been limited to temperate agricultural and semi-natural ecosystems. Consequently, very little is known about the role of NH3 in the N cycling in remote ecosystems such as the tropics and their disturbance through anthropogenic activity. Although Flechard et al. (2015) identified the need for NH3 surface exchange measurements over tropical ecosystems, and over rainforests in particular, such measurements have been limited so far. Here we present recent data from the Amazon Tall Tower Observatory site, situated in remote tropical rainforest, where NH3 fluxes were measured for 1 month during the dry season of 2017 as part of a suite of species (Ramsay et al., 2020). This provides the data necessary to develop site-specific parameterisations of NH3 surface exchange, with the potential for upscaling to the regional level. The companion paper (Ramsay et al., 2020) summarises the measured fluxes, including their statistics and average diurnal cycle, and discusses the uncertainties associated with the measurement.
As extensive reviews of NH3 surface exchange models are available (Flechard et al., 2015; Massad et al., 2010), only a brief overview is provided here. Models of bidirectional NH3 surface exchange consider the control of fluxes to be analogous to electrical resistances (Baldocchi, 1988; Monteith and Unsworth, 2013). Whether emission occurs from the atmosphere to the canopy or vice versa is dependent upon the relative magnitude of ambient and canopy concentrations, with resistances acting in series or in parallel impeding the exchange. In the simplest model of bidirectional surface exchange, all exchange is approximated to occur via the leaf stomata situated at a single notional mean height (big-leaf approach) and is restricted by two atmospheric resistances in series (the aerodynamic resistance and quasi-laminar boundary layer resistance), in series with a third (stomatal) resistance (stomatal compensation point model) (Sutton et al., 1993).
Increasingly complex models include further pathways of exchange (Kruit et al., 2010), with the most important for the current study being the canopy compensation point model, initially proposed by Sutton et al. (1995), which incorporates two parallel pathways of exchange at the canopy level (Fig. 1). In the first pathway, a stomatal compensation point (χs) is introduced, which represents the concentration of NH3 in the leaf stomata in (temperature-dependent) equilibrium with the and pH of the apoplastic fluid. This stomatal compensation point controls the exchange of NH3 to and from the canopy to the leaf stomata, together with the associated stomatal resistance (Rs). In the parallel pathway, a unidirectional deposition flux is modelled from canopy to the leaf cuticle, with a separate cuticular resistance (Rw) controlling deposition. In a modified version of this model (the cuticular capacitance model), the leaf cuticle is considered to be both a sink and source for NH3 (Sutton et al., 1998). Here, the ability of water films on the leaf cuticle surface to act as a storage of previously deposited NH3 is introduced as an analogue of an electrical capacitor, with emission fluxes of NH3 from the cuticle possible with the evaporation of charged water films. Further models include ones which simulate the potential for soil and leaf litter below canopy to act as emission sources of NH3 (Nemitz et al., 2000; Sutton et al., 2009).
Using the static canopy compensation point model of NH3 surface exchange, in combination with new NH3 flux and meteorological data measured at a remote, tropical rainforest site, this study aims to present a series of local model formulations for χs and Rw which adequately simulate the bidirectional fluxes of NH3 observed by Ramsay et al. (2020), with a focus on the most suitable control metric for Rw. A statistical comparison between models is conducted, with the aim to determine which parameterisation – and hence which of the factors controlling the formulation of model parameters – is best able to simulate observed fluxes. Discussion includes how meteorological conditions may have influenced model performance and how subsequent studies of NH3 fluxes over tropical rainforest may be conducted to help improve model performance. We discuss other model frameworks, such as the dynamic CCP model, that could be used to simulate NH3 bidirectional surface exchange in Sect. 4.1, with a focus on the simplicity and performance of the static canopy compensation point (SCCP) model as justification for not pursuing more complex models further.
Observations of the bidirectional surface–atmosphere exchange of NH3 at a tropical rainforest site have been successfully replicated using a static single-layer resistance model. Application of a capacitance model that additionally incorporates the process of cuticular desorption did not lead to improved model results, suggesting that the emission periods were under stomatal control. Models that used a single-layer canopy resistance approach, where the cuticular resistance was governed either by RH, VPD, or a measurement of leaf wetness, were able to replicate the pattern of observed NH3 deposition with frequent periods of afternoon emissions. Of all the models used, the most successful was a cuticular resistance modelling approach based on using leaf wetness measurements and where modelled χc was governed by an apoplast ratio of 50, 1 standard deviation above the mean inferred from the measurements.
The periods when the most frequent emissions of NH3 occurred, and which were most successfully modelled by cuticular resistance models, are typified by conditions that diverge from the overall campaign average, i.e. above-average temperatures and below-average relative humidity. This campaign took place in the dry season, and so comparison with the surface exchange of NH3 during the wet season would be a necessary first step in determining if stomatal exchange is the principal driver of NH3 surface exchange throughout the year. Long-term observations would also be required to determine whether the temperature increases, whether drought conditions and elevated ambient NH3 concentrations that are anticipated from climate change and human development over this region have any impact on NH3 surface exchange, and whether prolonged reactive nitrogen input from biomass burning activities raise compensation points.
One outcome of this study has been to establish the suitability of leaf wetness measurements, converted to a suitable parameter, as a factor for modelling cuticular resistance in NH3 surface exchange modelling. Leaf wetness measurements, albeit from wetness grid sensors, have been used previously in NH3 modelling, but these were first converted to an associated value of RH before being used in RH-based Rw parameterisations. Using leaf contact sensors, this study demonstrates that leaf wetness can be used directly with a Rw parameterisation that here proved to be the most sensitive and accurate in simulating cuticular NH3 exchange.
A Γ value of 50 led to the best modelling of χc values and hence to the best fit with observed values. While within 1 standard deviation from the initially inferred value of 38.5, this did highlight that the method used to infer apoplastic ratio perhaps suffered under the high-humidity conditions present at the rainforest site. An accurate determination of emission potential for this region is required for global-scale modelling, necessitating accurate measurements of the apoplast ratio, i.e. the use of leaf assays to determine Γs. Future studies of NH3 surface exchange above rainforest should therefore seek to incorporate accurate determinations of leaf apoplastic ratio as a necessary part of their methodology.
Some periods of divergence between the models and observed values highlight that other sources of NH3 surface exchange (such as soil or leaf litter exchange) should be incorporated into future investigation, while also emphasising the difficulty in measuring and modelling NH3 surface exchange in remote, challenging conditions. A complete understanding of NH3 surface exchange dynamics at rainforest sites will require a full suite of instruments measurements, incorporating in-canopy measurements of NH3 concentration gradients, trunk space flux measurements, and characterisation of leaf and soil pools.
The data are currently not in an online, accessible repository. However, data can be provided on request from the co-authors.
RR and CFDM took the measurements of NH3. Data were processed by RR, CFDM, EN, MS, and MRH. Meteorological data used in the campaign were taken by MS. Leaf wetness measurements were taken by MS and RR. RR undertook the modelling of NH3 with guidance from EN and aid from CFDM, MS, and MRH. RR wrote the manuscript, with subsequent contributions from all co-authors.
The authors declare that they have no conflict of interest.
Robbie Ramsay acknowledges studentship funding jointly from the Max Planck Institute for Chemistry and the University of Edinburgh School of Chemistry. CDM, EN, and the GRAEGOR instrument were supported through national capability funding from the UK Natural Environmental Research Council (NERC), including through the UK-SCAPE project. We thank the Instituto Nacional de Pesquisas da Amazônia (INPA) and the Max Planck Society for continuous support. We acknowledge the support by the German Federal Ministry of Education and Research and the Brazilian Ministério da Ciência, Tecnologia e Inovação as well as the Amazon State University (UEA), FAPEAM, LBA/INPA, and SDS/CEUC/RDS-Uatumã).
This research has been supported by the UK Natural Environmental Research Council (grant no. NE/R016429/1), the German Federal Ministry of Education and Research (grant nos. 01LB1001A and 01LK1602B), and the Brazilian Ministério da Ciência, Tecnologia e Inovação (grant no. 01.11.01248.00).
This paper was edited by Akihiko Ito and reviewed by two anonymous referees.
Adon, M., Galy-Lacaux, C., Yoboué, V., Delon, C., Lacaux, J. P., Castera, P., Gardrat, E., Pienaar, J., Al Ourabi, H., Laouali, D., Diop, B., Sigha-Nkamdjou, L., Akpo, A., Tathy, J. P., Lavenu, F., and Mougin, E.: Long term measurements of sulfur dioxide, nitrogen dioxide, ammonia, nitric acid and ozone in Africa using passive samplers, Atmos. Chem. Phys., 10, 7467–7487, https://doi.org/10.5194/acp-10-7467-2010, 2010. a
Adon, M., Galy-Lacaux, C., Delon, C., Yoboue, V., Solmon, F., and Kaptue Tchuente, A. T.: Dry deposition of nitrogen compounds (NO2, HNO3, NH3), sulfur dioxide and ozone in west and central African ecosystems using the inferential method, Atmos. Chem. Phys., 13, 11351–11374, https://doi.org/10.5194/acp-13-11351-2013, 2013. a
Andreae, M. O., Acevedo, O. C., Araùjo, A., Artaxo, P., Barbosa, C. G. G., Barbosa, H. M. J., Brito, J., Carbone, S., Chi, X., Cintra, B. B. L., da Silva, N. F., Dias, N. L., Dias-Júnior, C. Q., Ditas, F., Ditz, R., Godoi, A. F. L., Godoi, R. H. M., Heimann, M., Hoffmann, T., Kesselmeier, J., Könemann, T., Krüger, M. L., Lavric, J. V., Manzi, A. O., Lopes, A. P., Martins, D. L., Mikhailov, E. F., Moran-Zuloaga, D., Nelson, B. W., Nölscher, A. C., Santos Nogueira, D., Piedade, M. T. F., Pöhlker, C., Pöschl, U., Quesada, C. A., Rizzo, L. V., Ro, C.-U., Ruckteschler, N., Sá, L. D. A., de Oliveira Sá, M., Sales, C. B., dos Santos, R. M. N., Saturno, J., Schöngart, J., Sörgel, M., de Souza, C. M., de Souza, R. A. F., Su, H., Targhetta, N., Tóta, J., Trebs, I., Trumbore, S., van Eijck, A., Walter, D., Wang, Z., Weber, B., Williams, J., Winderlich, J., Wittmann, F., Wolff, S., and Yáñez-Serrano, A. M.: The Amazon Tall Tower Observatory (ATTO): overview of pilot measurements on ecosystem ecology, meteorology, trace gases, and aerosols, Atmos. Chem. Phys., 15, 10723–10776, https://doi.org/10.5194/acp-15-10723-2015, 2015. a
Baldocchi, D.: A Multi-layer model for estimating sulfur dioxide deposition to a deciduous oak forest canopy, Atmos. Environ., 22, 869–884, https://doi.org/10.1016/0004-6981(88)90264-8, 1988. a
Burkhardt, J. and Eiden, R.: Thin water films on coniferous needles: A new device for the study of water vapour condensation and gaseous deposition to plant surfaces and particle samples, Atmos. Environ., 28, 2001–2011, https://doi.org/10.1016/1352-2310(94)90469-3, 1994. a
Burkhardt, J., Basi, S., Pariyar, S., and Hunsche, M.: Stomatal penetration by aqueous solutions – an update involving leaf surface particles, New Phytologist, 196, 774–787, https://doi.org/10.1111/j.1469-8137.2012.04307.x, 2012. a
Campbell, P. C., Bash, J. O., and Spero, T. L.: Updates to the Noah Land Surface Model in WRF-CMAQ to Improve Simulated Meteorology, Air Quality, and Deposition, J. Adv. Model. Earth Syst., 11, 231–256, https://doi.org/10.1029/2018MS001422, 2019. a
Chor, T. L., Dias, N. L., Araújo, A., Wolff, S., Zahn, E., Manzi, A., Trebs, I., Sá, M. O., Teixeira, P. R., and Sörgel, M.: Flux-variance and flux-gradient relationships in the roughness sublayer over the Amazon forest, Agr. Forest Meteorol., 239, 213–222, https://doi.org/10.1016/j.agrformet.2017.03.009, 2017. a, b
Duyzer, J. H., Verhagen, H. L. M., Weststrate, J. H., and Bosveld, F. C.: Measurement of the dry deposition flux of NH3 on to coniferous forest, Environ. Pollut., 75, 3–13, https://doi.org/10.1016/0269-7491(92)90050-K, 1992. a
Erisman, J. W., Galloway, J. N., Seitzinger, S., Bleeker, A., Dise, N. B., Roxana Petrescu, A. M., Leach, A. M., and de Vries, W.: Consequences of human modification of the global nitrogen cycle, Philos. T. R. Soc. B, 368, 20130116, https://doi.org/10.1098/rstb.2013.0116, 2013. a
Flechard, C.: Turbulent exchange of ammonia above vegetation, Ph.D. thesis, University of Nottingham, Nottingham, UK, 1998. a
Flechard, C. R., Fowler, D., Sutton, M. A., and Cape, J. N.: A dynamic chemical model of bi-directional ammonia exchange between semi-natural vegetation and the atmosphere, Q. J. Roy. Meteorol. Soc., 125, 2611–2641, https://doi.org/10.1002/qj.49712555914, 1999. a
Flechard, C. R., Massad, R. S., Loubet, B., Personne, E., Simpson, D., Bash, J. O., Cooter, E. J., Nemitz, E., and Sutton, M. A.: Advances in understanding, models and parameterizations of biosphere-atmosphere ammonia exchange, in: Review and Integration of Biosphere-Atmosphere Modelling of Reactive Trace Gases and Volatile Aerosols, edited by: Massad, R.-S. and Loubet, B., Springer Netherlands, Dordrecht, 11–84, 2015. a, b, c
Foken, T.: Micrometeorology, Springer Berlin Heidelberg, Berlin, Heidelberg, 123–140, https://doi.org/10.1007/978-3-540-74666-9, 2008. a, b
Fowler, D. and Unsworth, M. H.: Turbulent transfer of sulphur dioxide to a wheat crop, Q. J. Roy. Meteorol. Soc., 105, 767–783, https://doi.org/10.1002/qj.49710544603, 1979. a
Fowler, D., Pilegaard, K., Sutton, M. A., Ambus, P., Raivonen, M., Duyzer, J., Simpson, D., Fagerli, H., Fuzzi, S., Schjoerring, J. K., Granier, C., Neftel, A., Isaksen, I. S. A., Laj, P., Maione, M., Monks, P. S., Burkhardt, J., Daemmgen, U., Neirynck, J., Personne, E., Wichink-Kruit, R., Butterbach-Bahl, K., Flechard, C., Tuovinen, J. P., Coyle, M., Gerosa, G., Loubet, B., Altimir, N., Gruenhage, L., Ammann, C., Cieslik, S., Paoletti, E., Mikkelsen, T. N., Ro-Poulsen, H., Cellier, P., Cape, J. N., Horváth, L., Loreto, F., Niinemets, Ü., Palmer, P. I., Rinne, J., Misztal, P., Nemitz, E., Nilsson, D., Pryor, S., Gallagher, M. W., Vesala, T., Skiba, U., Brüggemann, N., Zechmeister-Boltenstern, S., Williams, J., O'Dowd, C., Facchini, M. C., de Leeuw, G., Flossman, A., Chaumerliac, N., and Erisman, J. W.: Atmospheric composition change: Ecosystems–Atmosphere interactions, Atmos. Environ., 43, 5193–5267, https://doi.org/10.1016/j.atmosenv.2009.07.068, 2009. a
Fowler, D., Coyle, M., Skiba, U., Sutton, M. A., Cape, J. N., Reis, S., Sheppard, L. J., Jenkins, A., Grizzetti, B., Galloway, J. N., Vitousek, P., Leach, A., Bouwman, A. F., Butterbach-Bahl, K., Dentener, F., Stevenson, D., Amann, M., and Voss, M.: The global nitrogen cycle in the Twentyfirst century, Philos. T. R. Soc. B, 368, 20130164, https://doi.org/10.1098/rstb.2013.0164, 2013. a, b
Galloway, J. N., Aber, J. D., Erisman, J. W., Seitzinger, S. P., Howarth, R. W., Cowling, E. B., and Cosby, B. J.: The Nitrogen Cascade, BioScience, 53, 341–356, https://doi.org/10.1641/0006-3568(2003)053[0341:TNC]2.0.CO;2, 2003. a
Garland, J. A.: The Dry Deposition of Sulphur Dioxide to Land and Water Surfaces, P. Roy. Soc. A-Math. Phy., 354, 245–268, https://doi.org/10.1098/rspa.1977.0066, 1977. a
Hansen, K., Pryor, S. C., Boegh, E., Hornsby, K. E., Jensen, B., and Sørensen, L. L.: Background concentrations and fluxes of atmospheric ammonia over a deciduous forest, Agr. Forest Meteorol., 214/215, 380–392, https://doi.org/10.1016/j.agrformet.2015.09.004, 2015. a
Hansen, K., Personne, E., Skjøth, C. A., Loubet, B., Ibrom, A., Jensen, R., Sørensen, L. L., and Boegh, E.: Investigating sources of measured forest-atmosphere ammonia fluxes using two-layer bi-directional modelling, Agr. Forest Meteorol., 237-238, 80–94, https://doi.org/10.1016/j.agrformet.2017.02.008, 2017. a, b, c, d
Hanstein, S., Mattsson, M., Jaeger, H. J., and Schjoerring, J. K.: Uptake and utilization of atmospheric ammonia in three native Poaceae species: Leaf conductances, composition of apoplastic solution and interactions with root nitrogen supply, New Phytol., 141, 71–83, https://doi.org/10.1046/j.1469-8137.1999.00330.x, 1999. a, b
Hoffmann, B., Flänker, R., and Mengel, K.: Measurements of pH in the apoplast of sunflower leaves by means of fluorescence, Physiol. Plant., 84, 146–153, https://doi.org/10.1111/j.1399-3054.1992.tb08777.x, 1992. a, b
Katata, G., Nagai, H., Kajino, M., Ueda, H., and Hozumi, Y.: Numerical study of fog deposition on vegetation for atmosphere–land interactions in semi-arid and arid regions, Agr. Forest Meteorol., 150, 340–353, https://doi.org/10.1016/j.agrformet.2009.11.016, 2010. a
Klemm, O., Milford, C., Sutton, M. A., Spindler, G., and van Putten, E.: A climatology of leaf surface wetness, Theor. Appl. Climatol., 71, 107–117, https://doi.org/10.1007/s704-002-8211-5, 2002. a
Kruit, R. J. W., van Pul, W. A. J., Sauter, F. J., van den Broek, M., Nemitz, E., Sutton, M. A., Krol, M., and Holtslag, A. A. M.: Modeling the surface–atmosphere exchange of ammonia, Atmos. Environ., 44, 945–957, https://doi.org/10.1016/j.atmosenv.2009.11.049, 2010. a
Krupa, S. V.: Effects of atmospheric ammonia (NH3) on terrestrial vegetation: a review, Environ. Pollut., 124, 179–221, https://doi.org/10.1016/S0269-7491(02)00434-7, 2003. a
Langford, A. O. and Fehsenfeld, F. C.: Natural vegetation as a source or sink for atmospheric ammonia: A case study, Science, 255, 581–583, https://doi.org/10.1126/science.255.5044.581, 1992. a, b
Massad, R. S., Loubet, B., Tuzet, A., and Cellier, P.: Relationship between ammonia stomatal compensation point and nitrogen metabolism in arable crops: Current status of knowledge and potential modelling approaches, Environ. Pollut., 154, 390–403, https://doi.org/10.1016/j.envpol.2008.01.022, 2008. a
Massad, R.-S., Nemitz, E., and Sutton, M. A.: Review and parameterisation of bi-directional ammonia exchange between vegetation and the atmosphere, Atmos. Chem. Phys., 10, 10359–10386, https://doi.org/10.5194/acp-10-10359-2010, 2010. a, b, c, d, e
Mattsson, M., Herrmann, B., David, M., Loubet, B., Riedo, M., Theobald, M. R., Sutton, M. A., Bruhn, D., Neftel, A., and Schjoerring, J. K.: Temporal variability in bioassays of the stomatal ammonia compensation point in relation to plant and soil nitrogen parameters in intensively managed grassland, Biogeosciences, 6, 171–179, https://doi.org/10.5194/bg-6-171-2009, 2009. a, b
Monteith, J. L. and Unsworth, M. H.: Micrometeorology, in: Principles of Environmental Physics, edited by: Monteith, J. L. and Unsworth, M. H., Elsevier, Boston, 289–320, https://doi.org/10.1016/B978-0-12-386910-4.00016-0, 2013. a, b
Nadelhoffer, K. J.: The Impacts of Nitrogen Deposition on Forest Ecosystems, in: Nitrogen in the Environment, edited by: Hatfield, J. L. and Follett, R. F., Academic Press, San Diego, 463–482, https://doi.org/10.1016/B978-0-12-374347-3.00014-7, 2008. a
Neirynck, J. and Ceulemans, R.: Bidirectional ammonia exchange above a mixed coniferous forest, Environ. Pollut., 154, 424–438, https://doi.org/10.1016/j.envpol.2007.11.030, 2008. a, b, c, d, e, f
Nemitz, E., Sutton, M. A., Schjoerring, J. K., Husted, S., and Paul Wyers, G.: Resistance modelling of ammonia exchange over oilseed rape, Agr. Forest Meteorol., 105, 405–425, https://doi.org/10.1016/S0168-1923(00)00206-9, 2000. a, b, c
Nemitz, E., Milford, C., and Sutton, M. A.: A two-layer canopy compensation point model for describing bi-directional biosphere-atmosphere exchange of ammonia, Q. J. Roy. Meteorol. Soc., 127, 815–833, https://doi.org/10.1002/qj.49712757306, 2001. a
Nemitz, E., Sutton, M. A., Wyers, G. P., and Jongejan, P. A. C.: Gas-particle interactions above a Dutch heathland: I. Surface exchange fluxes of NH3, SO2, HNO3 and HCl, Atmos. Chem. Phys., 4, 989–1005, https://doi.org/10.5194/acp-4-989-2004, 2004. a, b, c
Nemitz, E., Hargreaves, K. J., Neftel, A., Loubet, B., Cellier, P., Dorsey, J. R., Flynn, M., Hensen, A., Weidinger, T., Meszaros, R., Horvath, L., DäCurrency Signmmgen, U., Frühauf, C., Löpmeier, F. J., Gallagher, M. W., and Sutton, M. A.: Intercomparison and assessment of turbulent and physiological exchange parameters of grassland, Biogeosciences, 6, 1445–1466, https://doi.org/10.5194/bg-6-1445-2009, 2009. a, b
Ramsay, R., Di Marco, C. F., Sörgel, M., Heal, M. R., Carbone, S., Artaxo, P., de Araùjo, A. C., Sá, M., Pöhlker, C., Lavric, J., Andreae, M. O., and Nemitz, E.: Concentrations and biosphere–atmosphere fluxes of inorganic trace gases and associated ionic aerosol counterparts over the Amazon rainforest, Atmos. Chem. Phys., 20, 15551–15584, https://doi.org/10.5194/acp-20-15551-2020, 2020. a, b, c, d, e, f, g
Saturno, J., Holanda, B. A., Pöhlker, C., Ditas, F., Wang, Q., Moran-Zuloaga, D., Brito, J., Carbone, S., Cheng, Y., Chi, X., Ditas, J., Hoffmann, T., Hrabe de Angelis, I., Könemann, T., Lavrič, J. V., Ma, N., Ming, J., Paulsen, H., Pöhlker, M. L., Rizzo, L. V., Schlag, P., Su, H., Walter, D., Wolff, S., Zhang, Y., Artaxo, P., Pöschl, U., and Andreae, M. O.: Black and brown carbon over central Amazonia: long-term aerosol measurements at the ATTO site, Atmos. Chem. Phys., 18, 12817–12843, https://doi.org/10.5194/acp-18-12817-2018, 2018. a
Schjoerring, J. K., Husted, S., and Mattsson, M.: Physiological parameters controlling plant–atmosphere ammonia exchange, Atmos. Environ., 32, 491–498, https://doi.org/10.1016/S1352-2310(97)00006-X, 1998. a
Sharp, R. G. and Davies, W. J.: Variability among species in the apoplastic pH signalling response to drying soils, J. Exp. Bot., 60, 4363–4370, https://doi.org/10.1093/jxb/erp273, 2009. a
Sun, S., Moravek, A., von der Heyden, L., Held, A., Sörgel, M., and Kesselmeier, J.: Twin-cuvette measurement technique for investigation of dry deposition of O3 and PAN to plant leaves under controlled humidity conditions, Atmos. Meas. Tech., 9, 599–617, https://doi.org/10.5194/amt-9-599-2016, 2016. a
Sutton, M. A., Flower, D., and Moncrieff, J. B.: The exchange of atmospheric ammonia with vegetated surfaces, I: Unfertilized vegetation, Q. J. Roy. Meteorol. Soc., 119, 1023–1045, https://doi.org/10.1002/qj.49711951309, 1993. a, b
Sutton, M. A., Schjørring, J. K., Wyers, G. P., Duyzer, J. H., Ineson, P., Powlson, D. S., Fowler, D., Jenkinson, D. S., Monteith, J. L., and Unsworth, M. H.: Plant–atmosphere exchange of ammonia, Philos. T. R. Soc. Lond. Ser. A, 351, 261–278, https://doi.org/10.1098/rsta.1995.0033, 1995. a, b, c
Sutton, M. A., Burkhardt, J. K., Guerin, D., Nemitz, E., and Fowler, D.: Development of resistance models to describe measurements of bi-directional ammonia surface–atmosphere exchange, Atmos. Environ., 32, 473–480, https://doi.org/10.1016/S1352-2310(97)00164-7, 1998.  a, b
Sutton, M. A., Nemitz, E., Milford, C., Campbell, C., Erisman, J. W., Hensen, A., Cellier, P., David, M., Loubet, B., Personne, E., Schjoerring, J. K., Mattsson, M., Dorsey, J. R., Gallagher, M. W., Horvath, L., Weidinger, T., Meszaros, R., Dämmgen, U., Neftel, A., Herrmann, B., Lehman, B. E., Flechard, C., and Burkhardt, J.: Dynamics of ammonia exchange with cut grassland: synthesis of results and conclusions of the GRAMINAE Integrated Experiment, Biogeosciences, 6, 2907–2934, https://doi.org/10.5194/bg-6-2907-2009, 2009. a
Taylor, K. E.: Summarizing multiple aspects of model performance in a single diagram, J. Geophys. Res.-Atmos., 106, 7183–7192, https://doi.org/10.1029/2000JD900719, 2001. a
Thomas, R. M., Trebs, I., Otjes, R., Jongejan, P. A. C., ten Brink, H., Phillips, G., Kortner, M., Meixner, F. X., and Nemitz, E.: An Automated Analyzer to Measure Surface-Atmosphere Exchange Fluxes of Water Soluble Inorganic Aerosol Compounds and Reactive Trace Gases, Environ. Sci. Technol., 43, 1412–1418, https://doi.org/10.1021/es8019403, 2009. a
Trebs, I., Meixner, F. X., Slanina, J., Otjes, R., Jongejan, P., and Andreae, M. O.: Real-time measurements of ammonia, acidic trace gases and water-soluble inorganic aerosol species at a rural site in the Amazon Basin, Atmos. Chem. Phys., 4, 967–987, https://doi.org/10.5194/acp-4-967-2004, 2004. a
Urban, J., Ingwers, M. W., McGuire, M. A., and Teskey, R. O.: Increase in leaf temperature opens stomata and decouples net photosynthesis from stomatal conductance in Pinus taeda and Populus deltoides x nigra, J. Exp. Bot., 68, 1757–1767, https://doi.org/10.1093/jxb/erx052, 2017. a
Wang, L., Xu, Y., and Schjoerring, J. K.: Seasonal variation in ammonia compensation point and nitrogen pools in beech leaves (Fagus sylvatica), Plant Soil, 343, 51–66, https://doi.org/10.1007/s11104-010-0693-7, 2011. a
Wesely, M. L.: Parameterization of surface resistances to gaseous dry deposition in regional-scale numerical models, Atmos. Environ., 23, 1293–1304, https://doi.org/10.1016/0004-6981(89)90153-4, 1989. a, b
Wesely, M. L., Cook, D. R., Hart, R. L., and Speer, R. E.: Measurements and parameterization of particulate sulfur dry deposition over grass, J. Geophys. Res.-Atmos., 90, 2131–2143, https://doi.org/10.1029/JD090iD01p02131, 1985. a
Wu, L., Li, X., Kim, H., Geng, H., Godoi, R. H. M., Barbosa, C. G. G., Godoi, A. F. L., Yamamoto, C. I., de Souza, R. A. F., Pöhlker, C., Andreae, M. O., and Ro, C.-U.: Single-particle characterization of aerosols collected at a remote site in the Amazonian rainforest and an urban site in Manaus, Brazil, Atmos. Chem. Phys., 19, 1221–1240, https://doi.org/10.5194/acp-19-1221-2019, 2019. a
Wyers, G. and Erisman, J.: Ammonia exchange over coniferous forest, Atmos. Environ., 32, 441–451, https://doi.org/10.1016/S1352-2310(97)00275-6, 1998. a, b, c, d
Zhang, L., Wright, L. P., and Asman, W. A.: Bi-directional air-surface exchange of atmospheric ammonia: A review of measurements and a development of a big-leaf model for applications in regional-scale air-quality models, J. Geophys. Res.-Atmos., 115, D20310, https://doi.org/10.1029/2009JD013589, 2010. a