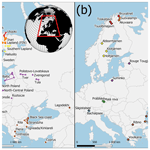 1

Department of Botany, Faculty of Science, Charles University, Benátská 2, 128 01 Prague, Czech Republic

2

Department of Paleoecology, Institute of Botany v.v.i., Czech Academy of Sciences, Zámek 1, 252 43 Průhonice, Czech Republic

3

Laboratory of Palynology, Department of Botany, Faculty of Biology, Sofia University, 8 Dragan Tsankov blvd., Sofia 1164, Bulgaria

4

Lab. of Forest Botany, Faculty of Forestry and Natural Environment, Aristotle University of Thessaloniki, P.O. Box 270, 54124 Thessaloniki, Greece

5

Museum of Natural History Varna, 41 Maria Louisa Blvd. 9000 Varna, Bulgaria

6

University of Stavanger, Museum of Archaeology, Peder Klows gate 31A, PB 8600 Forus, 4036 Stavanger, Norway

7

Institute of Earth and Environmental Sciences, Maria Curie-Skłodowska University, al. Krasnicka 2d, 20-718 Lublin, Poland

8

Faculty of Biology, Department of Plant Ecology, Laboratory of Palaeoecology and Archaeobotany, University of Gdańsk, ul. Wita Stwosza 59, 80-308 Gdańsk, Poland

9

Białowieża Geobotanical Station, Faculty of Biology, University of Warsaw, Sportowa 19, 17-230 Białowieża, Poland

10

Georgian National Museum, Purtseladze Str.3, Tbilisi 5, 0105, Georgia

11

Faculty of Biological and Veterinary Sciences, Geobotany and Landscape Planning, Nicolaus Copernicus University in Toruń, ul. Lwowska 1, 87-100 Toruń, Poland

12

Department of Physical Geography, Stockholm University, 106 91 Stockholm, Sweden

13

Department of Forest Botany, Faculty of Forestry, Istanbul University-Cerrahpaşa, Bahçeköy, 34473, Istanbul, Turkey

14

Department of Higher Plants, Moscow State University, Leninskie Gory, 1, 12, Moscow, 119234, Russia

15

Main Botanical Garden RAS, Botanicheskaya, 4, Moscow, 127276, Russia

16

Laugarnesvegi 87 íbúð 105, 105 Reykjavík, Iceland

17

Faculty of Geography and Earth Sciences, University of Latvia, Jelgavas Street 1, 1004, Riga, Latvia

18

Institute of Archeology, Faculty of History, Nicolaus Copernicus University in Toruń, Szosa Bydgoska 44/48, 87-100 Toruń, Poland

19

Faculty of Earth Sciences and Spatial Management, Nicolaus Copernicus University in Toruń, Lwowska 1, 87-100 Toruń, Poland

20

Department of Natural Sciences, National Museum Wales, Cathays Park, Cardiff, CF10 3NP, UK

21

Department of Forests, Ministry of Agriculture, Rural Development and Environment, P.O. Box 24136, 1701 Nicosia, Cyprus

22

Tallinn University, School of Natural Sciences and Health, Institute of Ecology, Uus Sadama 5, 10120 Tallinn, Estonia

23

Cátedra de Palinilogía, Facultad de Ciencias Naturales y Museo, UNLP, Calle 64 no. 3, 1900 La Plata, Argentina

24

Faculty of Resource Management, HAWK University of Applied Sciences and Arts, Büsgenweg 1a, 37077 Göttingen, Germany

25

Turku Institute for Advanced Studies (Department of Archaeology), University of Turku, 20014 Turku, Finland

26

Norwegian Polar Institute, Fram Centre, 9296 Tromsø, Norway

27

Department of Geosciences and Geography, University of Helsinki, Gustav Hällströmin katu 2, 00014, Helsinki, Finland

28

Department of Geology, Tallinn University of Technology, TalTech, Ehitajate tee 5, 19086 Tallinn, Estonia

29

Palaeoecology, Department of Physical Geography, Faculty of Geosciences, Utrecht University, P.O. Box 80115, 3508 TC Utrecht, the Netherlands

a

formerly at: University of Oulu, P.O. Box 8000, 90014 University of Oulu, Oulu, Finland

retired
Correspondence: Vojtěch Abraham (vojtech.abraham@gmail.com)
Received: 13 Jun 2020 – Discussion started: 27 Jul 2020 – Revised: 24 May 2021 – Accepted: 31 May 2021 – Published: 03 Aug 2021
The collection of modern, spatially extensive pollen data is important for the interpretation of fossil pollen assemblages and the reconstruction of past vegetation communities in space and time. Modern datasets are readily available for percentage data but lacking for pollen accumulation rates (PARs). Filling this gap has been the motivation of the pollen monitoring network, whose contributors monitored pollen deposition in modified Tauber traps for several years or decades across Europe. Here we present this monitoring dataset consisting of 351 trap locations with a total of 2742 annual samples covering the period from 1981 to 2017. This dataset shows that total PAR is influenced by forest cover and climate parameters, which determine pollen productivity and correlate with latitude. Treeless vegetation produced PAR values of at least 140 grains cm−2 yr−1. Tree PAR increased by at least 400 grains cm−2 yr−1 with each 10 % increase in forest cover. Pollen traps situated beyond 200 km of the distribution of a given tree species still collect occasional pollen grains of that species. The threshold of this long-distance transport differs for individual species and is generally below 60 grains cm−2 yr−1. Comparisons between modern and fossil PAR from the same regions show similar values. For temperate taxa, modern analogues for fossil PARs are generally found downslope or southward of the fossil sites. While we do not find modern situations comparable to fossil PAR values of some taxa (e.g. Corylus), CO2 fertilization and land use may cause high modern PARs that are not documented in the fossil record. The modern data are now publicly available in the Neotoma Paleoecology Database and aid interpretations of fossil PAR data.
3
 Results and interpretations
Comparison of the mean annual PAR from traps and fossil sites showed similar ranges for the common European trees at the continental scale. Fossil PAR values can be linked to modern analogues in Europe, opening up possibilities for using fossil PARs to reconstruct past changes in plant biomass and primary productivity. However, careful selection of fossil sites is necessary to avoid biases of absolute pollen deposition in the fossil record, which may be caused by lake internal processes such as focusing or the addition of pollen from the catchment or bank erosion.
Modern absolute pollen deposition values clearly show that climate parameters correlate with latitude, supporting earlier findings that growing season warmth determines pollen productivity. The effect of regional forest cover is discernible in the data. Minimum PAR values rise with increasing forest cover (measured within 10 km of the trap), while the maximum values are determined by local site conditions. Fossil PAR data, which incorporate both these components, require careful interpretation when aiming to reconstruct regional forest cover. At least 140 grains cm−2 yr−1 of tree pollen may be found in treeless vegetation and, with each 10 % of forest cover, tree PAR increases by at least 400 grains cm−2 yr−1.
Absolute pollen deposition decreases gradually away from the distribution limit of common trees. Generally, less than 60 grains cm−2 yr−1 are found at a distance of 200 km from the distribution limit. The following thresholds of PAR were obtained for a distance of 200 km from a distribution limit: Quercus (50), Carpinus (39), Fraxinus (20), Corylus (15), Tilia (5) and Picea (0.3). The obtained threshold of 80 grains cm−2 yr−1 for Fagus is likely too high. The application of these taxon-specific values holds the potential to refine and adjust reconstructions of tree distributions.
Code and data availability
Primary trap and fossil pollen data are in progress; see Abraham (2021) (https://github.com/vojtechabraham/PMPdatabase, last access: 19 March 2021). Analyses are based on the WorldClim 2 dataset of Fick and Hijmans (2017, https://doi.org/10.1002/joc.5086) available at http://worldclim.org/version2 (last access: 20 January 2019; WorldClim, 2019). Chorological data for the main European woody species, version 2, by Caudullo et al. (2017, https://doi.org/10.17632/hr5h2hcgg4.2) and the European atlas of forest tree species of San-Miguel-Ayanz et al. (2016, https://doi.org/10.2788/4251) are available at http://www.euforgen.org/species (last access: 20 May 2018; EUFORGEN, 2018). Forest Map of Europe of Kempeneers et al. (2012, https://doi.org/10.1109/TGRS.2011.2158548) is available on request to the authors.
Code for analysis, derived data and code for figures are available at https://github.com/vojtechabraham/PMPdatabase (last access: 19 March 2021, Abraham, 2021).
TG and VA designed the analysis. VA, TG and MW analysed the data. VA and TG drafted the manuscript. HP, SH, CEJ, HSS, HS, SV, SH, MN, MW, SP, ST, TK, AMN and JŚM commented on the manuscript. All authors except VA and MW collected the primary data.
The authors declare that they have no conflict of interest.
Publisher's note: Copernicus Publications remains neutral with regard to jurisdictional claims in published maps and institutional affiliations.
We thank all the collaborators of pollen trapping, especially those who contributed to the PMP dataset: Pim van der Knaap, Jacqueline van Leeuwen, Karl-Dag Vorren, Heather Tinsley, Lena Barnekow, Małgorzata Latałowa, Enikő Magyari, Larissa Savelieva, Elena Pavlova, Heidi Hyyppä, Mari Kuoppamaa and Gunhild Rosqvist. We thank Simon Connor for his detailed review which helped to improve the paper as well as the two anonymous reviewers for their comments.
This research has been supported by the Czech Science Foundation (GAČR) (grant no. 17-17909S), the Czech Academy of Sciences (grant no. RVO 67985939), the Charles University Research Centre (grant no. 204069), and the ETAG (grant no. PUT323).
This paper was edited by Anja Rammig and reviewed by Simon Connor and two anonymous referees.
Abraham, V.: PMPdatabase, GitHub [code], available at: https://github.com/vojtechabraham/PMPdatabase, last access: 19 March 2021. a, b
Abraham, V., Kuneš, P., Petr, L., Svitavská-Svobodová, H., Kozáková, R., Jamrichová, E., Švarcová, M. G., and Pokorný, P.: A pollen-based quantitative reconstruction of the Holocene vegetation updates a perspective on the natural vegetation in the Czech Republic and Slovakia, Preslia, 88, 409–434, 2016. a, b
Andersen, S.: The relative pollen productivity and representation of north European trees, and correction factors for tree pollen spectra, Danmarks Geologiske Undersøgelse Række II, 96, 1–99, 1970. a, b
Andersen, S. T.: Influence of Climatic Variation on Pollen Season Severity in Wind-Pollinated Trees and Herbs, Grana, 19, 47–52, https://doi.org/10.1080/00173138009424986, 1980. a
Autio, J. and Hicks, S.: Annual variations in pollen deposition and meteorological conditions on the fell Aakenustunturi in northern Finland: Potential for using fossil pollen as a climate proxy, Grana, 43, 31–47, https://doi.org/10.1080/00173130310017409, 2004. a
Barnekow, L., Loader, N. J., Hicks, S., Froyd, C. A., and Goslar, T.: Strong correlation between summer temperature and pollen accumulation rates for Pinus sylvestris, Picea abies and Betula spp. in a high-resolution record from northern Sweden, J. Quaternary Sci., 22, 653–658, https://doi.org/10.1002/jqs.1096, 2007. a
Bennett, K. and Buck, C. E.: Interpretation of lake sediment accumulation rates, Holocene, 26, 1092–1102, https://doi.org/10.1177/0959683616632880, 2016. a, b
Bennett, K. D.: Devensian Late-Glacial and Flandrian Vegetational History at Hockham Mere, Norfolk, England, New Phytol., 95, 489–504, https://doi.org/10.1111/j.1469-8137.1983.tb03513.x, 1983. a, b, c
Bozilova, E. and Beug, H.-J.: On the Holocene history of vegetation in SE Bulgaria (Lake Arkutino, Ropotamo region), Veg. Hist. Archaebot., 1, 19–32, https://doi.org/10.1007/BF00190698, 1992. a
Carter, V. A., Chiverrell, R. C., Clear, J. L., Kuosmanen, N., Moravcová, A., Svoboda, M., Svobodová-Svitavská, H., van Leeuwen, J. F. N., van der Knaap, W. O., and Kuneš, P.: Quantitative Palynology Informing Conservation Ecology in the Bohemian/Bavarian Forests of Central Europe, Front. Plant Sci., 8, 2268, https://doi.org/10.3389/fpls.2017.02268, 2018. a, b
Caudullo, G., Welk, E., and San-Miguel-Ayanz, J.: Chorological data for the main European woody species, V2, Mendeley Data [data set], https://doi.org/10.17632/hr5h2hcgg4.2, 2017. a, b, c, d, e
Davis, B. A. S., Zanon, M., Collins, P., Mauri, A., Bakker, J., Barboni, D., Barthelmes, A., Beaudouin, C., Bjune, A. E., Bozilova, E., Bradshaw, R. H. W., Brayshay, B. A., Brewer, S., Brugiapaglia, E., Bunting, J., Connor, S. E., de Beaulieu, J.-L., Edwards, K., Ejarque, A., Fall, P., Florenzano, A., Fyfe, R., Galop, D., Giardini, M., Giesecke, T., Grant, M. J., Guiot, J., Jahns, S., Jankovská, V., Juggins, S., Kahrmann, M., Karpińska-Kołaczek, M., Kołaczek, P., Kühl, N., Kuneš, P., Lapteva, E. G., Leroy, S. A. G., Leydet, M., Guiot, J., Jahns, S., López Sáez, J. A., Masi, A., Matthias, I., Mazier, F., Meltsov, V., Mercuri, A. M., Miras, Y., Mitchell, F. J. G., Morris, J. L., Naughton, F., Nielsen, A. B., Novenko, E., Odgaard, B., Ortu, E., Overballe-Petersen, M. V., Pardoe, H. S., Peglar, S. M., Pidek, I. A., Sadori, L., Seppä, H., Severova, E., Shaw, H., Święta-Musznicka, J., Theuerkauf, M., Tonkov, S., Veski, S., van der Knaap, W. O., van Leeuwen, J. F. N., Woodbridge, J., Zimny, M., and Kaplan, J. O.: The European Modern Pollen Database (EMPD) project, Veg. Hist. Archaebot., 22, 521–530, https://doi.org/10.1007/s00334-012-0388-5, 2013. a
Davis, M. B.: Palynology after Y2K–Understanding the Source Area of Pollen in Sediments, Annu. Rev. Earth Pl. Sc., 28, 1–18, https://doi.org/10.1146/annurev.earth.28.1.1, 2000. a
Davis, M. B. and Brubaker, L. B.: Differential Sedimentation of Pollen Grains in Lakes, Limnol. Oceanogr., 18, 635–646, https://doi.org/10.4319/lo.1973.18.4.0635, 1973. a, b
Davis, M. B. and Deevey, E. S.: Pollen Accumulation Rates: Estimates from Late-Glacial Sediment of Rogers Lake, Science, 145, 1293–1295, https://doi.org/10.1126/science.145.3638.1293, 1964. a
Davis, M. B., Moeller, R., and Ford, J.: Sediment focusing and pollen influx, in: Lake sediments and environmental history: studies in palaeolimnology and palaeoecology in honour of Winifred Tutin, edited by: Haworth, E. Y., Lund, J. W. G., and Tutin, W., Leicester University Press, Leicester, 261–293, ISBN: 978-0-7185-1220-0, 1984. a, b
EUFORGEN: http://www.euforgen.org/species, last access: 20 May 2018. a
Fick, S. E. and Hijmans, R. J.: WorldClim 2: new 1-km spatial resolution climate surfaces for global land areas, Int. J. Climatol., 37, 4302–4315, https://doi.org/10.1002/joc.5086, 2017. a, b
Filipova-Marinova, M.: Palaeoecological investigations of lake Shabla-Ezeretz in NE Bulgaria, Ecologia Mediterranea, 11, 147–158, 1985. a
Finsinger, W., Schoning, K., Hicks, S., Lücke, A., Goslar, T., Wagner-cremer, F., and Hyyppä, H. : Climate change during the past 1000 years: a high-temporal-resolution multiproxy record from a mire in northern Finland, J. Quaternary Sci., 28, 152–164, https://doi.org/10.1002/jqs.2598, 2013. a
Frei, T. and Gassner, E.: Climate change and its impact on birch pollen quantities and the start of the pollen season an example from Switzerland for the period 1969–2006, Int. J. Biometeorol., 52, 667, https://doi.org/10.1007/s00484-008-0159-2, 2008. a
Froyd, C. A.: Fossil Stomata Reveal Early Pine Presence in Scotland: Implications for Postglacial Colonization Analyses, Ecology, 86, 579–586, https://doi.org/10.1890/04-0546, 2005. a
Gaillard, M.-J., Sugita, S., Bunting, M. J., Middleton, R., Broström, A., Caseldine, C., Giesecke, T., Hellman, S. E. V., Hicks, S., Hjelle, K., Langdon, C., Nielsen, A.-B., Poska, A., Stedingk, H., Veski, S., and members, P.: The use of modelling and simulation approach in reconstructing past landscapes from fossil pollen data: a review and results from the POLLANDCAL network, Veget Hist Archaeobot, 17, 419–443, https://doi.org/10.1007/s00334-008-0169-3, 2008. a
Gerasimidis, A., Panajiotidis, S., Hicks, S., and Athanasiadis, N.: An eight-year record of pollen deposition in the Pieria mountains (N. Greece) and its significance for interpreting fossil pollen assemblages, Rev. Palaeobot. Palyno., 141, 231–243, https://doi.org/10.1016/j.revpalbo.2006.04.004, 2006. a
Giesecke, T.: Holocene dynamics of the southern boreal forest in Sweden, Holocene, 15, 858–872, https://doi.org/10.1191/0959683605hl859ra, 2005a. a, b, c
Giesecke, T.: Moving front or population expansion: How did Picea abies (L.) Karst. become frequent in central Sweden?, Quaternary Sci. Rev., 24, 2495–2509, https://doi.org/10.1016/j.quascirev.2005.03.002, 2005b. a
Giesecke, T.: Holocene forest development in the central Scandes Mountains, Sweden, Veg. Hist. Archaebot., 14, 133–147, https://doi.org/10.1007/s00334-005-0070-2, 2005c. a
Giesecke, T. and Fontana, S. L.: Revisiting pollen accumulation rates from Swedish lake sediments, Holocene, 18, 293–305, https://doi.org/10.1177/0959683607086767, 2008. a, b, c, d, e, f
Giesecke, T., Fontana, S. L., Knaap, W. O., Pardoe, H. S., and Pidek, I. A.: From early pollen trapping experiments to the Pollen Monitoring Programme, Veg. Hist. Archaebot., 19, 247–258, https://doi.org/10.1007/s00334-010-0261-3, 2010. a
Giesecke, T., Brewer, S., Finsinger, W., Leydet, M., and Bradshaw, R. H. W.: Patterns and dynamics of European vegetation change over the last 15,000 years, J. Biogeogr., 44, 1441–1456, https://doi.org/10.1111/jbi.12974, 2017. a
Giesecke, T., Wolters, S., van Leeuwen, J. F. N., van der Knaap, P. W. O., Leydet, M., and Brewer, S.: Postglacial change of the floristic diversity gradient in Europe, Nat. Commun., 10, 1–7, https://doi.org/10.1038/s41467-019-13233-y, 2019. a
Gillman, L. N., Wright, S. D., Cusens, J., McBride, P. D., Malhi, Y., and Whittaker, R. J.: Latitude, productivity and species richness, Global Ecol. Biogeogr., 24, 107–117, https://doi.org/10.1111/geb.12245, 2015. a
GRASS Development Team: Geographic Resources Analysis Support System (GRASS GIS) Software, Version 7.2, Open Source Geospatial Foundation, https://grass.osgeo.org/ (last access: 18 July 2021), 2018. a
Haselhorst, D. S., Moreno, J. E., and Punyasena, S. W.: Assessing the influence of vegetation structure and phenological variability on pollen-vegetation relationships using a 15-year Neotropical pollen rain record, J. Veg. Sci., 31, 606–615, https://doi.org/10.1111/jvs.12897, 2020. a
Hättestrand, M., Jensen, C., Hallsdóttir, M., and Vorren, K.-D.: Modern pollen accumulation rates at the north-western fringe of the European boreal forest, Rev. Palaeobot. Palyno., 151, 90–109, https://doi.org/10.1016/j.revpalbo.2008.03.001, 2008. a
Hesselman, H.: Om pollenregn på hafvet och fjärrtransport af barrträdspollen, Geologiska Föreningens i Stockholm Förhandlingar, 41, 89–99, 1919. a
Hicks, S.: A method of using modern pollen rain values to provide a timescale for pollen diagrams from peat deposits, Memoranda Societas Fauna Flora Fennica, 49, 21–33, 1974. a
Hicks, S.: Present and past pollen records of Lapland forests, Rev. Palaeobot. Palyno., 82, 17–35, https://doi.org/10.1016/0034-6667(94)90017-5, 1994. a
Hicks, S.: The relationship between climate and annual pollen deposition at northern tree-lines, Chemosphere – Global Change Science, 1, 403–416, https://doi.org/10.1016/S1465-9972(99)00043-4, 00034, 1999. a
Hicks, S. and Hyvärinen, H.: Pollen influx values measured in different sedimentary environments and their palaeoecological implications, Grana, 38, 228–242, https://doi.org/10.1080/001731300750044618, 1999. a
Hicks, S., Ammann, B., Latałowa, M., Pardoe, H. S., and Tinsley, H.: European Pollen Monitoring Programme: Project Description and Guidelines, Oulu University Press, Oulu, 1996. a
Hicks, S., Tinsley, H., Pardoe, H. S., and Cundill, P. R.: European Pollen Monitoring Programme: Supplement to the Guidelines, Oulu University Press, Oulu, 1999. a
Hicks, S., Tinsley, H., Huusko, A., Jensen, C., Hättestrand, M., Gerasimides, A., and Kvavadze, E.: Some comments on spatial variation in arboreal pollen deposition: first records from the Pollen Monitoring Programme (PMP), Rev. Palaeobot. Palyno., 117, 183–194, https://doi.org/10.1016/S0034-6667(01)00086-0, 2001. a, b, c
Hyvärinen, H.: Absolute and relative pollen diagrams from northernmost Fennoscandia, Fennia – International Journal of Geography, Vol. 142, 1975. a, b, c
Jackson, S. T. and Williams, J. W.: Modern analogs in Quaternary paleoecology: Here Today, Gone Yesterday, Gone Tomorrow?, Annu. Rev. Earth Pl. Sc., 32, 495–537, https://doi.org/10.1146/annurev.earth.32.101802.120435, 2004. a
Jahns, S.: The Holocene history of vegetation and settlement at the coastal site of Lake Voulkaria in Acarnania, western Greece, Veg. Hist. Archaebot., 14, 55–66, https://doi.org/10.1007/s00334-004-0053-8, 2004. a
Jantz, N., Homeier, J., León-Yánez, S., Moscoso, A., and Behling, H.: Trapping pollen in the tropics – Comparing modern pollen rain spectra of different pollen traps and surface samples across Andean vegetation zones, Rev. Palaeobot. Palyno., 193, 57–69, https://doi.org/10.1016/j.revpalbo.2013.01.011, 2013. a
Jensen, C., Vorren, K.-D., and Mørkved, B.: Annual pollen accumulation rate (PAR) at the boreal and alpine forest-line of north-western Norway, with special emphasis on Pinus sylvestris and Betula pubescens, Rev. Palaeobot. Palyno., 144, 337–361, https://doi.org/10.1016/j.revpalbo.2006.08.006, 2007. a, b
Kempeneers, P., Sedano, F., Seebach, L. M., Strobl, P., and San-Miguel-Ayanz, J.: Data Fusion of Different Spatial Resolution Remote Sensing Images Applied to Forest-Type Mapping, IEEE T. Geosci. Remote, 49, 4977–4986, https://doi.org/10.1109/TGRS.2011.2158548, 2012. a, b
Koff, T.: Pollen influx into Tauber traps in Estonia in 1997–1998, Rev. Palaeobot. Palyno., 117, 53–62, https://doi.org/10.1016/S0034-6667(01)00076-8, 2001. a
Kozáková, R., Šamonil, P., Kuneš, P., Novák, J., Kočár, P., and Kočárová, R.: Contrasting local and regional Holocene histories of Abies alba in the Czech Republic in relation to human impact: Evidence from forestry, pollen and anthracological data, Holocene, 21, 431–444, https://doi.org/10.1177/0959683610385721, 2011. a
Kubitz, B.: Die holozäne Vegetations- und Siedlungsgeschichte in der Westeifel am Beispiel eines hochauflösenden Pollendiagrammes aus dem Meerfelder Maar [History of Holocene vegetation and settlement of the Western Eifel region (Germany) using a high resolution pollenprofile from the Meerfeld Maar], Dissertationes Botanicae, Band 339, ISBN: 978-3-443-64251-8, 2000 (in German). a
Kvavadze, E.: Annual modern pollen deposition in the foothills of the Lagodekhi Reservation (Caucasus, East Georgia), related to vegetation and climate, Acta Palaeobotanica, 41, 355–364, 2001. a
LaDeau, S. L. and Clark, J. S.: Rising CO2 Levels and the Fecundity of Forest Trees, Science, 292, 95–98, https://doi.org/10.1126/science.1057547, 2001. a
LaDeau, S. L. and Clark, J. S.: Pollen production by Pinus taeda growing in elevated atmospheric CO2, Funct. Ecol., 20, 541–547, https://doi.org/10.1111/j.1365-2435.2006.01133.x, 2006. a, b
Lisitsyna, O. V., Giesecke, T., and Hicks, S.: Exploring pollen percentage threshold values as an indication for the regional presence of major European trees, Rev. Palaeobot. Palyno., 166, 311–324, https://doi.org/10.1016/j.revpalbo.2011.06.004, 2011a. a
Lisitsyna, O. V., Hicks, S., and Huusko, A.: Do moss samples, pollen traps and modern lake sediments all collect pollen in the same way? A comparison from the forest limit area of northernmost Europe, Veg. Hist. Archaebot., 21, 187–199, https://doi.org/10.1007/s00334-011-0335-x, 2011b. a, b
Lotter, A. F.: Late-glacial and Holocene vegetation history and dynamics as shown by pollen and plant macrofossil analyses in annually laminated sediments from Soppensee, central Switzerland, Veg. Hist. Archaebot., 8, 165–184, https://doi.org/10.1007/BF02342718, 1999. a
Maher Jr., L. J.: Statistics for microfossil concentration measurements employing samples spiked with marker grains, Rev. Palaeobot. Palyno., 32, 153–191, https://doi.org/10.1016/0034-6667(81)90002-6, 1981. a
Malmström, C.: Degerö Stormyr–en botanisk, hydrologisk och utvecklingshistorisk undersökning över ett nordsvenskt myrkomplex, Meddelanden från Statens Skogsförsöksanstalt, 20, 1–2, 1923. a
Markgraf, V.: Pollen Dispersal in a Mountain Area, Grana, 19, 127–146, https://doi.org/10.1080/00173138009424995, 1980. a
Matthias, I. and Giesecke, T.: Insights into pollen source area, transport and deposition from modern pollen accumulation rates in lake sediments, Quaternary Sci. Rev., 87, 12–23, https://doi.org/10.1016/j.quascirev.2013.12.015, 2014. a, b, c, d, e, f
Matthias, I., Nielsen, A. B., and Giesecke, T.: Evaluating the effect of flowering age and forest structure on pollen productivity estimates, Veg. Hist. Archaebot., 21, 471–484, https://doi.org/10.1007/s00334-012-0373-z, 2012. a
McCarroll, D., Jalkanen, R., Hicks, S., Tuovinen, M., Gagen, M., Pawellek, F., Eckstein, D., Schmitt, U., Autio, J., and Heikkinen, O.: Multiproxy dendroclimatology: a pilot study in northern Finland, Holocene, 13, 829–838, https://doi.org/10.1191/0959683603hl668rp, 2003. a
Nielsen, A. B., Möller, P. F., Giesecke, T., Stavngaard, B., Fontana, S. L., and Bradshaw, R. H. W.: The effect of climate conditions on inter-annual flowering variability monitored by pollen traps below the canopy in Draved Forest, Denmark, Veg. Hist. Archaebot., 19, 309–323, https://doi.org/10.1007/s00334-010-0253-3, 2010. a, b
Nosova, M. B., Novenko, E. Y., Severova, E. E., and Volkova, O. A.: Vegetation and climate changes within and around the Polistovo-Lovatskaya mire system (Pskov Oblast, north-western Russia) during the past 10,500 years, Veg. Hist. Archaebot., 28, 123–140, https://doi.org/10.1007/s00334-018-0693-8, 2019. a
Overpeck, J. T., Webb, T., and Prentice, I. C.: Quantitative interpretation of fossil pollen spectra: Dissimilarity coefficients and the method of modern analogs, Quaternary Res., 23, 87–108, https://doi.org/10.1016/0033-5894(85)90074-2, 1985. a
Pardoe, H. S., Giesecke, T., Knaap, W. O., Svitavská-Svobodová, H., Kvavadze, E. V., Panajiotidis, S., Gerasimidis, A., Pidek, I. A., Zimny, M., Święta-Musznicka, J., Latałowa, M., Noryśkiewicz, A. M., Bozilova, E., Tonkov, S., Filipova-Marinova, M. V., Leeuwen, J. F. N., and Kalniṇa, L.: Comparing pollen spectra from modified Tauber traps and moss samples: examples from a selection of woodlands across Europe, Veg. Hist. Archaebot., 19, 271–283, https://doi.org/10.1007/s00334-010-0258-y, 2010. a, b
Parshall, T.: Documenting forest stand invasion: fossil stomata and pollen in forest hollows, Can. J. Botany, 77, 1529–1538, https://doi.org/10.1139/b99-133, 1999. a
Pennington, W.: The Origin of Pollen in Lake Sediments: An Enclosed Lake Compared with One Receiving Inflow Streams, New Phytol., 83, 189–213, https://doi.org/10.1111/j.1469-8137.1979.tb00741.x, 1979. a
Pers-Kamczyc, E., Tyrała-Wierucka, Ż., Rabska, M., Wrońska-Pilarek, D., and Kamczyc, J.: The higher availability of nutrients increases the production but decreases the quality of pollen grains in Juniperus communis L., J. Plant Physiol., 248, 153156, https://doi.org/10.1016/j.jplph.2020.153156, 2020. a
Pidek, I. A.: Nine-year record of Alnus pollen deposition in the Roztocze region (SE Poland) with relation to vegetation data, Acta Agrobot., 60, 57–64, 2007. a
Pidek, I. A., Svitavská-Svobodová, H., van der Knaap, W. O., Noryśkiewicz, A. M., Filbrandt-Czaja, A., Noryśkiewicz, B., Latałowa, M., Zimny, M., Święta-Musznicka, J., Bozilova, E., Tonkov, S., Filipova-Marinova, M., Poska, A., Giesecke, T., and Gikov, A.: Variation in annual pollen accumulation rates of Fagus along a N–S transect in Europe based on pollen traps, Veg. Hist. Archaebot., 19, 259–270, https://doi.org/10.1007/s00334-010-0248-0, 2010. a
Pędziszewska, A., Tylmann, W., Witak, M., Piotrowska, N., Maciejewska, E., and Latałowa, M.: Holocene environmental changes reflected by pollen, diatoms, and geochemistry of annually laminated sediments of Lake Suminko in the Kashubian Lake District (N Poland), Rev. Palaeobot. Palyno., 216, 55–75, https://doi.org/10.1016/j.revpalbo.2015.01.008, 2015. a
R Core Team: R: A Language and Environment for Statistical Computing, R Foundation for Statistical Computing, Vienna, Austria, 2019. a
San-Miguel-Ayanz, J., de Rigo, D., Caudullo, G., Houston Durrant, T., and Mauri, A.: European atlas of forest tree species, Publication Office of the European Union, Luxembourg, 2016th edn., https://doi.org/10.2788/4251, 2016. a, b, c, d, e, f, g, h, i
Seppä, H. and Hicks, S.: Integration of modern and past pollen accumulation rate (PAR) records across the arctic tree-line: a method for more precise vegetation reconstructions, Quaternary Sci. Rev., 25, 1501–1516, https://doi.org/10.1016/j.quascirev.2005.12.002, 2006. a, b
Seppä, H. and Weckström, J.: Holocene vegetational and limnological changes in the Fennoscandian tree-line area as documented by pollen and diatom records from Lake Tsuolbmajavri, Finland, Écoscience, 6, 621–635, https://doi.org/10.1080/11956860.1999.11682562, 1999. a
Seppä, H., Nyman, M., Korhola, A., and Weckström, J.: Changes of treelines and alpine vegetation in relation to post-glacial climate dynamics in northern Fennoscandia based on pollen and chironomid records, J. Quaternary Sci., 17, 287–301, https://doi.org/10.1002/jqs.678, 2002. a
Seppä, H., Alenius, T., Muukkonen, P., Giesecke, T., Miller, P. A., and Ojala, A. E.: Calibrated pollen accumulation rates as a basis for quantitative tree biomass reconstructions, Holocene, 19, 209–220, https://doi.org/10.1177/0959683608100565, 2009. a, b
Shumilovskikh, L. S., Novenko, E., and Giesecke, T.: Long-term dynamics of the East European forest-steppe ecotone, J. Veg. Sci., 29, 416–426, https://doi.org/10.1111/jvs.12585, 2018. a
Stockmarr, J.: Tablets with spores used in absolute pollen analysis, Pollen et Spores, 13, 615–621, 1971. a
Sugita, S., Hicks, S., and Sormunen, H.: Absolute pollen productivity and pollen-vegetation relationships in northern Finland, J. Quaternary Sci., 25, 724–736, https://doi.org/10.1002/jqs.1349, 2009. a, b
Svobodová, H., Soukupová, L., and Reille, M.: Diversified development of mountain mires, Bohemian Forest, Central Europe, in the last 13,000 years, Quatern. Int., 91, 123–135, https://doi.org/10.1016/S1040-6182(01)00106-9, 2002. a
Tauber, H.: Investigations of the mode of pollen transfer in forested areas, Rev. Palaeobot. Palyno., 3, 277–286, https://doi.org/10.1016/0034-6667(67)90060-7, 1967. a, b
Tauber, H.: A Static Non-overload Pollen Collector, New Phytol., 73, 359–369, https://doi.org/10.1111/j.1469-8137.1974.tb04770.x, 1974. a
Theuerkauf, M., Bos, J. A. A., Jahns, S., Janke, W., Kuparinen, A., Stebich, M., and Joosten, H.: Corylus expansion and persistent openness in the early Holocene vegetation of northern central Europe, Quaternary Sci. Rev., 90, 183–198, https://doi.org/10.1016/j.quascirev.2014.03.002, 2014. a
Tinner, W., Colombaroli, D., Heiri, O., Henne, P. D., Steinacher, M., Untenecker, J., Vescovi, E., Allen, J. R. M., Carraro, G., Conedera, M., Joos, F., Lotter, A. F., Luterbacher, J., Samartin, S., and Valsecchi, V.: The past ecology of Abies alba provides new perspectives on future responses of silver fir forests to global warming, Ecol. Monogr., 83, 419–439, https://doi.org/10.1890/12-2231.1, 2013. a
Tinsley, H.: Modern pollen deposition in traps on a transect across an anthropogenic tree-line on Exmoor, southwest England: a note summarising the first three years of data, Rev. Palaeobot. Palyno., 117, 153–158, https://doi.org/10.1016/S0034-6667(01)00083-5, 2001. a
Tinsley, H. and Hicks, S.: Preface, Rev. Palaeobot. Palyno., 117, vii–x, https://doi.org/10.1016/S0034-6667(01)00073-2, 2001. a
Tonkov, S., Hicks, S., Bozilova, E., and Atanassova, J.: Pollen monitoring in the central Rila Mountains, Southwestern Bulgaria: comparisons between pollen traps and surface samples for the period 1993–1999, Rev. Palaeobot. Palyno., 117, 167–182, https://doi.org/10.1016/S0034-6667(01)00085-9, 2001. a
Tonkov, S., Bozilova, E., Pavlova, D., and Raev, I.: Long-term pollen monitoring experiments for the period 1994–2008 in the Rila Mountains, Bulgaria, Eurasian Journal of Forest Science, 4, 1–16, https://doi.org/10.31195/ejejfs.258621, 2016. a
van der Knaap, W. O., van Leeuwen, J. F. N., Fankhauser, A., and Ammann, B.: Palynostratigraphy of the last centuries in Switzerland based on 23 lake and mire deposits: chronostratigraphic pollen markers, regional patterns, and local histories, Rev. Palaeobot. Palyno., 108, 85–142, https://doi.org/10.1016/S0034-6667(99)00035-4, 2000. a, b
van der Knaap, W. O., van Leeuwen, J. F. N., and Ammann, B.: Seven years of annual pollen influx at the forest limit in the Swiss Alps studied by pollen traps: relations to vegetation and climate, Rev. Palaeobot. Palyno., 117, 31–52, https://doi.org/10.1016/S0034-6667(01)00075-6, 2001. a
van der Knaap, W. O., van Leeuwen, J. F. N., Svitavská-Svobodová, H., Pidek, I. A., Kvavadze, E., Chichinadze, M., Giesecke, T., Kaszewski, B. M., Oberli, F., Kalniṇa, L., Pardoe, H. S., Tinner, W., and Ammann, B.: Annual pollen traps reveal the complexity of climatic control on pollen productivity in Europe and the Caucasus, Veg. Hist. Archaebot., 19, 285–307, https://doi.org/10.1007/s00334-010-0250-6, 2010.  a, b, c, d
Veski, S., Amon, L., Heinsalu, A., Reitalu, T., Saarse, L., Stivrins, N., and Vassiljev, J.: Lateglacial vegetation dynamics in the eastern Baltic region between 14,500 and 11,400 cal yr BP: A complete record since the Bølling (GI-1e) to the Holocene, Quaternary Sci. Rev., 40, 39–53, https://doi.org/10.1016/j.quascirev.2012.02.013, 2012. a
Wang, H. and Song, M.: Ckmeans.1d.dp: Optimal k-means Clustering in One Dimension by Dynamic Programming, The R Journal, 3, 29–33, https://doi.org/10.32614/RJ-2011-015, 2011. a
Wayne, P., Foster, S., Connolly, J., Bazzaz, F., and Epstein, P.: Production of allergenic pollen by ragweed (Ambrosia artemisiifolia L.) is increased in CO2-enriched atmospheres, Ann. Allerg. Asthma Im., 88, 279–282, https://doi.org/10.1016/S1081-1206(10)62009-1, 2002. a
Welten, M.: Pollenanalytische, stratigraphische und geochronologische Untersuchungen aus dem Faulenseemoos bei Spiez, in: Veröffentlichungen des Geobotanischen Instituts Rübel in Zürich, H. Huber, Bern, vol. 21, 1944 (in German). a
Williams, J. W., Grimm, E. C., Blois, J. L., Charles, D. F., Davis, E. B., Goring, S. J., Graham, R. W., Smith, A. J., Anderson, M., Arroyo-Cabrales, J., Ashworth, A. C., Betancourt, J. L., Bills, B. W., Booth, R. K., Buckland, P. I., Curry, B. B., Giesecke, T., Jackson, S. T., Latorre, C., Nichols, J., Purdum, T., Roth, R. E., Stryker, M., and Takahara, H.: The Neotoma Paleoecology Database, a multiproxy, international, community-curated data resource, Quaternary Res., 89, 156–177, https://doi.org/10.1017/qua.2017.105, 2018. a
WorldClim: available at: http://worldclim.org/version2, last access: 20 January 2019. a