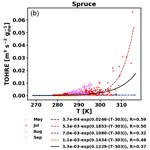 1

Atmospheric Composition Research, Finnish Meteorological Institute, P.O. Box 503, 00101 Helsinki, Finland

2

Institute for Atmospheric and Earth System Research/Forest Sciences, Faculty of Agriculture and Forestry, P.O. Box 27, 00014 University of Helsinki, Finland
Correspondence: Arnaud P. Praplan (arnaud.praplan@fmi.fi)
Received: 03 Feb 2020 – Discussion started: 03 Mar 2020 – Revised: 22 Jul 2020 – Accepted: 10 Aug 2020 – Published: 25 Sep 2020
In forested area, a large fraction of total hydroxyl radical (OH) reactivity remains unaccounted for. Very few studies have looked at the variations in total OH reactivity from biogenic emissions. In the present study, we investigate the total OH reactivity from three common boreal tree species (Scots pine, Norway spruce, and downy birch) by comparing it with the calculated reactivity from the chemically identified emissions. Total OH reactivity was measured using the comparative reactivity method (CRM), and the chemical composition of the emissions was quantified with two gas chromatographs coupled with mass spectrometers (GC–MSs). Dynamic branch enclosures were used, and emissions from one branch of a tree at the time were measured by periodically rotating between them.
Results show that birch had the highest values of total OH reactivity of the emissions (TOHRE), while pine had the lowest. The main drivers for the known reactivity of pine and spruce were monoterpenes and sesquiterpenes. Birch emissions were dominated by sesquiterpenes, but monoterpenes and green leaf volatiles (GLVs) were present as well. However, calculated reactivity values remained low, leading to the highest missing fraction of reactivity (>96 %), while pine and spruce had similar missing reactivity fractions between 56 % and 82 % (higher in the spring and decreasing as the summer proceeded). The high average values were driven by low-reactivity periods, and the fraction of missing reactivity got smaller for pine and spruce when the TOHRE values increased. Important exceptions were identified for periods when the emission profiles changed from terpenes to GLVs, a family of compounds containing a backbone of six carbon atoms with various functionalities (e.g. alcohols, aldehydes, esters) that indicate that the plant is suffering from stress. Then, very high TOHRE values were measured, and the missing fraction remained high.
This study found a different trend in the missing OHRE fraction of the Norway spruce from spring to autumn compared to one previous study (Nölscher et al., 2013), which indicates that additional studies are required to fully understand the complexity of biogenic reactive emissions. Future studies of boreal trees in situ should be conducted to confirm the findings presented.
The boreal forest is the largest continuous terrestrial biome and represents a third of forested areas (Keenan et al., 2015). It is a large source of volatile organic compounds (VOCs), such as isoprene (C5H8), monoterpenes (C10H16), and sesquiterpenes (C15H24), as well as some oxidised compounds such as methanol, acetaldehyde, and acetone (e.g. Lindfors and Laurila, 2000; Rinne et al., 2009). These compounds are emitted by vegetation and are therefore referred to as biogenic VOCs (BVOCs). Once in the atmosphere, these emissions undergo oxidation reactions by hydroxyl radical (OH), ozone (O3), and nitrate radical (NO3), and therefore they influence the lifetime and concentrations of these oxidants. Moreover, the oxidation of VOCs in the atmosphere can lead to the formation of secondary aerosol formation and may play a role in photochemical air pollution by affecting levels of oxidants and pollutants.
OH is very reactive and, therefore, is difficult to measure as well as to model (e.g. Heard and Pilling, 2003; Lelieveld et al., 2016). Its lifetime varies spatially over time due to variations in OH sinks. When observed OH concentrations are lower than predicted by global models, it is an indication of missing OH sinks in the models. To estimate the magnitude of missing OH chemical sinks, Kovacs and Brune (2001) started measuring total OH loss rates to compare with model results. The total OH loss rate (also known as total OH reactivity) is defined as the inverse of the OH lifetime; high total OH reactivity values translate into large OH sinks and short atmospheric OH lifetimes. Total OH reactivity measurements are therefore viewed as a tool to assess the exhaustiveness of chemical composition measurements of the atmosphere. These kinds of measurements have since been performed in various environments (see the review by Yang et al., 2016), and Williams and Brune (2015) advocate for the widespread use of such measurements at monitoring stations. Based on these studies, Ferracci et al. (2018) modelled global OH reactivity to investigate the missing OH sinks.
By comparing the total OH reactivity with the reactivity derived from the known chemical composition of a sample, the gap in chemical composition knowledge can be identified. Particularly in forest environments where these measurements have been made, this gap was found to be large. Di Carlo et al. (2004) first observed this missing reactivity at the Harvard Forest station, and this was later seen in other forests as well. Measurements of the total OH reactivity using the comparative reactivity method (CRM;  Sinha et al., 2008) in a boreal forest at the SMEAR II station in Hyytiälä, Finland, for instance, have shown that less than half of the OH reactivity can be explained by the measured VOCs (Sinha et al., 2010; Nölscher et al., 2012). The missing fraction at this site (up to 89 % for periods during which the forest experienced stressed conditions in Nölscher et al., 2012) is suspected to be the result of the incapacity to measure reactive compounds due to instrumental limitations. These compounds can be either VOCs directly emitted from the ecosystem (vegetation or soil) or oxidation compounds that are formed in the atmosphere through oxidation reactions of these emitted compounds. However, Praplan et al. (2019) recently demonstrated that including modelled oxidation products of VOCs that are not measured is not sufficient to explain the missing OH reactivity at SMEAR II.
Therefore, it becomes important to consider that the chemical composition of biogenic emissions has not been fully characterised. Applying total OH reactivity measurements to emissions allows for estimating its unknown fraction (in terms of reactivity) in a similar fashion. Previous measurements of the total OH reactivity of the emissions (TOHRE) were inconclusive. For instance, Kim et al. (2011) found that the TOHRE of four tree species matched the calculated OH reactivity of the emissions (COHRE, calculated from individually quantified compounds in the emissions). However, these measurements were performed for very short time periods (<24 h for each species). In contrast, Nölscher et al. (2013) found that, while the TOHRE from the Norway spruce could be almost fully explained in the spring (15 % missing reactivity), TOHRE values were much higher than COHRE in the summer (84 % missing reactivity) and in the autumn (70 % missing reactivity).
To further investigate the exhaustiveness of our knowledge of biogenic emissions and their specific influence on the observed missing OH reactivity, measurements were taken for the comprehensive, simultaneous VOC and OH reactivity of emissions from three common boreal tree species at a boreal forest station, the second Station for Measuring Ecosystem-Atmosphere Relations (SMEAR II) in Hyytiälä, Finland. The measurements alternated between seedlings of Scots pine (Pinus sylvestris), Norway spruce (Picea abies), and downy birch (Betula pubescens) trees and lasted from May to October 2017.
This study presents the total OH reactivity of emissions (TOHRE) for three tree species from the boreal forest. The studied trees were seedlings (in pots) placed outside the measurement container at the SMEAR II station in Hyytiälä, Finland. Instruments to measure TOHRE with the comparative reactivity method (CRM) and the chemical composition of the emissions (two online GC–MS systems) were located inside the container. Three dynamic branch enclosures (one for each tree species) were set up, but VOC and TOHRE measurements were performed for one enclosure at a time for periods ranging from a few days to over a week.
The results show that the chemical composition of the emissions varies greatly between tree species but also for the same tree depending on environmental conditions. The seedlings' emissions were classified as induced by abiotic stress (most likely drought) on several occasions. During these periods, TOHRE increased greatly and did not return to values close to zero at night, and the emission profiles changed with an increased fraction of green leaf volatiles (GLVs) and different terpene emissions.
Pine emissions were dominated by monoterpenes for all measurement periods with varying fractions of MBO and sesquiterpenes mostly. GLVs were found to be up to almost 40 % of the known reactivity in July and October for two short stress periods. Spruce emissions were also dominated by monoterpenes, and from July onwards, sesquiterpenes contributed almost equally to TOHRE, as observed in an earlier study (Hakola et al., 2017), possibly related to a systemic defence mechanism. Exceptions are the two stress periods, where GLVs and aldehydes were the major compounds. Birch emissions were dominated by various fractions of monoterpenes and sesquiterpenes with GLVs also present, especially in mid-July and August.
In absolute terms, the highest TOHRE values were measured for birch. This is partly explained by total OH reactivity values measured close to the experimental background (independent of the tree species measured) and normalised by the smallest dry weight of the leaves or needles of all tree species. Compared to pine, higher TOHRE averages were found for spruce, indicating that knowledge of the tree composition of a forest is important in order to assess reactive emissions.
In general, the missing OHRE fractions remain high, but for pine and spruce, they were driven by low-reactivity periods (low COHRE and scatter of the TOHRE measurements), and the missing OHRE fraction was smaller for periods with higher TOHRE. However, for birch, we found consistently high missing fractions throughout the measurement periods, which emphasises the need to look for emitted compounds with different functionalities than the ones studied so far.
Moreover, TOHRE exhibited various degrees of temperature dependence. For spruce in particular, this temperature dependence had a strong seasonality: a high temperature dependence was found in July and August (when less-volatile compounds such as sesquiterpenes are emitted), but a low dependence was measured in May and September. For pine and birch, the temperature difference varied less with the seasons. Stress emissions for pine in July were not temperature dependent at all, and no correlation could be found. Accounting for photosynthetically active radiation (PAR) with a hybrid model did not significantly improve the correlations, with the notable exception of pine emissions in July (including a very large peak on 9 July).
Because this type of characterisation of TOHRE is rare, only a comparison with a study by Nölscher et al. (2013) is possible. They found that the missing OHRE fraction for spruce emissions was low in spring and increased as the seasons proceeded; in the present study, however, we found a larger missing OHRE fraction for spruce emissions in the spring compared to later in the year. This underscores how much is still unknown regarding biogenic emissions of reactive species but also the challenges of the methods used. For instance, Nölscher et al. (2013) did not have continuous GC–MS measurements throughout the year and relied on a constant chemical speciation derived in the spring, while our results demonstrate that emission profiles vary throughout the year and react to various environmental conditions, particularly stress episodes. Further understanding, characterisation, and quantification of such stress episodes (and their many causes) are necessary in order to better model reactive emissions from vegetation in global models as they can occur suddenly and with high intensity.
While it remains difficult to generalise from the particular data set presented in this study, clear future research directions are highlighted. In addition, direct in situ studies for various trees from the forest should be conducted to confirm the findings of the present work.
Appendix B:
 Dry weight of biomass
Appendix C:
 Dynamic branch enclosure
Appendix D:
 COHRE by compound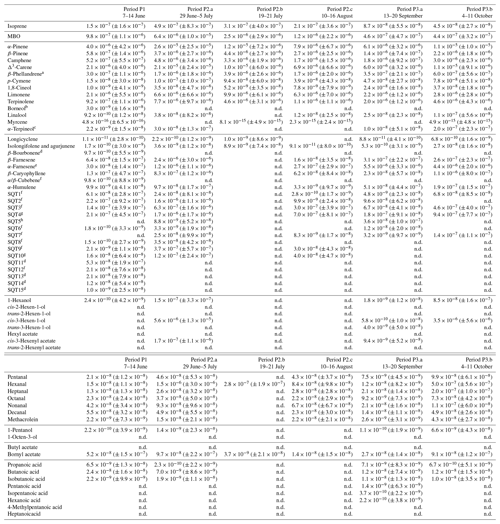 a Quantified as Δ3-carene. b Quantified as bornylacetate. c Quantified as terpinolene. d Quantified as isolongifolene. e Quantified as β-farnesene. f Quantified as β-caryophyllene. g Quantified as β-caryophyllene or isolongifolene. h Quantified as longicyclene.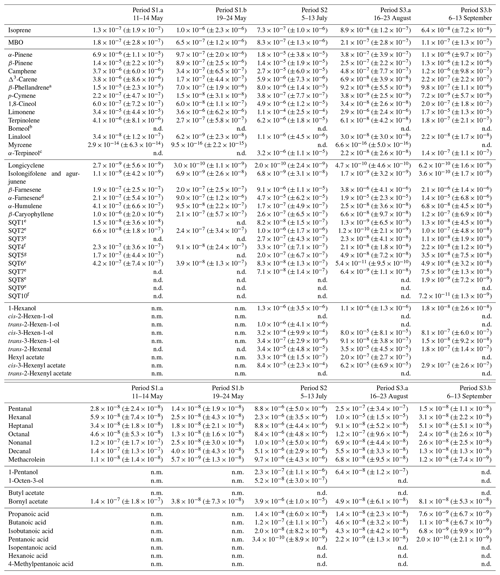 a Quantified as carene. b Quantified as bornylacetate. c Quantified as terpinolene. d Quantified as β-farnesene. e Quantified as β-caryophyllene. f Quantified as β-caryophyllene or isolongifolene. g Quantified as longicyclene.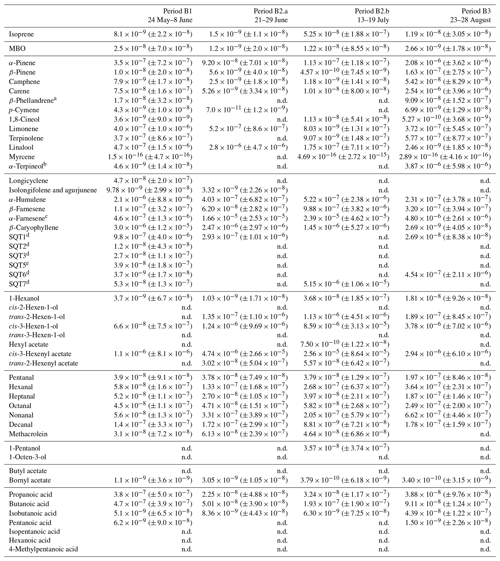 a Quantified as carene. b Quantified as terpinolene. c Quantified as β-farnesene. d Quantified as β-caryophyllene. e Quantified as longicyclene.
Appendix E:
 COHRE and missing OHRE temperature dependence
All data used in this study are available from the authors upon request.
APP conducted total OH reactivity measurements, performed data analysis, and led the writing of the manuscript. TT operated the GC–MSs and analysed the data produced. SS participated in the data analysis and commented on the manuscript. JB assisted in the interpretation of the results and gave comments on the manuscript. HH designed the study, conducted measurements with the GC–MSs, analysed the data, and commented on the manuscript. VT contributed to statistical analysis and reviewed the manuscript.
The authors declare that they have no conflict of interest.
The authors thank Hannele Hakola for the continuous support. They also thank the staff at the SMEAR II station for their help and Jari Waldén for lending calibration standards.
This research has been supported by the Academy of Finland, Biotieteiden ja Ympäristön Tutkimuksen Toimikunta (grant no. 314099). The presented research has been funded by the Academy of Finland (Academy Research Fellowship, project nos. 307797, 275608, and 312502) as well as by the Centre of Excellence in Atmospheric Science (grant no. 272041).
This paper was edited by Dan Yakir and reviewed by two anonymous referees.
Atkinson, R., Aschmann, S. M., Winer, A. M., and Carter, W. P. L.: Rate constants for the gas-phase reactions of nitrate radicals with furan, thiophene, and pyrrole at 295±1 K and atmospheric pressure, Environ. Sci. Technol., 19, 87–90, https://doi.org/10.1021/es00131a010, 1985. a
Bäck, J., Aalto, J., Henriksson, M., Hakola, H., He, Q., and Boy, M.: Chemodiversity of a Scots pine stand and implications for terpene air concentrations, Biogeosciences, 9, 689–702, https://doi.org/10.5194/bg-9-689-2012, 2012. a
Bertin, N., Staudt, M., Hansen, U., Seufert, G., Ciccioli, P., Foster, P., Fugit, J. L., and Torres, L.: Diurnal and seasonal course of monoterpene emissions from Quercus ilex (L.) under natural conditions application of light and temperature algorithms, Atmos. Environ., 31, 135–144, https://doi.org/10.1016/S1352-2310(97)00080-0, 1997. a
Bourtsoukidis, E., Bonn, B., Dittmann, A., Hakola, H., Hellén, H., and Jacobi, S.: Ozone stress as a driving force of sesquiterpene emissions: a suggested parameterisation, Biogeosciences, 9, 4337–4352, https://doi.org/10.5194/bg-9-4337-2012, 2012. a
Di Carlo, P., Brune, W. H., Martinez, M., Harder, H., Lesher, R., Ren, X., Thornberry, T., Carroll, M. A., Young, V., Shepson, P. B., Riemer, D., Apel, E., and Campbell, C.: Missing OH Reactivity in a Forest: Evidence for Unknown Reactive Biogenic VOCs, Science, 304, 722–725, https://doi.org/10.1126/science.1094392, 2004. a
Dillon, T. J., Tucceri, M. E., Dulitz, K., Horowitz, A., Vereecken, L., and Crowley, J. N.: Reaction of Hydroxyl Radicals with C4H5N (Pyrrole): Temperature and Pressure Dependent Rate Coefficients, J. Phys. Chem. A, 116, 6051–6058, https://doi.org/10.1021/jp211241x, 2012. a
Duhl, T. R., Helmig, D., and Guenther, A.: Sesquiterpene emissions from vegetation: a review, Biogeosciences, 5, 761–777, https://doi.org/10.5194/bg-5-761-2008, 2008. a
Faiola, C. L., Buchholz, A., Kari, E., Yli-Pirilä, P., Holopainen, J. K., Kivimäenpää, M., Miettinen, P., Worsnop, D. R., Lehtinen, K. E. J., Guenther, A. B., and Virtanen, A.: Terpene Composition Complexity Controls Secondary Organic Aerosol Yields from Scots Pine Volatile Emissions, Sci. Rep.-UK, 8, 3053, https://doi.org/10.1038/s41598-018-21045-1, 2018. a
Ferracci, V., Heimann, I., Abraham, N. L., Pyle, J. A., and Archibald, A. T.: Global modelling of the total OH reactivity: investigations on the "missing" OH sink and its atmospheric implications, Atmos. Chem. Phys., 18, 7109–7129, https://doi.org/10.5194/acp-18-7109-2018, 2018. a
Fuchs, H., Novelli, A., Rolletter, M., Hofzumahaus, A., Pfannerstill, E. Y., Kessel, S., Edtbauer, A., Williams, J., Michoud, V., Dusanter, S., Locoge, N., Zannoni, N., Gros, V., Truong, F., Sarda-Esteve, R., Cryer, D. R., Brumby, C. A., Whalley, L. K., Stone, D., Seakins, P. W., Heard, D. E., Schoemaecker, C., Blocquet, M., Coudert, S., Batut, S., Fittschen, C., Thames, A. B., Brune, W. H., Ernest, C., Harder, H., Muller, J. B. A., Elste, T., Kubistin, D., Andres, S., Bohn, B., Hohaus, T., Holland, F., Li, X., Rohrer, F., Kiendler-Scharr, A., Tillmann, R., Wegener, R., Yu, Z., Zou, Q., and Wahner, A.: Comparison of OH reactivity measurements in the atmospheric simulation chamber SAPHIR, Atmos. Meas. Tech., 10, 4023–4053, https://doi.org/10.5194/amt-10-4023-2017, 2017. a
Ghirardo, A., Koch, K., Taipale, R., Zimmer, I., Schnitzler, J.-P., and Rinne, J.: Determination of de novo and pool emissions of terpenes from four common boreal/alpine trees by 13CO2 labelling and PTR-MS analysis, Plant Cell Environ., 33, 781–792, https://doi.org/10.1111/j.1365-3040.2009.02104.x, 2010. a
Guenther, A.: Seasonal and Spatial Variations in Natural Volatile Organic Compound Emissions, Ecol. Appl., 7, 34–45, https://doi.org/10.1890/1051-0761(1997)007[0034:SASVIN]2.0.CO;2, 1997. a
Guenther, A., Hewitt, C. N., Erickson, D., Fall, R., Geron, C., Graedel, T., Harley, P., Klinger, L., Lerdau, M., Mckay, W. A., Pierce, T., Scholes, B., Steinbrecher, R., Tallamraju, R., Taylor, J., and Zimmerman, P.: A global model of natural volatile organic compound emissions, J. Geophys. Res., 100, 8873–8892, https://doi.org/10.1029/94JD02950, 1995. a
Guenther, A. B., Zimmerman, P. R., Harley, P. C., Monson, R. K., and Fall, R.: Isoprene and monoterpene emission rate variability: Model evaluations and sensitivity analyses, J. Geophys. Res.-Atmos., 98, 12609–12617, https://doi.org/10.1029/93JD00527, 1993. a
Guenther, A. B., Jiang, X., Heald, C. L., Sakulyanontvittaya, T., Duhl, T., Emmons, L. K., and Wang, X.: The Model of Emissions of Gases and Aerosols from Nature version 2.1 (MEGAN2.1): an extended and updated framework for modeling biogenic emissions, Geosci. Model Dev., 5, 1471–1492, https://doi.org/10.5194/gmd-5-1471-2012, 2012. a
Haapanala, S., Ekberg, A., Hakola, H., Tarvainen, V., Rinne, J., Hellén, H., and Arneth, A.: Mountain birch – potentially large source of sesquiterpenes into high latitude atmosphere, Biogeosciences, 6, 2709–2718, https://doi.org/10.5194/bg-6-2709-2009, 2009. a
Hakola, H., Tarvainen, V., Bäck, J., Ranta, H., Bonn, B., Rinne, J., and Kulmala, M.: Seasonal variation of mono- and sesquiterpene emission rates of Scots pine, Biogeosciences, 3, 93–101, https://doi.org/10.5194/bg-3-93-2006, 2006. a, b, c
Hakola, H., Tarvainen, V., Praplan, A. P., Jaars, K., Hemmilä, M., Kulmala, M., Bäck, J., and Hellén, H.: Terpenoid and carbonyl emissions from Norway spruce in Finland during the growing season, Atmos. Chem. Phys., 17, 3357–3370, https://doi.org/10.5194/acp-17-3357-2017, 2017. a, b, c, d
Hari, P. and Kulmala, M.: Station for Measuring Ecosystem-Atmosphere Relations (SMEAR II), Boreal Environ. Res., 10, 315–322, 2005. a
Heard, D. E. and Pilling, M. J.: Measurement of OH and HO2 in the Troposphere, Chem. Rev., 103, 5163–5198, https://doi.org/10.1021/cr020522s, 2003. a
Helin, A., Hakola, H., and Hellén, H.: Optimisation of a thermal desorption–gas chromatography–mass spectrometry method for the analysis of monoterpenes, sesquiterpenes and diterpenes, Atmos. Meas. Tech., 13, 3543–3560, https://doi.org/10.5194/amt-13-3543-2020, 2020. a
Hellén, H., Schallhart, S., Praplan, A. P., Petäjä, T., and Hakola, H.: Using in situ GC-MS for analysis of C2–C7 volatile organic acids in ambient air of a boreal forest site, Atmos. Meas. Tech., 10, 281–289, https://doi.org/10.5194/amt-10-281-2017, 2017. a, b
Hellén, H., Praplan, A. P., Tykkä, T., Ylivinkka, I., Vakkari, V., Bäck, J., Petäjä, T., Kulmala, M., and Hakola, H.: Long-term measurements of volatile organic compounds highlight the importance of sesquiterpenes for the atmospheric chemistry of a boreal forest, Atmos. Chem. Phys., 18, 13839–13863, https://doi.org/10.5194/acp-18-13839-2018, 2018. a
Helmig, D., Ortega, J., Duhl, T., Tanner, D., Guenther, A., Harley, P., Wiedinmyer, C., Milford, J., and Sakulyanontvittaya, T.: Sesquiterpene Emissions from Pine Trees – Identifications, Emission Rates and Flux Estimates for the Contiguous United States, Environ. Sci. Technol., 41, 1545–1553, https://doi.org/10.1021/es0618907, 2007. a
Junninen, H., Lauri, A., Keronen, P., Aalto, P., Hiltunen, V., Hari, P., and Kulmala, M.: Smart-SMEAR: on-line data exploration and visualization tool for SMEAR stations, Boreal Environ. Res., 14, 447–457, 2009. a
Keenan, R. J., Reams, G. A., Achard, F., de Freitas, J. V., Grainger, A., and Lindquist, E.: Dynamics of global forest area: Results from the FAO Global Forest Resources Assessment 2015, Forest Ecol. Manage., 352, 9–20, https://doi.org/10.1016/j.foreco.2015.06.014, 2015. a
Kim, S., Guenther, A., Karl, T., and Greenberg, J.: Contributions of primary and secondary biogenic VOC tototal OH reactivity during the CABINEX (Community Atmosphere-Biosphere INteractions Experiments)-09 field campaign, Atmos. Chem. Phys., 11, 8613–8623, https://doi.org/10.5194/acp-11-8613-2011, 2011. a
Kovacs, T. A. and Brune, W. H.: Total OH Loss Rate Measurement, J. Atmos. Chem., 39, 105–122, https://doi.org/10.1023/A:1010614113786, 2001. a
Lelieveld, J., Gromov, S., Pozzer, A., and Taraborrelli, D.: Global tropospheric hydroxyl distribution, budget and reactivity, Atmos. Chem. Phys., 16, 12477–12493, https://doi.org/10.5194/acp-16-12477-2016, 2016. a
Lindfors, V. and Laurila, T.: Biogenic volatile organic compound (VOC) emissions from forests in Finland, Boreal Environ. Res., 5, 95–113, 2000. a
Michoud, V., Hansen, R. F., Locoge, N., Stevens, P. S., and Dusanter, S.: Detailed characterizations of the new Mines Douai comparative reactivity method instrument via laboratory experiments and modeling, Atmos. Meas. Tech., 8, 3537–3553, https://doi.org/10.5194/amt-8-3537-2015, 2015. a, b, c
Nölscher, A. C., Williams, J., Sinha, V., Custer, T., Song, W., Johnson, A. M., Axinte, R., Bozem, H., Fischer, H., Pouvesle, N., Phillips, G., Crowley, J. N., Rantala, P., Rinne, J., Kulmala, M., Gonzales, D., Valverde-Canossa, J., Vogel, A., Hoffmann, T., Ouwersloot, H. G., Vilà-Guerau de Arellano, J., and Lelieveld, J.: Summertime total OH reactivity measurements from boreal forest during HUMPPA-COPEC 2010, Atmos. Chem. Phys., 12, 8257–8270, https://doi.org/10.5194/acp-12-8257-2012, 2012. a, b, c
Nölscher, A. C., Bourtsoukidis, E., Bonn, B., Kesselmeier, J., Lelieveld, J., and Williams, J.: Seasonal measurements of total OH reactivity emission rates from Norway spruce in 2011, Biogeosciences, 10, 4241–4257, https://doi.org/10.5194/bg-10-4241-2013, 2013. a, b, c, d, e, f, g, h, i
Owen, S., Boissard, C., Street, R. A., Duckham, S. C., Csiky, O., and Hewitt, C. N.: Screening of 18 Mediterranean plant species for volatile organic compound emissions, Atmos. Environ., 31, 101–117, https://doi.org/10.1016/S1352-2310(97)00078-2, 1997. a
Praplan, A. P., Pfannerstill, E. Y., Williams, J., and Hellén, H.: OH reactivity of the urban air in Helsinki, Finland, during winter, Atmos. Environ., 169, 150–161, https://doi.org/10.1016/j.atmosenv.2017.09.013, 2017. a, b
Praplan, A. P., Tykkä, T., Chen, D., Boy, M., Taipale, D., Vakkari, V., Zhou, P., Petäjä, T., and Hellén, H.: Long-term total OH reactivity measurements in a boreal forest, Atmos. Chem. Phys., 19, 14431–14453, https://doi.org/10.5194/acp-19-14431-2019, 2019. a, b, c, d, e, f
Rinne, J., Bäck, J., and Hakola, H.: Biogenic volatile organic compound emissions from the Eurasian taiga: current knowledge and future directions, Boreal Environ. Res., 14, 807–826, 2009. a
Ruuskanen, T. M., Hakola, H., Kajos, M. K., Hellén, H., Tarvainen, V., and Rinne, J.: Volatile organic compound emissions from Siberian larch, Atmos. Environ., 41, 5807–5812, https://doi.org/10.1016/j.atmosenv.2007.05.036, 2007. a
Scala, A., Allmann, S., Mirabella, R., Haring, M. A., and Schuurink, R. C.: Green Leaf Volatiles: A Plant's Multifunctional Weapon against Herbivores and Pathogens, Int. J. Mol. Sci., 14, 17781–17811, https://doi.org/10.3390/ijms140917781, 2013. a
Sinha, V., Williams, J., Crowley, J. N., and Lelieveld, J.: The Comparative Reactivity Method – a new tool to measure total OH Reactivity in ambient air, Atmos. Chem. Phys., 8, 2213–2227, https://doi.org/10.5194/acp-8-2213-2008, 2008. a, b, c
Sinha, V., Williams, J., Lelieveld, J., Ruuskanen, T., Kajos, M., Patokoski, J., Hellen, H., Hakola, H., Mogensen, D., Boy, M., Rinne, J., and Kulmala, M.: OH Reactivity Measurements within a Boreal Forest: Evidence for Unknown Reactive Emissions, Environ. Sci. Technol., 44, 6614–6620, https://doi.org/10.1021/es101780b, 2010. a
Tarvainen, V., Hakola, H., Hellén, H., Bäck, J., Hari, P., and Kulmala, M.: Temperature and light dependence of the VOC emissions of Scots pine, Atmos. Chem. Phys., 5, 989–998, https://doi.org/10.5194/acp-5-989-2005, 2005. a, b, c
Wang, M., Schurgers, G., Arneth, A., Ekberg, A., and Holst, T.: Seasonal variation in biogenic volatile organic compound (BVOC) emissions from Norway spruce in a Swedish boreal forest, Boreal Environ. Res., 22, 353–367, 2017. a
Williams, J. and Brune, W.: A roadmap for OH reactivity research, Atmos. Environ., 106, 371–372, https://doi.org/10.1016/j.atmosenv.2015.02.017, 2015.  a
Yang, Y., Shao, M., Wang, X., Nölscher, A. C., Kessel, S., Guenther, A., and Williams, J.: Towards a quantitative understanding of total OH reactivity: A review, Atmos. Environ., 134, 147–161, https://doi.org/10.1016/j.atmosenv.2016.03.010, 2016. a
Yassaa, N., Song, W., Lelieveld, J., Vanhatalo, A., Bäck, J., and Williams, J.: Diel cycles of isoprenoids in the emissions of Norway spruce, four Scots pine chemotypes, and in Boreal forest ambient air during HUMPPA-COPEC-2010, Atmos. Chem. Phys., 12, 7215–7229, https://doi.org/10.5194/acp-12-7215-2012, 2012. a, b
Zannoni, N., Dusanter, S., Gros, V., Sarda Esteve, R., Michoud, V., Sinha, V., Locoge, N., and Bonsang, B.: Intercomparison of two comparative reactivity method instruments inf the Mediterranean basin during summer 2013, Atmos. Meas. Tech., 8, 3851–3865, https://doi.org/10.5194/amt-8-3851-2015, 2015. a