Articles | Volume 20, issue 9
https://doi.org/10.5194/bg-20-1741-2023
© Author(s) 2023. This work is distributed under
the Creative Commons Attribution 4.0 License.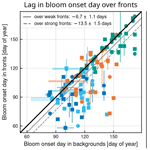 Satellite data reveal earlier and stronger phytoplankton blooms over fronts in the Gulf Stream region
Fronts affect phytoplankton growth and phenology by locally reducing stratification and increasing nutrient supplies. Biomass peaks at fronts have been observed in situ and linked to local nutrient upwelling and/or lateral transport, while reduced stratification over fronts has been shown to induce earlier blooms in numerical models. Satellite imagery offers the opportunity to quantify these induced changes in phytoplankton over a large number of fronts and at synoptic scales. Here we used 20 years of sea surface temperature (SST) and chlorophyll a (Chl a) satellite data in a large region surrounding the Gulf Stream to quantify the impact of fronts on surface Chl a (used as a proxy for phytoplankton) in three contrasting bioregions, from oligotrophic to blooming ones, and throughout the year. We computed an heterogeneity index (HI) from SST to detect fronts and used it to sort fronts into weak and strong ones based on HI thresholds. We observed that the location of strong fronts corresponded to the persistent western boundary current fronts and weak fronts to more ephemeral submesoscale fronts. We compared Chl a distributions over strong fronts, over weak fronts, and outside of fronts in the three bioregions. We assessed three metrics: the Chl a excess over fronts at the local scale of fronts, the surplus in Chl a induced at the bioregional scale, and the lag in spring bloom onset over fronts. We found that weak fronts are associated with a local Chl a excess weaker than strong fronts, but because they are also more frequent, they contribute equally to the regional Chl a surplus. We also found that the local excess of Chl a was 2 to 3 times larger in the bioregion with a spring bloom than in the oligotrophic bioregion, which can be partly explained by the transport of nutrients by the Gulf Stream. We found strong seasonal variations in the amplitude of the Chl a excess over fronts, and we show periods of Chl a deficit over fronts north of 45∘ N that we attribute to subduction. Finally we provide observational evidence that blooms start earlier over fronts by 1 to 2 weeks. Our results suggest that the spectacular impact of fronts at the local scale of fronts (up to +60 %) is more limited when considered at the regional scale of bioregions (less than +5 %) but may nevertheless have implications for the region's overall ecosystem.
Received: 22 Dec 2022 – Discussion started: 06 Jan 2023 – Revised: 31 Mar 2023 – Accepted: 13 Apr 2023 – Published: 11 May 2023
Phytoplankton form the basis of marine food webs and are key players in the ocean carbon cycle. The transport of limiting nutrients to the sunlit euphotic layer by advective and convective processes and the amount of light received by the cells – which is closely related to the stratification of the water column – are two important factors that control their growth. As there are marked contrasts in nutrient and light availability in the ocean, it follows that the global ocean can be divided into different regional biomes (or bioregions), characterized by different phytoplankton abundances and seasonality (Longhurst, 2007; Vichi et al., 2011; Bock et al., 2022). The contrasts between biomes are largely explained by consistent physical forcings and environmental conditions (such as nutrient sources), operating at the biome scale, which determine how the two main controlling factors, nutrient and light, limit growth. For example, subtropical gyres are areas where negative wind stress curl induces a deepening of the thermocline and nutricline, resulting in oligotrophic biomes where productivity is relatively constant and low throughout the year. At higher latitudes, where the wind stress curl is positive, the nutricline is shallower; the strong seasonality of the vertical mixing will induce a multi-stage operation, with a time of reduced productivity and convective nutrient supply in winter when the mixing is strong, as well as a bloom in spring when the stratification sets in (Wilson, 2005; Williams and Follows, 2011). In addition to these large-scale patterns, there has been considerable evidence over past years that the nutrient and light environments are modified at ocean fronts, with consequences for phytoplankton (see reviews by Lévy et al., 2012; Mahadevan, 2016; Lévy et al., 2018).
Ocean fronts are narrow zones where horizontal gradients in water properties (temperature, salinity, nutrients, etc.) are significant (Belkin et al., 2009) and are sometimes described as discontinuities because of their abrupt nature (Mauzole, 2022). Lévy et al. (2018) distinguished two types of fronts. Persistent fronts like those associated with the Gulf Stream and Kuroshio are locked in place by the coastal boundary and large-scale atmospheric forcing. Their forcing is directly balanced by submesoscale symmetric instability, which takes energy mostly from the kinetic energy of the jet, and baroclinic instability, which converts the potential energy of the sloping density surfaces into large meanders and eddies. Their ephemeral cousins are continuously forming, moving, and dissipating at the ocean surface. They are being strained by mesoscale eddies, which intensifies their geostrophic along-front currents and feeds fluid instabilities, generating submesoscale vortices and filaments. Importantly, a front will generate a cross-frontal ageostrophic secondary circulation – an overturning circulation which tries to flatten the density surfaces in the front, with upwelling on the warm side of the front and downwelling on the cold side (Thomas et al., 2008; McWilliams, 2016; Mahadevan et al., 2020). The highly energetic persistent fronts are characterized by a deep vertical velocity structure that reaches the thermocline, while ephemeral fronts have associated cross-frontal secondary circulations that are generally confined to the vertically well-mixed upper layer of the ocean. Frontal dynamics also involves increased stratification, reduction in mixed-layer depth, and suppression of vertical mixing at the front (Thomas and Ferrari, 2008).
Fronts may affect phytoplankton in various ways. The upward branch of the secondary circulation may enhance phytoplankton growth by transporting nutrients into the euphotic zone (Johnson et al., 2010; Wilson, 2021). The downward branch may subduct biomass and excess nutrients into the subsurface (Calil et al., 2011; Omand et al., 2015; Hauschildt et al., 2021). Persistent fronts may act as a conduit for nutrients over large distances, known as nutrient streams (Pelegrí et al., 1996; Williams et al., 2011; Long et al., 2022). Advective transport along fronts may transport nutrients to the shallow flanks of subtropical gyres (Letscher et al., 2016; Gupta et al., 2022). Finally, in highly seasonal regimes where productivity is slowed in winter due to deep mixing, increased restratification over fronts may promote localized phytoplankton blooms before the large-scale outburst associated with seasonal stratification (Mahadevan et al., 2012). These effects all together are responsible for local anomalies in the distribution of phytoplankton over fronts. Thus fronts not only are a physical boundary but also constitute specific habitats for phytoplankton (Mangolte et al., 2023).
Despite numerous local observations and a strong theoretical basis for the physical processes affecting phytoplankton growth over fronts (e.g., recent studies by Marrec et al., 2018; Little et al., 2018; de Verneil et al., 2019; Ruiz et al., 2019; Uchida et al., 2020; Kessouri et al., 2020; Tzortzis et al., 2021), their integrated contribution at the scale of regional biomes is still largely unknown. Ephemeral fronts move and dissipate continuously on timescales of days to weeks and are thus particularly difficult to sample. This limitation is reinforced by the fact that only a limited number of fronts can be observed with in situ field observations. Thus satellite-derived estimates of chlorophyll a (hereafter Chl a), although limited to the surface of the ocean and an imperfect proxy for phytoplankton biomass, are the only data that allow the impact of fronts to be tracked synoptically over large areas. A first attempt to assess the contribution of small-scale physical processes to regional satellite Chl a budgets was based on a geostatistical analysis derived from data at 9 km resolution (Doney et al., 2003), extended later in Glover et al. (2018), with which they examined the change in spatial variance with distance. This methodology was too coarse to reveal the impact of frontal processes but confirmed the important role of mesoscale eddies in stirring large-scale gradients of phytoplankton abundance. The role of fronts has been assessed with three different methods. Guo et al. (2019) combined ocean color data with altimetry and drifting floats, and they estimated that, over subtropical gyres of the global ocean, the respective contributions of mesoscale dynamics and submesoscale frontal dynamics to high-Chl a anomalies were comparable in magnitude. Keerthi et al. (2022) proposed an approach based on the deconvolution of local Chl a time series into different timescales; they observed that subseasonal timescales contributed roughly 30 % of the total satellite Chl a variance and were associated with small (<100 km) spatial scales – which included both the mesoscale and the submesoscale. Finally, the most quantitative approach, and the only one directly related to co-localization with fronts, was proposed by Liu and Levine (2016), which they applied to the North Pacific subtropical gyre. They detected sea surface temperature (SST) fronts by computing an index that measures the local heterogeneity of the SST field from satellite data. This allowed them to compare satellite Chl a values over areas impacted by fronts (characterized by a large value of the heterogeneity index) with values over areas that were not impacted. They found that the increase in Chl a over the fronts was negligible in summer but reached almost 40 % in winter.
Here we build on this last approach and quantify the surplus Chl a induced by fronts at the scale of biomes. The excess Chl a over fronts depends on how efficient fronts are at supplying nutrients, which itself depends on how deep the fronts reach into the nutricline, on the seasonality of this vertical supply, and also on the presence of nutrient sources that are advected horizontally along the front. The impact of fronts is also expected to differ between biomes, with submesoscale advection of nutrients likely to be more important in oligotrophic biomes where other nutrient supply routes are scarce, as well as submesoscale restratification in blooming biomes. Finally, the regional surplus Chl a induced by fronts at the scale of biomes will depend on the spatiotemporal footprint of fronts, which also varies seasonally (Callies et al., 2015) and regionally (Mauzole, 2022). Thus, our intention is to explore and quantify how the contribution of fronts to biome-scale Chl a varies in three contrasted biomes, ranging from subtropical to subpolar; varies throughout the year; and varies with the occurrence and strength of fronts.
We focus our analysis on the North Atlantic region surrounding the Gulf Stream, where multiple biomes and fronts of different strengths are found in a limited geographical area (Bock et al., 2022) with strong seasonality. In the south, our study area encompasses part of the North Atlantic subtropical gyre, characterized by an oligotrophic regime and year-long low productivity. In the north, north of the Gulf Stream jet, is a more productive subpolar regime characterized by a recurrent spring bloom. In between, there is a moderately productive regime, with maximum productivity in winter. Another feature that makes this study area particularly relevant is that it has two strong persistent fronts, the Gulf Stream and the shelf-break front, which are both associated with strong and deep-reaching vertical circulations (Flagg et al., 2006; Liao et al., 2022), with the Gulf Stream being a recognized horizontal nutrient pathway toward the North Atlantic (Pelegrí et al., 1996; Williams and Follows, 2011). But there are also a plethora of ephemeral fronts continuously forming at more random locations (Drushka et al., 2019; Sanchez-Rios et al., 2020).
We use satellite data of Chl a and SST and build on the approach of Liu and Levine (2016) to distinguish between persistent and ephemeral fronts. We evaluate the impact of both types of fronts on Chl a on the basis of three indicators: the excess (or deficit) Chl a over fronts at the local scale of the front, the surplus Chl a attributable to fronts at the scale of regional biomes, and the change in the timing of the Chl a spring bloom over fronts.
Our analyses of surface satellite data over the open ocean in the Gulf Stream extension region, based on the computation of an heterogeneity index (HI), allowed us to show a substantial local excess of surface Chl a concentrations over SST fronts compared to background levels, to detect earlier blooms by 1 to 2 weeks over fronts, and to quantify that the regional surplus in surface Chl a at the scale of the region associated with fronts was less than 5 %. The background levels in this region are very contrasted seasonally and geographically, with a productive and highly seasonal subpolar biome north of the Gulf Stream, a more steady oligotrophic permanent subtropical biome to the south, and an intermediate situation in between the two, where a seasonal subtropical biome prevails. The main results above hold for these three contrasted biomes, although with different intensities, which also depend on the strength of HI.
The open-ocean Gulf Stream extension region is a region of strong biological contrasts and the particularly strong frontal activity of the world's ocean, undergoing rapid warming which strongly affects fisheries (Pershing et al., 2015; Neto et al., 2021). Quantifying the impact of fronts on phytoplankton is thus particularly relevant, and we expected to detect a large impact. The use of 20 years of satellite data of SST to detect fronts and of surface Chl a to compute anomalies over the front allowed us to provide a robust assessment of this impact. We found three main results: first, that the regional increase in surface phytoplankton associated with fronts is rather modest, 5 % at most; second, that nutrient supplies at fronts enhanced the spring bloom 2 to 3 times more than they enhanced oligotrophic regions; and third, that the spring bloom onset was earlier over fronts by 1 to 2 weeks, which we already knew from models (Karleskind et al., 2011; Mahadevan et al., 2012) but for which we had no direct evidence nor sound quantification. We also showed a reduction in phytoplankton over fronts at the end of the bloom, which we attributed to subduction.
Although limited to the Gulf Stream region, this study provides a well-tested methodology that could enable the study of the links between small-scale ocean physics and phytoplankton response in other regions of the global ocean. In addition, these results on the importance of fronts for phytoplankton biomass and phenology could also be used to evaluate models coupling ocean physics and phytoplankton at high spatial resolution or to test parameterizations representing the effect of small scales on phytoplankton production in coarser-resolution models. Finally, the combination of these observation-based results with theoretical arguments and well-assessed models should also allow us to better constrain the response of phytoplankton production to climate change (Couespel et al., 2021), which still has very large uncertainties, as shown by the latest set of Earth system models (Kwiatkowski et al., 2020).
Code and data availability
Chl a GlobColour data were last downloaded in June 2022 from the E.U. Copernicus Marine Service (https://doi.org/10.48670/moi-00280, Garnesson et al., 2021). These data have been previously developed, validated, and distributed by ACRI ST, France. SST data were also last downloaded in June 2022 from the E.U. Copernicus Marine Service (https://doi.org/10.48670/moi-00169, Good et al., 2020b). All the scripts needed to reproduce our results, as well as the intermediate data necessary to generate the figures, are available on a Zenodo repository (https://doi.org/10.5281/zenodo.7470199, Haëck et al., 2022).
ML, LB, and CH conceived the study. CH conceived the methodology and performed the analysis. ML and CH wrote the paper. All authors contributed to the analysis and discussion of the results.
The contact author has declared that none of the authors has any competing interests.
Publisher's note: Copernicus Publications remains neutral with regard to jurisdictional claims in published maps and institutional affiliations.
Clément Haëck benefited from a PhD scholarship by the ENS CHANEL chair. We thank Daniele Iudicone, Francesco d'Ovidio, Sakina-Dorothée Ayata, and Amala Mahadevan for the useful discussions which helped to refine our methodology. We thank Xiao Liu for helping us reproduce their work.
This research has been supported by the Centre National d'Etudes Spatiales (TOSCA).
This paper was edited by Peter Landschützer and reviewed by two anonymous referees.
Abraham, E. R.: The Generation of Plankton Patchiness by Turbulent Stirring, Nature, 391, 577–580, https://doi.org/10.1038/35361, 1998. a
Allen, J. T., Brown, L., Sanders, R., Mark Moore, C., Mustard, A., Fielding, S., Lucas, M., Rixen, M., Savidge, G., Henson, S., and Mayor, D.: Diatom Carbon Export Enhanced by Silicate Upwelling in the Northeast Atlantic, Nature, 437, 728–732, https://doi.org/10.1038/nature03948, 2005. a
Behrenfeld, M. J., O'Malley, R. T., Boss, E. S., Westberry, T. K., Graff, J. R., Halsey, K. H., Milligan, A. J., Siegel, D. A., and Brown, M. B.: Revaluating Ocean Warming Impacts on Global Phytoplankton, Nat. Clim. Change, 6, 323, https://doi.org/10.1038/nclimate2838, 2015. a
Belkin, I. M. and O'Reilly, J. E.: An Algorithm for Oceanic Front Detection in Chlorophyll and SST Satellite Imagery, J. Marine Syst., 78, 319–326, https://doi.org/10.1016/j.jmarsys.2008.11.018, 2009. a
Belkin, I. M., Cornillon, P. C., and Sherman, K.: Fronts in Large Marine Ecosystems, Prog. Oceanogr., 81, 223–236, https://doi.org/10.1016/j.pocean.2009.04.015, 2009. a
Bock, N., Cornec, M., Claustre, H., and Duhamel, S.: Biogeographical Classification of the Global Ocean from BGC‐Argo Floats, Global Biogeochem. Cy., 36, e2021GB007233, https://doi.org/10.1029/2021GB007233, 2022. a, b, c, d
Calil, P. H. R., Doney, S. C., Yumimoto, K., Eguchi, K., and Takemura, T.: Episodic Upwelling and Dust Deposition as Bloom Triggers in Low-Nutrient, Low-Chlorophyll Regions, J. Geophys. Res., 116, C06030, https://doi.org/10.1029/2010JC006704, 2011. a
Callies, J., Ferrari, R., Klymak, J. M., and Gula, J.: Seasonality in Submesoscale Turbulence, Nat. Commun., 6, 6862, https://doi.org/10.1038/ncomms7862, 2015. a, b
Cayula, J.-F. and Cornillon, P.: Edge Detection Algorithm for SST Images, J. Atmos. Ocean. Tech., 9, 67–80, https://doi.org/10.1175/1520-0426(1992)009<0067:EDAFSI>2.0.CO;2, 1992. a
Contreras, M., Renault, L., and Marchesiello, P.: Understanding Energy Pathways in the Gulf Stream, J. Phys. Oceanogr., 53, 719–736, https://doi.org/10.1175/JPO-D-22-0146.1, 2023. a
Couespel, D., Lévy, M., and Bopp, L.: Oceanic primary production decline halved in eddy-resolving simulations of global warming, Biogeosciences, 18, 4321–4349, https://doi.org/10.5194/bg-18-4321-2021, 2021. a
de Verneil, A., Franks, P. J. S., and Ohman, M. D.: Frontogenesis and the Creation of Fine‐scale Vertical Phytoplankton Structure, J. Geophys. Res.-Oceans, 124, 1509–1523, https://doi.org/10.1029/2018JC014645, 2019. a
Doney, S. C., Glover, D. M., McCue, S. J., and Fuentes, M.: Mesoscale Variability of Sea-viewing Wide Field-of-view Sensor (SeaWiFS) Satellite Ocean Color: Global Patterns and Spatial Scales, J. Geophys. Res.-Oceans, 108, 3024, https://doi.org/10.1029/2001jc000843, 2003. a
Dong, J., Fox‐Kemper, B., Zhang, H., and Dong, C.: The Seasonality of Submesoscale Energy Production, Content, and Cascade, Geophys. Res. Lett., 47, e2020GL087388, https://doi.org/10.1029/2020GL087388, 2020. a
Drushka, K., Asher, W. E., Sprintall, J., Gille, S. T., and Hoang, C.: Global Patterns of Submesoscale Surface Salinity Variability, J. Phys. Oceanogr., 49, 1669–1685, https://doi.org/10.1175/jpo-d-19-0018.1, 2019. a
El Hourany, R., Abboud‐Abi Saab, M., Faour, G., Aumont, O., Crépon, M., and Thiria, S.: Estimation of Secondary Phytoplankton Pigments from Satellite Observations Using Self-Organizing Maps (SOMs), J. Geophys. Res.-Oceans, 124, 1357–1378, https://doi.org/10.1029/2018jc014450, 2019. a
Flagg, C. N., Dunn, M., Wang, D.-P., Rossby, H. T., and Benway, R. L.: A Study of the Currents of the Outer Shelf and Upper Slope from a Decade of Shipboard ADCP Observations in the Middle Atlantic Bight, J. Geophys. Res.-Oceans, 111, C06003, https://doi.org/10.1029/2005JC003116, 2006. a
Garnesson, P., Mangin, A., Fanton d'Andon, O., Demaria, J., and Bretagnon, M.: The CMEMS GlobColour chlorophyll a product based on satellite observation: multi-sensor merging and flagging strategies, Ocean Sci., 15, 819–830, https://doi.org/10.5194/os-15-819-2019, 2019. a
Garnesson, P., Mangin, A., Fanton d'Andon, O., Demaria, J., and Bretagnon, M.: Global Ocean Colour (Copernicus-GlobColour), Bio-Geo-Chemical, L3 (daily) from Satellite Observations (1997-ongoing), E.U. Copernicus Marine Service Information [data set], https://doi.org/10.48670/moi-00280, 2021. a, b
Glover, D. M., Doney, S. C., Oestreich, W. K., and Tullo, A. W.: Geostatistical Analysis of Mesoscale Spatial Variability and Error in SeaWiFS and MODIS/Aqua Global Ocean Color Data, J. Geophys. Res.-Oceans, 123, 22–39, https://doi.org/10.1002/2017JC013023, 2018. a
Good, S., Fiedler, E., Mao, C., Martin, M. J., Maycock, A., Reid, R., Roberts-Jones, J., Searle, T., Waters, J., While, J., and Worsfold, M.: The Current Configuration of the OSTIA System for Operational Production of Foundation Sea Surface Temperature and Ice Concentration Analyses, Remote Sens.-Basel, 12, 720, https://doi.org/10.3390/rs12040720, 2020a. a
Good, S., Fiedler, E., Mao, C., Martin, M. J., Maycock, A., Reid, R., Roberts-Jones, J., Searle, T., Waters, J., While, J., and Worsfold, M.: ESA SST CCI and C3S reprocessed sea surface temperature analyses, E.U. Copernicus Marine Service Information [data set], https://doi.org/10.48670/moi-00169, 2020b. a, b
Gruber, N., Lachkar, Z., Frenzel, H., Marchesiello, P., Münnich, M., McWilliams, J. C., Nagai, T., and Plattner, G.-K.: Eddy-Induced Reduction of Biological Production in Eastern Boundary Upwelling Systems, Nat. Geosci., 4, 787–792, https://doi.org/10.1038/ngeo1273, 2011. a
Guo, M., Xiu, P., Chai, F., and Xue, H.: Mesoscale and Submesoscale Contributions to High Sea Surface Chlorophyll in Subtropical Gyres, Geophys. Res. Lett., 46, 13217–13226, https://doi.org/10.1029/2019GL085278, 2019. a
Gupta, M., Williams, R. G., Lauderdale, J. M., Jahn, O., Hill, C., Dutkiewicz, S., and Follows, M. J.: A Nutrient Relay Sustains Subtropical Ocean Productivity, P. Natl. Acad. Sci. USA, 119, e2206504119, https://doi.org/10.1073/pnas.2206504119, 2022. a
Haëck, C., Lévy, M., Mangolte, I., and Bopp, L.: Satellite data reveal earlier and stronger phytoplankton blooms over fronts in the Gulf Stream region: code and data, Zenodo [code], https://doi.org/10.5281/ZENODO.7470199, 2022. a
Halsey, K. H. and Jones, B. M.: Phytoplankton Strategies for Photosynthetic Energy Allocation, Annu. Rev. Mar. Sci., 7, 265–297, https://doi.org/10.1146/annurev-marine-010814-015813, 2015. a
Hauschildt, J., Thomsen, S., Echevin, V., Oschlies, A., José, Y. S., Krahmann, G., Bristow, L. A., and Lavik, G.: The fate of upwelled nitrate off Peru shaped by submesoscale filaments and fronts, Biogeosciences, 18, 3605–3629, https://doi.org/10.5194/bg-18-3605-2021, 2021. a
Inomura, K., Deutsch, C., Jahn, O., Dutkiewicz, S., and Follows, M. J.: Global Patterns in Marine Organic Matter Stoichiometry Driven by Phytoplankton Ecophysiology, Nat. Geosci., 15, 1034–1040, https://doi.org/10.1038/s41561-022-01066-2, 2022. a
Johnson, K. S., Riser, S. C., and Karl, D. M.: Nitrate Supply from Deep to Near-Surface Waters of the North Pacific Subtropical Gyre, Nature, 465, 1062–1065, https://doi.org/10.1038/nature09170, 2010. a, b
Karleskind, P., Lévy, M., and Mémery, L.: Modifications of Mode Water Properties by Sub-Mesoscales in a Bio-Physical Model of the Northeast Atlantic, Ocean Model., 39, 47–60, https://doi.org/10.1016/j.ocemod.2010.12.003, 2011. a, b, c, d
Keerthi, M. G., Lévy, M., Aumont, O., Lengaigne, M., and Antoine, D.: Contrasted Contribution of Intraseasonal Time Scales to Surface Chlorophyll Variations in a Bloom and an Oligotrophic Regime, J. Geophys. Res.-Oceans, 125, e2019JC015701, https://doi.org/10.1029/2019jc015701, 2020. a
Keerthi, M. G., Lévy, M., and Aumont, O.: Intermittency in Phytoplankton Bloom Triggered by Modulations in Vertical Stability, Sci. Rep.-UK, 11, 1285, https://doi.org/10.1038/s41598-020-80331-z, 2021. a
Keerthi, M. G., Prend, C. J., Aumont, O., and Lévy, M.: Annual Variations in Phytoplankton Biomass Driven by Small-Scale Physical Processes, Nat. Geosci., 15, 1027–1033, https://doi.org/10.1038/s41561-022-01057-3, 2022. a
Kessouri, F., Bianchi, D., Renault, L., McWilliams, J. C., Frenzel, H., and Deutsch, C. A.: Submesoscale Currents Modulate the Seasonal Cycle of Nutrients and Productivity in the California Current System, Global Biogeochem. Cy., 34, e2020GB006578, https://doi.org/10.1029/2020GB006578, 2020. a
Kwiatkowski, L., Torres, O., Bopp, L., Aumont, O., Chamberlain, M., Christian, J. R., Dunne, J. P., Gehlen, M., Ilyina, T., John, J. G., Lenton, A., Li, H., Lovenduski, N. S., Orr, J. C., Palmieri, J., Santana-Falcón, Y., Schwinger, J., Séférian, R., Stock, C. A., Tagliabue, A., Takano, Y., Tjiputra, J., Toyama, K., Tsujino, H., Watanabe, M., Yamamoto, A., Yool, A., and Ziehn, T.: Twenty-first century ocean warming, acidification, deoxygenation, and upper-ocean nutrient and primary production decline from CMIP6 model projections, Biogeosciences, 17, 3439–3470, https://doi.org/10.5194/bg-17-3439-2020, 2020. a
Lathuilière, C., Echevin, V., Lévy, M., and Madec, G.: On the Role of the Mesoscale Circulation on an Idealized Coastal Upwelling Ecosystem, J. Geophys. Res.-Oceans, 115, C09018, https://doi.org/10.1029/2009JC005827, 2010. a
Lehahn, Y., d' Ovidio, F., Lévy, M., and Heifetz, E.: Stirring of the Northeast Atlantic Spring Bloom: A Lagrangian Analysis Based on Multisatellite Data, J. Geophys. Res.-Oceans, 112, C08005, https://doi.org/10.1029/2006jc003927, 2007. a
Letscher, R. T., Primeau, F., and Moore, J. K.: Nutrient Budgets in the Subtropical Ocean Gyres Dominated by Lateral Transport, Nat. Geosci., 9, 815–819, https://doi.org/10.1038/ngeo2812, 2016. a
Liao, F., Liang, X., Li, Y., and Spall, M.: Hidden Upwelling Systems Associated with Major Western Boundary Currents, J. Geophys. Res.-Oceans, 127, e2021JC017649, https://doi.org/10.1029/2021JC017649, 2022. a, b
Linder, C. A. and Gawarkiewicz, G.: A Climatology of the Shelfbreak Front in the Middle Atlantic Bight, J. Geophys. Res.-Oceans, 103, 18405–18423, https://doi.org/10.1029/98JC01438, 1998. a
Little, H., Vichi, M., Thomalla, S., and Swart, S.: Spatial and Temporal Scales of Chlorophyll Variability Using High-Resolution Glider Data, J. Marine Syst., 187, 1–12, https://doi.org/10.1016/j.jmarsys.2018.06.011, 2018. a
Liu, X. and Levine, N. M.: Enhancement of Phytoplankton Chlorophyll by Submesoscale Frontal Dynamics in the North Pacific Subtropical Gyre, Geophys. Res. Lett., 43, 1651–1659, https://doi.org/10.1002/2015gl066996, 2016. a, b, c, d, e, f, g, h, i, j
Long, Y., Guo, X., Zhu, X.-H., and Li, Z.: Nutrient Streams in the North Pacific, Prog. Oceanogr., 202, 102756, https://doi.org/10.1016/j.pocean.2022.102756, 2022. a
Longhurst, A. R.: Ecological Geography of the Sea, 2nd edn., Academic Press, https://doi.org/10.1016/B978-0-12-455521-1.X5000-1, 2007. a
Lotze, H. K., Tittensor, D. P., Bryndum-Buchholz, A., Eddy, T. D., Cheung, W. W. L., Galbraith, E. D., Barange, M., Barrier, N., Bianchi, D., Blanchard, J. L., Bopp, L., Büchner, M., Bulman, C. M., Carozza, D. A., Christensen, V., Coll, M., Dunne, J. P., Fulton, E. A., Jennings, S., Jones, M. C., Mackinson, S., Maury, O., Niiranen, S., Oliveros-Ramos, R., Roy, T., Fernandes, J. A., Schewe, J., Shin, Y.-J., Silva, T. A. M., Steenbeek, J., Stock, C. A., Verley, P., Volkholz, J., Walker, N. D., and Worm, B.: Global Ensemble Projections Reveal Trophic Amplification of Ocean Biomass Declines with Climate Change, P. Natl. Acad. Sci. USA, 116, 12907–12912, https://doi.org/10.1073/pnas.1900194116, 2019. a
Lévy, M., Mémery, L., and Madec, G.: Combined Effects of Mesoscale Processes and Atmospheric High-Frequency Variability on the Spring Bloom in the MEDOC Area, Deep-Sea Res. Pt. I, 47, 27–53, https://doi.org/10.1016/s0967-0637(99)00051-5, 2000. a
Lévy, M., Lehahn, Y., André, J.-M., Mémery, L., Loisel, H., and Heifetz, E.: Production Regimes in the Northeast Atlantic: A Study Based on Sea-viewing Wide Field-of-view Sensor (SeaWiFS) Chlorophyll and Ocean General Circulation Model Mixed Layer Depth, J. Geophys. Res.-Oceans, 110, C07S10, https://doi.org/10.1029/2004JC002771, 2005. a, b
Lévy, M., Ferrari, R., Franks, P. J. S., Martin, A. P., and Rivière, P.: Bringing Physics to Life at the Submesoscale, Geophys. Res. Lett., 39, L14602, https://doi.org/10.1029/2012gl052756, 2012. a, b
Lévy, M., Franks, P. J. S., and Smith, K. S.: The Role of Submesoscale Currents in Structuring Marine Ecosystems, Nat. Commun., 9, 4758, https://doi.org/10.1038/s41467-018-07059-3, 2018. a, b, c, d
Mahadevan, A.: The Impact of Submesoscale Physics on Primary Productivity of Plankton, Annu. Rev. Mar. Sci., 8, 161–184, https://doi.org/10.1146/annurev-marine-010814-015912, 2016. a
Mahadevan, A., D'Asaro, E., Lee, C., and Perry, M. J.: Eddy-Driven Stratification Initiates North Atlantic Spring Phytoplankton Blooms, Science, 337, 54–58, https://doi.org/10.1126/science.1218740, 2012. a, b, c, d, e
Mahadevan, A., Pascual, A., Rudnick, D. L., Ruiz, S., Tintoré, J., and D'Asaro, E.: Coherent Pathways for Vertical Transport from the Surface Ocean to Interior, B. Am. Meteorol. Soc., 101, E1996–E2004, https://doi.org/10.1175/BAMS-D-19-0305.1, 2020. a
Mangolte, I., Lévy, M., Dutkiewicz, S., Clayton, S., and Jahn, O.: Plankton Community Response to Fronts: Winners and Losers, J. Plankton Res., 44, 241–258, https://doi.org/10.1093/plankt/fbac010, 2022. a
Mangolte, I., Lévy, M., Haëck, C., and Ohman, M. D.: Sub-frontal niches of plankton communities driven by transport and trophic interactions at ocean fronts, EGUsphere [preprint], https://doi.org/10.5194/egusphere-2023-471, 2023. a
Marrec, P., Grégori, G., Doglioli, A. M., Dugenne, M., Della Penna, A., Bhairy, N., Cariou, T., Hélias Nunige, S., Lahbib, S., Rougier, G., Wagener, T., and Thyssen, M.: Coupling physics and biogeochemistry thanks to high-resolution observations of the phytoplankton community structure in the northwestern Mediterranean Sea, Biogeosciences, 15, 1579–1606, https://doi.org/10.5194/bg-15-1579-2018, 2018. a
Mauzole, Y.: Objective Delineation of Persistent SST Fronts Based on Global Satellite Observations, Remote Sens. Environ., 269, 112798, https://doi.org/10.1016/j.rse.2021.112798, 2022. a, b
McWilliams, J. C.: Submesoscale Currents in the Ocean, P. Roy. Soc. A.-Math. Phy., 472, 20160117, https://doi.org/10.1098/rspa.2016.0117, 2016. a
Merchant, C. J., Embury, O., Bulgin, C. E., Block, T., Corlett, G. K., Fiedler, E., Good, S. A., Mittaz, J., Rayner, N. A., Berry, D., Eastwood, S., Taylor, M., Tsushima, Y., Waterfall, A., Wilson, R., and Donlon, C.: Satellite-Based Time-Series of Sea-Surface Temperature since 1981 for Climate Applications, Scientific Data, 6, 223, https://doi.org/10.1038/s41597-019-0236-x, 2019. a, b
Mouriño, B., Fernández, E., and Alves, M.: Thermohaline Structure, Ageostrophic Vertical Velocity Fields and Phytoplankton Distribution and Production in the Northeast Atlantic Subtropical Front, J. Geophys. Res.-Oceans, 109, C04020, https://doi.org/10.1029/2003jc001990, 2004. a, b
Neto, A. G., Langan, J. A., and Palter, J. B.: Changes in the Gulf Stream Preceded Rapid Warming of the Northwest Atlantic Shelf, Communications Earth & Environment, 2, 1–10, https://doi.org/10.1038/s43247-021-00143-5, 2021. a
Omand, M. M., D'Asaro, E. A., Lee, C. M., Perry, M. J., Briggs, N., Cetinić, I., and Mahadevan, A.: Eddy-Driven Subduction Exports Particulate Organic Carbon from the Spring Bloom, Science, 348, 222–225, https://doi.org/10.1126/science.1260062, 2015. a
Oschlies, A.: Nutrient Supply to the Surface Waters of the North Atlantic: A Model Study, J. Geophys. Res.-Oceans, 107, 14-1–14-13, https://doi.org/10.1029/2000JC000275, 2002. a
Pelegrí, J. L., Csanady, G. T., and Martins, A.: The North Atlantic Nutrient Stream, J. Oceanogr., 52, 275–299, https://doi.org/10.1007/BF02235924, 1996. a, b, c
Pershing, A. J., Alexander, M. A., Hernandez, C. M., Kerr, L. A., Le Bris, A., Mills, K. E., Nye, J. A., Record, N. R., Scannell, H. A., Scott, J. D., Sherwood, G. D., and Thomas, A. C.: Slow Adaptation in the Face of Rapid Warming Leads to Collapse of the Gulf of Maine Cod Fishery, Science, 350, 809–812, https://doi.org/10.1126/science.aac9819, 2015. a
Romera-Castillo, C., Letscher, R. T., and Hansell, D. A.: New Nutrients Exert Fundamental Control on Dissolved Organic Carbon Accumulation in the Surface Atlantic Ocean, P. Natl. Acad. Sci. USA, 113, 10497–10502, https://doi.org/10.1073/pnas.1605344113, 2016. a
Ruiz, S., Claret, M., Pascual, A., Olita, A., Troupin, C., Capet, A., Tovar‐Sánchez, A., Allen, J., Poulain, P.-M., Tintoré, J., and Mahadevan, A.: Effects of Oceanic Mesoscale and Submesoscale Frontal Processes on the Vertical Transport of Phytoplankton, J. Geophys. Res.-Oceans, 124, 5999–6014, https://doi.org/10.1029/2019JC015034, 2019. a, b
Sanchez-Rios, A., Shearman, R. K., Klymak, J., D'Asaro, E., and Lee, C.: Observations of Cross-Frontal Exchange Associated with Submesoscale Features along the North Wall of the Gulf Stream, Deep-Sea Res. Pt. I, 163, 103342, https://doi.org/10.1016/j.dsr.2020.103342, 2020. a
Sarmiento, J. L., Slater, R., Barber, R., Bopp, L., Doney, S. C., Hirst, A. C., Kleypas, J., Matear, R., Mikolajewicz, U., Monfray, P., Soldatov, V., Spall, S. A., and Stouffer, R.: Response of Ocean Ecosystems to Climate Warming, Global Biogeochem. Cy., 18, GB3003, https://doi.org/10.1029/2003GB002134, 2004. a, b, c
Simoes-Sousa, I. T., Tandon, A., Pereira, F., Lazaneo, C. Z., and Mahadevan, A.: Mixed Layer Eddies Supply Nutrients to Enhance the Spring Phytoplankton Bloom, Front. Mar. Sci., 9, 825027, https://doi.org/10.3389/fmars.2022.825027, 2022. a
Stock, C. A., Dunne, J. P., and John, J. G.: Drivers of trophic amplification of ocean productivity trends in a changing climate, Biogeosciences, 11, 7125–7135, https://doi.org/10.5194/bg-11-7125-2014, 2014. a
Taylor, J. R. and Ferrari, R.: Ocean Fronts Trigger High Latitude Phytoplankton Blooms, Geophys. Res. Lett., 38, L23601, https://doi.org/10.1029/2011gl049312, 2011. a
Thomas, L. and Ferrari, R.: Friction, Frontogenesis, and the Stratification of the Surface Mixed Layer, J. Phys. Oceanogr., 38, 2501–2518, https://doi.org/10.1175/2008JPO3797.1, 2008. a
Thomas, L. N., Tandon, A., and Mahadevan, A.: Submesoscale Processes and Dynamics, in: Geophysical Monograph Series, edited by: Hecht, M. W. and Hasumi, H., American Geophysical Union, 177, 17–38, https://doi.org/10.1029/177GM04, 2008. a
Tréguer, P., Bowler, C., Moriceau, B., Dutkiewicz, S., Gehlen, M., Aumont, O., Bittner, L., Dugdale, R., Finkel, Z., Iudicone, D., Jahn, O., Guidi, L., Lasbleiz, M., Leblanc, K., Levy, M., and Pondaven, P.: Influence of Diatom Diversity on the Ocean Biological Carbon Pump, Nat. Geosci., 11, 27–37, https://doi.org/10.1038/s41561-017-0028-x, 2018. a
Tzortzis, R., Doglioli, A. M., Barrillon, S., Petrenko, A. A., d'Ovidio, F., Izard, L., Thyssen, M., Pascual, A., Barceló-Llull, B., Cyr, F., Tedetti, M., Bhairy, N., Garreau, P., Dumas, F., and Gregori, G.: Impact of moderately energetic fine-scale dynamics on the phytoplankton community structure in the western Mediterranean Sea, Biogeosciences, 18, 6455–6477, https://doi.org/10.5194/bg-18-6455-2021, 2021.  a
Uchida, T., Balwada, D., Abernathey, R. P., McKinley, G. A., Smith, S. K., and Lévy, M.: Vertical Eddy Iron Fluxes Support Primary Production in the Open Southern Ocean, Nat. Commun., 11, 1125, https://doi.org/10.1038/s41467-020-14955-0, 2020. a
Vichi, M., Allen, J. I., Masina, S., and Hardman-Mountford, N. J.: The Emergence of Ocean Biogeochemical Provinces: A Quantitative Assessment and a Diagnostic for Model Evaluation, Global Biogeochem. Cy., 25, GB2005, https://doi.org/10.1029/2010GB003867, 2011. a
Williams, R. G. and Follows, M.: Ocean Dynamics and the Carbon Cycle: Principles and Mechanisms, Cambridge University Press, https://doi.org/10.1017/CBO9780511977817, 2011. a, b
Williams, R. G., McDonagh, E., Roussenov, V. M., Torres-Valdes, S., King, B., Sanders, R., and Hansell, D. A.: Nutrient Streams in the North Atlantic: Advective Pathways of Inorganic and Dissolved Organic Nutrients, Global Biogeochem. Cy., 25, GB4008, https://doi.org/10.1029/2010GB003853, 2011. a
Wilson, C.: Global Climatological Relationships between Satellite Biological and Physical Observations and Upper Ocean Properties, J. Geophys. Res., 110, C10001, https://doi.org/10.1029/2004JC002724, 2005. a
Wilson, C.: Evidence of Episodic Nitrate Injections in the Oligotrophic North Pacific Associated with Surface Chlorophyll Blooms, J. Geophys. Res.-Oceans, 126, e2021JC017169, https://doi.org/10.1029/2021JC017169, 2021. a
Zhai, X., Greatbatch, R. J., and Kohlmann, J.-D.: On the Seasonal Variability of Eddy Kinetic Energy in the Gulf Stream Region, Geophys. Res. Lett., 35, L24609, https://doi.org/10.1029/2008GL036412, 2008. a