Articles | Volume 20, issue 5
https://doi.org/10.5194/bg-20-945-2023
© Author(s) 2023. This work is distributed under
the Creative Commons Attribution 4.0 License.
Zooplankton community succession and trophic links during a mesocosm experiment in the coastal upwelling off Callao Bay (Peru)
The Humboldt Current Upwelling System (HCS) is the most productive eastern boundary upwelling system (EBUS) in terms of fishery yield on the planet. EBUSs are considered hotspots of climate change with predicted expansion of mesopelagic oxygen minimum zones (OMZs) and related changes in the frequency and intensity of upwelling of nutrient-rich, low-oxygen deep water. To increase our mechanistic understanding of how upwelling impacts plankton communities and trophic links, we investigated mesozooplankton community succession and gut fluorescence, fatty acid and elemental compositions (C, N, O, P), and stable isotope (δ13C, δ15N) ratios of dominant mesozooplankton and microzooplankton representatives in a mesocosm setup off Callao (Peru) after simulated upwelling with OMZ water from two different locations and different N:P signatures (moderate and extreme treatments). An oxycline between 5 and 15 m with hypoxic conditions (<50 µmol L−1) below ∼10 m persisted in the mesocosms throughout the experiment. No treatment effects were determined for the measured parameters, but differences in nutrient concentrations established through OMZ water additions were only minor. Copepods and polychaete larvae dominated in terms of abundance and biomass. Development and reproduction of the dominant copepod genera Paracalanus sp., Hemicyclops sp., Acartia sp., and Oncaea sp. were hindered as evident from accumulation of adult copepodids but largely missing nauplii. Failed hatching of nauplii in the hypoxic bottom layer of the mesocosms and poor nutritional condition of copepods suggested from very low gut fluorescence and fatty acid compositions most likely explain the retarded copepod development. Correlation analysis revealed no particular trophic relations between dominant copepods and phytoplankton groups. Possibly, particulate organic matter with a relatively high C:N ratio was a major diet of copepods. C:N ratios of copepods and polychaetes ranged 4.8–5.8 and 4.2–4.3, respectively. δ15N was comparatively high (∼13 ‰–17 ‰), potentially because the injected OMZ source water was enriched in δ15N as a result of anoxic conditions. Elemental ratios of dinoflagellates deviated strongly from the Redfield ratio. We conclude that opportunistic feeding of copepods may have played an important role in the pelagic food web. Overall, projected changes in the frequency and intensity of upwelling hypoxic waters may make a huge difference for copepod reproduction and may be further enhanced by varying N:P ratios of upwelled OMZ water masses.
Received: 19 Jul 2022 – Discussion started: 20 Jul 2022 – Revised: 31 Jan 2023 – Accepted: 10 Feb 2023 – Published: 09 Mar 2023
The Humboldt Current System (HCS) is the most productive eastern boundary upwelling system (EBUS) in terms of fishery yield despite only moderate primary production rates compared with the other three major EBUSs (Bakun and Weeks, 2008; Chavez et al., 2008). About 10 % of global fish landings originate in the HCS due to wind-driven upwelling of cold nutrient-rich waters to the sunlit surface (Chavez et al., 2008). Such extraordinary high fishery yield, especially off Peru, results from a high trophic transfer efficiency compared to the other EBUSs (Chavez and Messié, 2009).
Zooplankton play the key role in transferring biomass from primary producers to pelagic fishes (Ayón et al., 2008b, 2011). Particularly, upwelling and consequent productivity dynamics are tightly coupled in the northern HCS, as indicated by the strong bottom-up-driven control of Peruvian anchovy (Engraulis ringens), the most important exploited planktivorous fish in the region. Accordingly, changes in zooplankton biomass and composition have direct consequences for higher trophic levels, e.g., fish, seabirds, and marine mammals (Ayón et al., 2008b, 2011; Aronés et al., 2019).
The HCS is characterized by a pronounced shallow and intense (acidic) oxygen minimum zone (OMZ) (Bakun and Weeks, 2008), where hypoxic waters can approach the surface (<10 m depth, Graco et al., 2017; Bach et al., 2020). Also, the HCS is characterized by massive loss and source processes of dissolved inorganic nitrogen (N) and phosphorus (P), respectively (Ingall and Jahnke, 1994; Kalvelage et al., 2011), so that water masses with N:P ratios substantially below the canonical Redfield ratio are upwelled into the surface layer (Franz et al., 2012a; Löscher et al., 2016). Such upwelled water masses have major impacts on total phytoplankton biomass (Franz et al., 2012b), community structure, and fatty acid composition (Hauss et al., 2012), with unclear consequences for consumers. The OMZ will further expand and intensify in the course of global climate change, with severe implications for biogeochemical cycles and pelagic life (Stramma et al., 2008; Schmidtko et al., 2017).
On the continental shelf, the zooplankton community in the Peruvian upwelling region is dominated by small herbivorous copepods that consume phytoplankton blooms in the freshly upwelled waters (Espinoza and Bertrand, 2014). As primary production decreases with distance from shore, the continental slope and oceanic zooplankton communities typically become dominated by euryphagous or carnivorous organisms such as large copepods, euphausiids, and gelatinous plankton (Ayón et al., 2008a). This large zooplankton, especially euphausiids, provides rich feeding grounds for Peruvian anchovy off the shelf, whereas on the shelf towards the coast, the contribution of copepods in their diet increases (Schwartzlose et al., 1999; Espinoza and Bertrand, 2008; Espinoza et al., 2009; Aronés et al., 2019).
The fertilizing effect of wind-driven upwelling of nutrient-rich waters in the HCS is subject to interannual variations due to El Niño events that weaken trade winds and increase the flow of warm water into the eastern equatorial Pacific, hindering upwelling of nutrient-rich deeper water (Karl et al., 1995; Escribano, 1998; Carr, 2001). Also, upwelling intensities of nutrient-rich waters are not directly correlated with primary and secondary production off Peru: intermediate-strength upwelling favors high zooplankton abundance and biomass, particularly in spring (October–November), while upwelling that is too strong or too weak hampers zooplankton productivity in winter and summer, respectively (Ayón et al., 2008a; Chavez and Messié, 2009; Aronés et al., 2019). Whether climate change will cause wind and hence upwelling intensities and patterns in the Pacific to decline or increase is currently not clear (Bakun and Weeks, 2008; Gruber et al., 2012), but wind and thus upwelling in the poleward portions of EBUSs have intensified, and this trend is expected to continue (García-Reyes et al., 2015).
High fish production has been attributed to pelagic fish feeding directly on phytoplankton, suggesting high trophic transfer efficiency (Ryther, 1969; Walsh, 1981). More recent studies revealed the dominance of mostly large zooplankton (copepods and euphausiids) in the diet of anchovies (Konchina, 1991; Espinoza and Bertrand, 2008, 2014) and of smaller copepods, fewer euphausiids (compared to anchovies), and potentially also some phytoplankton in the diet of Pacific sardines (Espinoza et al., 2009). Such findings emphasize the key role of zooplankton in the pelagic food web off Peru, and Espinoza and Bertrand (2008) hypothesize a more efficient use of primary production by zooplankton in the HCS than in other EBUSs, facilitating the high fish production.
Zooplankton species composition and biomass off Peru vary strongly on short timescales due to advection, peaks of larval production, trophic interactions, and community succession (Ayón et al., 2008a). Zooplankton composition itself is regulated by food quality and composition. Times of low primary production favor euryphagous or carnivorous over herbivorous zooplankton (Ayón et al., 2008a). In fact, microzooplankton and mesozooplankton seem to control phytoplankton standing stocks over the shelf (Minas et al., 1986; Cullen et al., 1992; Franz et al., 2012a).
We conducted a large-scale in situ mesocosm experiment in the coastal Peruvian upwelling region off Callao, Peru, in austral summer 2017 to investigate impacts of upwelling on pelagic biogeochemistry, plankton communities, and food web dynamics. We simulated upwelling events by adding two different types of OMZ waters with different N:P signatures to each of four mesocosms. However, bioavailable inorganic nitrogen (N) concentrations in the collected OMZ source water were lower than expected. For this reason, the N difference established through the addition of OMZ water in the mesocosm treatments with a moderate and an extreme N:P signature (2.89 and 1.49, respectively) was only minor (2.2 µmol L−1) but significant directly after the additions (Bach et al., 2020). Initially, diatoms dominated the phytoplankton communities in the mesocosms. After OMZ deep-water addition and concurrent exhaustion of N, the communities shifted towards a pronounced dominance of the mixotrophic dinoflagellate Akashiwo sanguinea. Initially ranging between 1.4 and 4.9 µg L−1 in the mesocosms, chlorophyll a increased only slightly after OMZ water addition to average mesocosm-specific concentrations of max. 5.6 µg L−1 between day 12 and day 40 without any pronounced peak or treatment separation. Only towards the end of the experiment (after day 40) did eutrophication due to defecating seabirds (guanotrophication) lead to an intense phytoplankton bloom and concurrent increase in chlorophyll a to values around 20 µg L−1 in most mesocosms.
The goal of the present work was to study the mesozooplankton (MeZP) community response to the stimulated upwelling events and to investigate trophic links in OMZ-influenced waters. Our hypotheses were as follows. (1) The efficient utilization of a phytoplankton bloom stimulated through upwelled deep waters by MeZP is higher at higher N:P stoichiometry (the moderate OMZ treatment) of upwelled water masses. To address this, we measured gut fluorescence and fatty acid compositions of dominant copepods to study whether feeding rates and contributions of biomarker fatty acids (Dalsgaard et al., 2003) increased differently at the two treatment levels. (2) The added OMZ water mass with the higher N:P stoichiometry would lead to higher zooplankton abundance and biomass compared to those with lower N:P (the extreme OMZ treatment). This was addressed by monitoring the temporal development (abundance, biomass) of the MeZP community in the mesocosms over the 50 d experiment duration. Furthermore, correlation analysis of dominant copepod species with phytoplankton simultaneously monitored by project collaborators (Bach et al., 2020; Bernales, 2023) was performed to gain insight into food web relations, and background information on the stable isotope (SI) and elemental composition (C:N) of dominant zooplankton taxa is provided. Concomitantly, we monitored the MeZP in the adjacent Pacific shelf waters at one sampling point near the mesocosm field to gain insight into the in situ zooplankton community development.
3.1

 Zooplankton abundance and contribution of taxonomic groups

Average total abundance of MeZP was very similar at the start of the experiment, and no significant differences developed between the two OMZ deep-water treatments over the course of the experiment (Table 1). However, the established treatment differences with respect to N:P signatures were significant but only small. Thus, any potential small-scale treatment differences in MeZP abundance, if existent at all, would have most likely been hidden by methodical uncertainties associated with net sampling, patchy distribution, and counting bias (Algueró-Muñiz et al., 2017; Lischka et al., 2017).

Variability of the manual counts of total MeZP abundance (individuals per liter: Ind L−1) was high between mesocosms and sampling days. Average total MeZP abundance varied between 6.3 Ind L−1 (CI 3.5) on day 30 and 52.7 Ind L−1 (CI 14.0) on day 42 in the moderate-treatment mesocosms and between 7.2 Ind L−1 (CI 3.3) on day 30 and 33.9 Ind L−1 (CI 30.1) on day 42 in the mesocosms with the extreme treatment. Total abundance of MeZP sampled in the adjacent Pacific station was in a similar range as numbers estimated in the mesocosm treatments (9.7–129.3 Ind L−1) and peaked on day 48 (Fig. 3). Individual mesocosms developed some more distinct abundance peaks at the beginning and towards the end of the study with maximum numbers of 112.3 Ind L−1 in M1 on day 10, 127.9 Ind L−1 in M4 on day 42, and 129.0 Ind L−1 in M3 on day 48. Deep-water additions on day 11 and day 12 after removal of approximately 20 m3 of water from each of the mesocosms, respectively (Bach et al., 2020), resulted in distinct deviation from average MeZP abundance between day 13 and day 18 with temporarily higher numbers in the moderate mesocosms. This deviation was only short-term, not significant, and due to some higher abundance in M7 (moderate treatment), causing the relatively large confidence intervals (Table 1, Fig. S1 in the Supplement). It had equalized by day 24 but was indicative of different MeZP densities of the two injected deep-water masses.

In terms of abundance, copepods dominated the zooplankton communities at all times both in the mesocosms and the adjacent Pacific. Other taxa (in descending order of contribution: Polychaeta, Echinodermata, Euphausiacea, Mollusca, Hemichordata, Cnidaria, Chordata, Cirripedia, Rotifera) contributed only between 0.2 % and 18 %. Higher shares of other taxa were found only until day 18, and afterwards they were negligible. This pattern essentially reflected the occurrence of copepods and other taxa in the surrounding Pacific (0.3 %–24 %), although in the Pacific other taxa contributed higher shares to the zooplankton community compared to the values found in the mesocosms also after day 18 (Fig. 4a).

Among other taxa, in the mesocosms, Polychaeta, Echinodermata, Euphausiacea, and Mollusca (taxa ordered in decreasing trend) were most abundant, sometimes constituting more than 5 % of total abundance. Remaining taxa consistently contributed less than 5 % to total MeZP abundance. Towards the end of the study, the numbers of Chordata (ichthyoplankton) and Cnidaria increased in M1, M2, M4, M5, and M6 to values >1 %. In the Pacific in the early phase of the experiment, Polychaeta (up to 21 %) and Echinodermata (up to 11 %) dominated, followed by Hemichordata (2 %) and Rotifera (3 %). In the second half of the experiment, Polychaeta, Cirripedia, Mollusca, and Chordata (each <3 %) dominated the generally low share of other taxa in total abundance. Chordata (ichthyoplankton) increased because fish eggs were added to the mesocosms on day 31; however, they did not stay for long in the mesocosms (Bach et al., 2020) (Fig. 4b).
3.1.1

 Dominant copepods

The enclosed copepod community was dominated by Hemicyclops sp. at the time of mesocosm closure. Hemicyclops sp. continued to dominate in the moderate treatment almost throughout the experiment (up to 65 % on day 36), whereas in the mesocosms of the extreme treatment, after the deep-water addition Paracalanus sp. increased to similar percent contributions as Hemicyclops (up to 54 % on day 18 and up to 60 % on day 13, respectively) (Fig. 5). The genus Paracalanus comprised two different species, P. parvus and P. cf. quasimodo. P. parvus was numerically dominant and occurred with all copepodite stages. P. cf. quasimodo was found only in the adult stage. The variability of the percentage share over time of Hemicyclops sp. and Paracalanus sp. in the surrounding waters of the Pacific was higher than observed in the mesocosms.

Acartia sp., usually the dominant neritic species in these coastal upwelling areas, was consistently low in both mesocosm treatments (up to 1 % mean portions), whereas it ranged 0.1 %–30 % in the adjacent Pacific. Five different species of the cyclopoid genus Oncaea were registered: Oncaea venusta, O. cf. chiquito, and three other Oncaea species that could not be identified to species level. Especially in the second half of the experiment, Oncaea sp. was the third most abundant copepod genus in both treatments. The cyclopoid genus Oithona occurred with four different species: O. nana, O. cf. nana, and two undetermined Oithona species. Oithona sp. had consistently low abundances in the mesocosms (<1 %) but contributed 10.6 % on day 30 in the adjacent Pacific.

Harpacticoid copepods occurred in the mesocosms at the beginning but decreased quickly after the start of the experiment in both treatments (≤8 %). The succession of harpacticoid copepods in the surrounding Pacific was more variable than in the mesocosms (8 %–33 %). Opposite to the adjacent Pacific, the occurrence of copepod nauplii in the mesocosms was low during most of the experiment in both treatments. In the moderate treatment, nauplii contributed between 9.4 % and 0 % over time. Only towards the end of the experiment did nauplii increase to 26.2 %. In the extreme-treatment mesocosms nauplii contribution varied between 14.8% and 3.6 %. Nauplii contribution in the surrounding Pacific was almost consistently higher than in the mesocosms (up to 79 %).

Copepods of the category "others" comprised the genera Calanus, Centropages, Clausocalanus, Corycaeus, Clytemnestra, Eucalanus, Euterpina, Labidocera, Mecynocera, Microsetella, Scolecithrix, and Temora. This category accounted on average for less than 1 % of total copepod abundance in all mesocosms as well as the Pacific during the whole experiment duration.

For none of these species or groups were significant effects between the mesocosm deep-water treatments determined (Table 1).
3.1.2

 Succession of developmental stages of dominant copepods

Overall, succession patterns of developmental stages of the different copepod species in the mesocosms did not vary significantly between the deep-water treatments. In the case of Paracalanus sp. and Hemicyclops sp. copepodids usually outnumbered adults in both mesocosm treatments (Fig. 6); only sporadically did adults account for more than 60 %–70 %. The stage contribution of Paracalanus in the Pacific was mostly in favor of copepodids (usually >50 %), except for day 24 and day 36 with >70 % adult copepods. The portion of Hemicyclops copepodids in the surrounding Pacific was consistently higher throughout the experiment and always higher than 50 %. Acartia sp. copepodids dominated in both mesocosm treatments at the experiment start. Thereafter, the population matured and consisted predominantly of adult copepods. The stage distribution of Acartia sp. in the surrounding Pacific was more variable. Oncaea sp. almost exclusively occurred in the adult stage in both the mesocosms and the Pacific.
3.2

 Zooplankton biomass

For the dominant taxa, the ZooScan method reduced the systematic variability and added the size information for each object, allowing biomass estimation. For rare taxa, manual enumeration is to be preferred because of the low split ratios in the scans.

Zooplankton biomass (as estimated based upon scanned area of individuals) was dominated by copepods (Fig. 7a), which in the mesocosms ranged between 11.8 and 75.6 µg DM L−1 in the first phase, increased to between 8.58 and 137.9 µg DM L−1 in the second phase, and declined again to between 4.8 and 40.8 µg DM L−1 in the third phase. The second most important contributor to zooplankton biomass were polychaetes (Fig. 7b), which in the mesocosms were hardly detected on day 1 and ranged between 0 and 39.0 µg DM L−1 in the first phase, between 0 and 74.7 µg DM L−1 in the second phase, and between 0 and 0.65 µg DM L−1 in the third phase. The highest biomass values were observed for both total copepods and polychaetes in mesocosms M2 and M3 (both in the moderate mesocosm treatment). The main contributors to copepod biomass were Paracalanus sp. and Hemicyclops sp. Due to the high variability between mesocosms, however, this treatment effect was insignificant (Table 1). In the adjacent Pacific, total copepod and polychaete biomass tended to be lower than in the experimental mesocosms but followed a similar temporal pattern (peaking in phase 2). Among the copepods, the numerically dominant genera Paracalanus and Hemicyclops were also the main biomass contributors (Fig. 8a and b), with roughly equal share and peaking in phase 2, in particular in the moderate OMZ signature treatment. Acartia, which was only present in lower abundance and biomass (Fig. 8c), tended to reach higher biomass in the extreme OMZ signature treatment (in particular in M4). Oncaea and other or unidentified cyclopoids (Fig. 8d, f) were mainly present in phase 1, with the lowest values in phase 2 and a slight increase in phase 3.

In contrast to MeZP abundance, biomass (copepods) peaked between day 10 and day 20, but the highest abundance values were found towards the end of the experiment when biomass was at a minimum. This discrepancy is most likely due to a shift in the abundance–biomass relationship of dominating zooplankton organisms towards smaller-sized or lower-mass individuals, respectively.
3.3

 Zooplankton grazing, gut fluorescence

In general, initial (T0 min) GF of Paracalanus sp. females was very low, but averages for the moderate and the extreme treatment, respectively, on day 34–35 (0.14 and 0.29 ng pigment µg DM−1) were higher than on day 21–22 (0.03 and 0.08 ng pigment µg DM−1), indicating somewhat higher feeding activities of Paracalanus females on autotrophic food particles later in the experiment (Table 2). Due to such low GF, no clearance rate measurements could be inferred because GF of incubated copepods showed no clear decreasing trend in GF over time (data published at PANGAEA, https://doi.org/10.1594/PANGAEA.947833, Lischka et al. (2022).) Female Paracalanus of the adjacent Pacific had even lower fluorescence in their guts (0.005 and −0.004 ng pigment µg DM−1) than measured in mesocosm organisms.

An attempt to analyze gut fluorescence with HPLC to identify degradation products (pheopigments) of chlorophyll a and draw conclusions on potential food sources (Welschmeyer, 1994) revealed no identifiable peak(s) besides astaxanthin, which is indicative of the copepods' carapax, supporting very low GF and thus very low feeding on autotrophic food particles.

Mean C:N values for copepods in mesocosms treated with St. 3 (extreme) and St. 1 (moderate) OMZ water were 5.40 and 4.99, respectively, and had overlapping CIs; thus, no significant differences are suggested. Availability of female Paracalanus during day 34–35 was not sufficient to reach the detection limit for C:N analysis.
3.4

 Lipids

Fatty acid (FA) analyses revealed a relatively high degree of impurities of the samples. This is a common problem in small copepods with rather low total lipid mass close to the detection limit (Lischka and Hagen, 2007). For this reason, identification of FA peaks in the gas chromatogram was sometimes difficult or even impossible. Therefore, data presented here only include results of samples for which at least 70 % of all peaks of a chromatogram could be identified and assigned to a specific FA (i.e., 70 % purity).
3.4.1

 Total fatty acids

Total fatty acid content (TFA in % DM, equivalent to total lipid levels) of Paracalanus sp. (females) from the mesocosms was low (1.5 % DM–4.2 % DM) throughout the study period and did not vary significantly between the phases and treatments as indicated by overlapping CIs (Table 3). Mean TFAs of individuals collected in the adjacent Pacific during phase 2 fall within the range of TFA levels determined for the mesocosm copepods. Only one copepod sample from the Pacific could be analyzed in phase 3 when TFAs contributed 0.5 % to DM.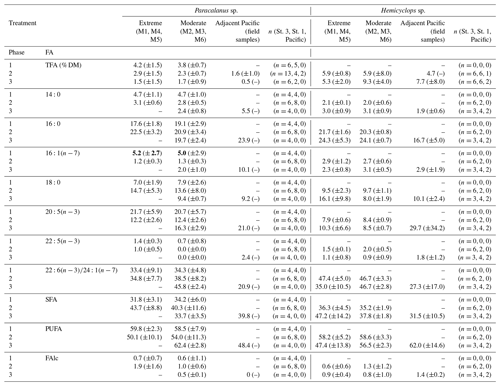 Bold values indicate values that are significantly different regarding the phase 1 value compared to phases 2 and 3.
During phase 1, Hemicyclops sp. was not numerous enough for TFA determination, but sufficient numbers of organisms were available for lipid analyses during phase 2 and 3. In these two phases, TFA levels of Hemicyclops sp. in both treatments ranged between 5.3 % DM and 9.3 % DM. During phase 3 in the moderate treatment, mean TFA levels were comparatively high (9.3 % DM), but CIs suggest no significant differences between treatments and phases. The TFA level of female Hemicyclops sp. collected in the Pacific was comparable with the mesocosm treatments during both phases.
3.4.2

 Fatty acid and fatty alcohol composition

The fatty acid (FA) and fatty alcohol (FAlc) composition is presented as the mean contribution per experimental phase and OMZ treatment of specific FAs and FAlcs to total FAs and FAlcs of Paracalanus and Hemicyclops together with their CIs (Table 3). Only FAs that reached mean contributions of 2 % during at least one of the three phases and the sum of FAlcs were included in the list. Generally, mean FA and FAlc compositions of both species did not differ much over time and treatment as suggested by overlapping CIs.

Dominant FAs in Paracalanus females were and , typical biomembrane components. Unfortunately, the peaks of the FAs 22:6 and 24:1 overlapped in the gas chromatogram and could not be separated in all cases, although a dominance of the ubiquitous can be assumed. The mean percentage of varied between 12 % and 22 % TFA between phases and treatments and was similar in the Pacific females (21% during phase 3). The percentage of the FA was higher in mesocosm females (33 % TFA–46 % TFA) than in females from the Pacific (21 % TFA). 16:0, another important biomembrane component, occurred in higher concentrations (18 %–24 %) during all phases in females from both the mesocosm and the Pacific. Biomarker FAs such as and typical of diatoms were consistently low. ranged between 1 % and 5 % TFA in mesocosm females, with CIs indicating some higher contribution during phase 1 compared to phases 2 and 3 in both treatments, which could be indicative of diatom feeding during phase 1 when this phytoplankton group dominated (Bach et al., 2020). In Paracalanus females sampled in the adjacent Pacific during phase 3, contributed 10 % to TFA. The percentage of was consistently below 1 % and is therefore not listed in Table 2. Mean phase contributions of all other FAs were usually below 10 % TFA, except for 18:0 with up to 15 % during phase 2.

The FA signature of Hemicyclops females was similar to that of Paracalanus. The biomembrane FAs , and dominated. The portion of 16:0 varied between 20 % and 24 % TFA in mesocosm females and was somewhat higher than in females collected in the Pacific (17%). The mean contributions of ranged between 8 % TFA and 10 % TFA in mesocosm females, while in females from the Pacific this FA comprised 30 % TFA. ) ranged from 35 % TFA to 48 % TFA in mesocosm females and contributed 28 % TFA in females collected in the Pacific. The share of the diatom biomarker FAs and was very low: between 2 % TFA and 3 % TFA in the case of and below 2 % TFA for the latter (and therefore not listed in Table 3). Of the remaining FAs, only 18:0 reached contributions between 9 % and 16 %, and all others were below 3 % TFA.

PUFAs, mainly and , of female Hemicyclops and Paracalanus ranged between 50 % and 62 % of TFA in the mesocosms and between 48 % and 62 % in females collected in the adjacent Pacific. Both species had lower portions of SFAs than PUFAs, contributing between 32 % and 48 % of TFA in copepods of the mesocosms and 32 %–40 % in those collected in the Pacific. At all times, FAlcs comprised less than 2 % of TFA, indicating that these females of both genera did not accumulate significant amounts of wax esters (storage lipids).
3.5

 Food web relationships

Pearson correlations (data not shown; please see the Supplement) revealed no particularly strong relationships between protist groups (diatoms, phytoflagellates, coccolithophores, dinoflagellates, silicoflagellates, Chloro-, Dino-, Crypto-, Prymnesio-, and Pelagophyceae, Synechococcus) and adult and copepodite stages of the copepods Paracalanus sp. and Hemicyclops sp. The majority of correlations with a higher correlation coefficient were influenced by a single value; thus, we do not consider these correlations meaningful in spite of their significance. Apart from that, no consistent associations were identified across the single mesocosms or the two OMZ treatments. Some more meaningful positive correlations were determined for both genera with Pelagophyceae, silicoflagellates, total Chl a, Cryptophyceae, and Chlorophyceae (p<0.05, Table S1 in the Supplement). More conclusive negative correlations existed with dinoflagellates and Prymnesiophyceae. However, none of these correlations were consistent in all mesocosms; i.e., we could not identify a consistent food web relation pattern for the dominant Paracalanus and Hemicyclops species in the different mesocosms. Apparently, these copepods fed very opportunistically with no major preference for any of the occurring protist groups. In the adjacent Pacific, positive correlations for Paracalanus sp. existed with silicoflagellates, Dinophyceae, Chlorophyceae, and Chl a (p<0.05, Table S1).
3.6

 Stable isotope and elemental composition

δ15N and δ13C values of copepods (bulk samples) were not impacted by treatment (except a marked difference in M4) (Table 1) but varied over time with a general increase in δ15N and a decrease in δ13C during the experimental period (Fig. 9).

During phase 1, δ15N of copepods increased by ∼1 ‰ in all mesocosms; a further increase of 1 ‰–2 ‰ in δ15N occurred during phase 2, while copepod δ15N slightly decreased during phase 3. δ13C was highest during phase 1 and fluctuated between phases 2 and 3. In mesocosm M4, the decrease in δ13C was particularly pronounced. Generally, δ15N values were substantially higher and δ13C values slightly lower in the mesocosms than in the copepods from the adjacent Pacific (Fig. 9). Copepod pooled C:N was unaffected by treatment, with an average value of 4.8 (±0.2), and ranged between 5.1 and 5.8 for Hemicyclops sp. and Paracalanus sp., respectively, based on species- and genus-specific determinations. For the two polychaete species, temporal patterns of δ15N and δ13C values were difficult to resolve due to incomplete sampling and did not reveal a consistent pattern (data available at PANGAEA, https://doi.org/10.1594/PANGAEA.947833, Lischka et al., 2022). C:N ratios in the two polychaetes were slightly lower than those of the copepods, with 4.3 (± 0.44) and 4.2 (±0.44) in Paraprionospio sp. and P. longicirrata, respectively. DM-specific organic C, N, and P contents were also lower in the two polychaetes than in the copepods. In all MeZP groups, C:P and N:P ratios were higher than 200 and 40, respectively (Table 4). While the analysis of parallel samples for C:N and P may explain some of the variability in the MeZP, the comparatively low P content was also determined in the microzooplankton, for which all elemental contents were analyzed per cell. We analyzed microzooplankton cells of the genera Dinophysis cf. punctata (n=127), Tripos (e.g., T. fusus, T. furca, n=25), and Protoperidinium sp. (n=3). In the analyzed dinoflagellates, cellular elemental ratios deviated even more from the canonical Redfield ratio (Table 5). Because the N:P additions in the different mesocosms were not very different, we pooled the analysis of microzooplankton per sampling day. Comparing single-cell analysis of Dinophysis cf. punctata from this study (Table 5) with the same taxa from the Mediterranean Sea, all species analyzed here had more C, N, and O but similar P contents (Segura-Noguera et al., 2016).

4.1

 Mesozooplankton dynamics

Our experiment coincided with a concurrent strong coastal El Niño, a situation of generally warmer waters and weaker upwelling conditions that favor small-sized zooplankton occurrence in the coastal upwelling areas (Ayón et al., 2011; Bertrand et al., 2011) that consequently dominated our MeZP community in the mesocosm bags at the start of the experiment. The MeZP community comprised various taxonomic groups with copepods dominating throughout the experiment in both the mesocosms and the surrounding Pacific; therefore, we focus our discussion on copepods. The four main genera were Paracalanus, Hemicyclops, Acartia, and Oncaea. Species of the genus Paracalanus, Acartia, and Oncaea are common in Peruvian coastal and neritic waters (e.g., Ayón et al., 2008a, 2011; Aronés et al., 2009), whereas the occurrence of the cyclopoid copepod Hemicyclops sp. off Callao has only been reported by Criales-Hernández et al. (2008). During our study, Hemicyclops sp. regularly occurred in the surrounding Pacific with different developmental stages including older copepodids.

The observed developmental delay of copepodids and adults and especially the very low abundance of nauplii may be a consequence of hypoxic conditions in the mesocosms below ∼10 m. Copepod nauplii were rare in the mesocosms, particularly after deep-water addition between day 18 and day 30 (<1 % or absent), although females of the sac-spawning Hemicyclops and also the less abundant Oncaea were frequently observed carrying egg sacs (personal observations). In contrast, except for the first days of the experiment, nauplii almost consistently comprised around 20 % of all copepod stages in the surrounding Pacific until day 30 and reached almost 80 % on day 36. This could be explained by advection of copepod populations carrying higher numbers of nauplii (Ayón et al., 2008b) or turbulence and upwelling keeping eggs in the oxygenated layer and promoting hatching. A lack of nauplii is also reflected in the development of copepodids and adults over the experimental duration and is particularly evident for Acartia sp. with adult copepods dominating the population almost over the entire study period. Despite species-specific tolerance levels, copepods generally respond to hypoxic conditions with avoidance (adults) and decreasing rates of survival, egg production, and population growth resulting in significant effects on population dynamics (e.g., Judkins, 1980; Marcus et al., 2004; Richmond et al., 2006; Ruz et al., 2017).

Eggs of Paracalanus sp., the dominant broadcast spawning (i.e., eggs released freely into the water column) copepod in the mesocosms, were probably particularly affected by hypoxia when sinking into low-oxygen waters. Field studies showed that maximum abundances of Paracalanus cf. indicus eggs in Mejillones Bay, Chile, were found in the oxygenated surface waters, whereas egg abundance decreased significantly from the oxygenated layer and the oxycline to the OMZ (Ruz et al., 2017). Sublethal and lethal hypoxia levels (<67 and <31 µmol L−1 O2, respectively; Auel and Verheye, 2007; Richmond et al., 2006) occurred in all mesocosms and the surrounding Pacific consistently throughout the study, where the oxycline was between 5 and 15 m and dissolved oxygen concentrations decreased at depth to <50 µmol L−1 (Bach et al., 2020). Sinking velocities of Paracalanus parvus eggs determined in the lab and of P. cf. indicus determined in the field (Mejillones Bay, Chile) ranged 2.4–16.9 m d−1 (Checkley, 1980a; Ruz et al., 2017). At a temperature range of 18–20 ∘C, P. parvus nauplii hatch within 0.40–0.46 d, and the generation time of Paracalanus is about 18 d at 18 ∘C (Checkley, 1980a). During our study, due to the coastal El Niño, surface temperatures usually varied between 20 and 22 ∘C, exceptionally reaching 24 ∘C between day 14 and day 22. Averaged over the entire mesocosm water column and all mesocosms, temperatures ranged between 18.4 and 20.2 ∘C from days 1 to 38 and between 17.9 and 18.6 ∘C thereafter (Bach et al., 2020). Thus, the experimental duration was long enough to expect Paracalanus eggs in the mesocosms. Eggs released at the mesocosms' surface would sink to 0.96–6.76 m depth within 0.4 d (9.6 h). Eggs released at greater depth would reach the oxycline and hypoxic layers faster, where development was likely halted or eggs may have suffered mortality. The accumulation of adults and a minimum contribution of copepodids around day 24, after oxygen concentrations in the mesocosms had decreased below 50 µmol O2 L−1 below 10 m depth (Bach et al., 2020), further support our notion of hindered egg development due to hypoxic conditions.

A late increase in copepod nauplii discernible in the mesocosm treatments on day 36 (extreme) and day 42 (moderate) might have resulted from a co-occurring deepening of hypoxic layers (<55 µmol L−1) from ∼10 m to 14–15 m and slightly higher oxygen concentrations resulting from a phytoplankton bloom event facilitated through guanotrophication (Bach et al., 2020). Similarly, a short intrusion of oxygen-richer waters up to ∼10 m occurred in the adjacent Pacific, parallel to the small nauplii increase on day 30. Together with the concomitant increase in food availability this may have supported an increase in eggs and nauplii in both mesocosm treatments.

Upwelling is an important factor shaping copepod population dynamics operating through an optimal window of upwelling intensity that fosters copepod abundance and biomass, whereas increasing upwelling may be unfavorable for copepod populations (Escribano et al., 2012). This is in close connection with the fact that especially smaller copepods such as Paracalanus and Acartia require well-oxygenated waters for egg development and survival of early-stage copepods for population success (Ruz et al., 2017). Hence, our findings of failed egg and nauplii development strongly support these earlier notions and underline the importance of mesoscale variability and its implications for copepod reproduction in oxygenated waters and upwelling events, respectively.
4.2

 Trophic relations

Exhausted inorganic nitrogen sources and the dominance of the mixotrophic and facultative osmotrophic dinoflagellate Akashiwo sanguinea in the phytoplankton community in most mesocosms (absent in M4) seem the most likely reasons for the extremely low GF of Paracalanus females during phase 2 of the experiment. Pigment contents determined for Paracalanus in our study were mostly an order of magnitude lower than those of Acartia, Pseudocalanus, and Temora from Danish waters (Kiørboe et al., 1985) and of Acartia off southern California (Kleppel et al., 1988). Paracalanus parvus prefers phytoplankton >5 µm over particulate matter as a food source but may also feed on dinoflagellates when these dominate phytoplankton biomass (Checkley, 1980a; Kleppel and Pieper, 1984). Furthermore, visual inspection of guts of Paracalanus females revealed that guts were often empty and that they were not feeding directly on phytoplankton.

The low GF is in accordance with the very low occurrence or absence of phytoplankton biomarker fatty acids determined in Paracalanus and Hemicyclops females in this study. Together, these point to the fact that development of these copepods depends on immediate food supply. Due to their very low lipid (TFA) levels, the fatty acid signatures of the copepods analyzed were largely dominated by biomembrane fatty acids (phospholipids), e.g., , and . However, dietary signals of marker fatty acids are conserved in the storage lipids, i.e., in wax esters or triacylglycerols (Lee et al., 2006; Dalsgaard et al., 2003). The marker fatty acid typical of diatoms decreased in Paracalanus females from initially ca. 5 % to 1% TFA–2 % TFA in phase 3, suggesting diatom ingestion only before or at the beginning of the experiment. However, Paracalanus females collected in the adjacent Pacific during phase 3 had higher concentrations of 10 %, indicative of diatom feeding in the wild. In contrast, the fatty acid typical of flagellates was not detected in significant amounts in any of the copepods. The near absence of wax esters (storage lipid) agrees with previous studies that egg production in the studied species is related to immediate food supply rather than a period prior to actual egg production, when energy reserves may have been accumulated (Checkley, 1980b).

Moreover, of the detected gut fluorescence no clear pheopigment peaks were identifiable with HPLC, which points to a high degree of degradation of fluorescent pigments found in the guts. Possibly, this "aged" gut fluorescence originated from ingestion of particulate matter, which could also explain why no particularly strong correlations existed between any of the phytoplankton groups and female abundance. The A. sanguinea bloom was associated with a marked increase in particulate organic matter and in the C:N ratio (from about 5–6 to 8–12) in the water column of most mesocosms (Bach et al., 2020). However, phytoplankton availability or dietary nitrogen (i.e., protein) is at times the direct limiting nutrient for egg production of Paracalanus (Checkley, 1980b). Hence, nutritional conditions for Paracalanus females were apparently insufficient in the mesocosms during phase 2, leading to low egg production and explaining the low numbers of nauplii found in the mesocosms.

Like Paracalanus, Hemicyclops may have lived at suboptimal conditions. Gut fluorescence was not detected in Hemicylops sp. The fatty acid composition of Hemicyclops females was analyzed only from day 30 onwards and was very similar to that determined for Paracalanus. Except for very low concentrations (2 % TFA–3 % TFA) of the diatom marker , no trophic marker fatty acids were identified and no fatty alcohols were determined; hence, no wax esters (storage lipid) were present. Correlation analysis suggested no particular food preference of Hemicyclops for any of the prevailing phytoplankton groups. The diet of Hemicyclops species with a coupled pelagic–benthic life cycle consists of microbenthos and meiobenthos, while detrital particles and also bacteria might be additional food sources (Itoh and Nishida, 2007, and references therein). Unfortunately, no studies are available on food preferences of H. thalassius. Although Hemicyclops is an egg-sac spawner, virtually no nauplii were found over the experimental runtime. Using a 100 µm mesh net, we may have missed the younger nauplii but should have captured the older naupliar stages (Itoh and Nishida, 2008). From the absence of nauplii despite the frequent presence of egg-sac-carrying females, we conclude that the Hemicyclops populations in the mesocosms, like Paracalanus, also lived at suboptimal conditions in terms of both nutrition and dissolved oxygen concentrations.

Isotopic signatures of zooplankton are determined by source and trophic fractionation. The latter is particularly the case for δ15N, for which an increase of 3 ‰–4 ‰ per trophic level is usually assumed for marine food webs (Cabana and Rasmussen, 1994; Minagawa and Wada, 1984; Peterson and Fry, 1987). Zooplankton δ15N values ranging approximately between 5 and 13 ‰ occur in (and close to) upwelling areas (e.g., Rau et al., 2003; Schukat et al., 2014; Teuber et al., 2014), whereas lower zooplankton δ15N values (∼2 ‰–4 ‰) were found in regions with a high diazotroph contribution to the pelagic food web (Hauss et al., 2013; Sandel et al., 2015). δ15N values of zooplankton (copepods) in the mesocosms following a simulated upwelling pulse were rather high (∼13–17 ‰) compared to the δ15N (mean 7.6 ‰) measured by Espinoza et al. (2017) for bulk copepod samples of the HCS. The δ13C ratio of copepods from M4 differed profoundly from the other mesocosms in phase 2 (day 13–36). The decrease in δ13C seems to correlate with an increase in Chlorophyceae, which made up >90 % of the phytoplankton community on day 36 (Bach et al., 2020). Turnover time of δ13C in copepods varies from days to weeks (Gentsch et al., 2008). An increase in Chlorophyceae and following constant supply should be seen in the C signal of the copepods after several days. Also, in contrast to the other mesocosms, δ15N was generally lower in M4 in the first two phases. M4 was the only mesocosm lacking the dinoflagellate Akashiwo sanguinea (Bach et al., 2020). Mixotrophy by this flagellate could thus have led to increased nitrogen fractionation in the other mesocosms.

A comparison of δ15N among different studies without clearly defined baseline values (phytoplankton) is difficult, as the δ15N baseline is strongly affected by the variability in the intensity of the OMZ along the Peruvian coast (Mollier-Vogel et al., 2012). A recent study by Massing et al. (2022) revealed an enrichment in δ15N of ∼5 ‰ for several copepod species of the HCS from north (8.5∘ S) to south (16∘ S). The δ15N ratios of seston also increased with depth, i.e., between seston from surface oxygenated waters and the OMZ. Dissolved inorganic nitrogen taken up by phytoplankton often creates the basis of the isotopic composition of the whole food web (Argüelles et al., 2012). Under anoxic conditions in OMZs, a preferred uptake of the lighter isotope by denitrifiers leads to elevated δ15N in the remaining nitrate (Granger et al., 2008). OMZs such as the strong and shallow one in the northern HCS are thus sites of intense nitrogen loss (Ward et al., 1989), leading to an increase in δ15N baseline values (Sigman et al., 1999; Graham et al., 2010). The higher δ15N of copepods within the mesocosms can therefore be a result of or may be explained by the source water injection to the mesocosms, which was reduced in oxygen and most likely enriched in δ15N. Starvation would lead to loss of body mass and preferential metabolism of the lighter isotope, with a resulting increase in delta values for both tracers (Hobson et al., 1993; Gannes et al., 1997).
Our results provide interesting insight on the response of a zooplankton community and their trophic relations to an upwelling event with OMZ waters. In particular GF and fatty acid compositions revealed that after deep-water addition feeding of dominant copepods on autotrophic food (diatoms) was insignificant and copepods lived from "hand to mouth". This may point to an important role of heterotrophic and mixotrophic organisms as a food source for copepods. Though egg production was not determined in our study, we assume that the lack of nauplii during most of the experiment duration was preceded by failed production and/or development of copepod eggs and nauplii due to both prevailing hypoxic and insufficient nutritional conditions in the mesocosms. With respect to hypoxia, we conclude that a few meters of oxygenated waters more or less may make a huge difference for copepod secondary production. With respect to nutrition, changing N:P ratios of upwelled water may further contribute to negatively impact copepod reproductive success, as the availability of nitrogen-rich food sources is important for reproductive output of copepods relying on immediate food supply for egg production (Checkley, 1980b). Hence, increasing upwelling intensity and shoaling of the OMZ as projected for EBUS under ocean warming (Stramma et al., 2008; Schmidtko et al., 2017) may have severe consequences for mesopelagic food webs, trophic transfer, and fish production in the HCS (Ayón et al., 2008b; Aronés et al., 2019). Future studies should focus on the nutritional condition and fecundity of the copepods, the importance of heterotrophic food sources in the nutrition of copepods, and microzooplankton grazing in the food web. Measures of nutritional condition would also help to strengthen interpretation of isotopic signatures in relation to starvation of organisms. Together, these would add further detail to a more comprehensive understanding of the response of plankton communities and their trophic links to the projected varying impact of upwelling intensity and/or frequency of OMZ waters off Peru.
PAD, SL, AS, RK, and JT designed the experiment. AS, SL, JT, ELPA, PA, and RK contributed to the MeZP and MiZP sampling. PAD and ELPA performed MeZP abundance determinations. SL and PA analyzed MeZP abundance data, and SL performed correlation analysis and rmANOVA. SL collected samples for copepod gut fluorescence, performed analyses, and analyzed data. SL and AS picked copepods for fatty acid analyses, WH and SD performed fatty acid analyses, and SL, AS, WH, and SD analyzed fatty acid data. AS performed sampling for SI determinations of MeZP and elemental composition of MiZP and, together with HH and MSN, analyzed the data. JT and RK performed ZooScan analysis, and HH analyzed ZooScan data and calculated biomass. SL wrote the paper with input from all co-authors.
The contact author has declared that none of the authors has any competing interests.
Publisher's note: Copernicus Publications remains neutral with regard to jurisdictional claims in published maps and institutional affiliations.
This article is part of the special issue "Ecological and biogeochemical functioning of the coastal upwelling system off Peru: an in situ mesocosm study". It is not associated with a conference.
We thank all participants of the KOSMOS Peru 2017 study for assisting in mesocosm sampling and maintenance. We are especially grateful to the IMARPE staff for all support from planning of the study to execution. The captains and crews of BAP Morales, IMARPE VI, and BIC Humboldt are gratefully acknowledged for support during deployment and recovery of the mesocosms and various operations during the course of this investigation. Special thanks go to the Marina de Guerra del Perú, in particular the submarine section of the navy of Callao, and to the Dirección General de Capitanías y Guardacostas. We also thank Club Náutico Del Centro Naval for hosting and providing laboratory facilities. Our colleagues Clara Beckmann, Jean-Pierre Bednar, Tim Boxhammer, Svenja Christiansen, Lara Durchgraf, Jannik Faustmann, Alba Filella, Marcello Muñiz, Kerstin Nachtigall, Claudia Sforna, Ulf Riebesell, Roberto Quesquén, Laura Schütt, Carsten Spisla, Mayte Tames-Espinosa, Nele Weigt, and Mabel Zavala Moreira are acknowledged for their valuable support during sampling, processing, and analyses of zooplankton samples. This work is a contribution in the framework of the cooperation agreement between IMARPE and GEOMAR through the German Federal Ministry of Education and Research (BMBF) project ASLAEL 12-016 and the national project Integrated Study of the Upwelling System off Peru developed by the Directorate of Oceanography and Climate Change of IMARPE, PPR 137 CONCYTEC.
This research has been supported by the Deutsche Forschungsgemeinschaft (through the Collaborative Research Center SFB 754 Climate–Biogeochemistry Interactions in the Tropical Ocean and the Leibniz Award 2012 granted to Ulf Riebesell). Rainer Kiko, Silke Lischka, and Helena Hauss received support by the CUSCO project (Bundesministerium für Bildung und Forschung, grant no. 03F0813A), and Rainer Kiko was further supported via a Make Our Planet Great Again grant of the French Agence Nationale de la Recherche (grant no. ANR-19-MPGA-0012) within the Programme d'Investissements d'Avenir.

The article processing charges for this open-access publication were covered by the GEOMAR Helmholtz Centre for Ocean Research Kiel.
This paper was edited by Hans-Peter Grossart and reviewed by four anonymous referees.
Algueró-Muñiz, M., Alvarez-Fernandez, S., Thor, P., Bach, L. T., Esposito, M., Horn, H. G., Ecker, U., Langer, J. A. F., Taucher, J., Malzahn, A. M., Riebesell, U., and Boersma, M.: Ocean acidification effects on mesozooplankton community development: Results from a long-term mesocosm experiment, PLOS ONE, 12, 1–21, https://doi.org/10.1371/journal.pone.0175851, 2017. a
Argüelles, J., Lorrain, A., Cherel, Y., Graco, M., Tafur, R., Alegre, A., Espinoza, P., Taipe, A., Ayón, P., and Bertrand, A.: Tracking habitat and resource use for the jumbo squid Dosidicus gigas: a stable isotope analysis in the Northern Humboldt Current System, Mar. Biol., 159, 2105–2116, https://doi.org/10.1007/s00227-012-1998-2, 2012. a
Aronés, K., Grados, D., Ayón, P., and Bertrand, A.: Spatio-temporal trends in zooplankton biomass in the northern Humboldt current system off Peru from 1961-2012, Deep Sea Res. Pt. II, 169, 104656, https://doi.org/10.1016/j.dsr2.2019.104656, 2019. a, b, c, d
Aronés, K., Ayón, P., Hirche, H.-J., and Schwamborn, R.: Hydrographic structure and zooplankton abundance and diversity off Paita, northern Peru (1994 to 2004) – ENSO effects, trends and changes, J. Mar. Syst., 78, 582–598, https://doi.org/10.1016/j.jmarsys.2009.01.002, 2009. a
Auel, H. and Verheye, H. M.: Hypoxia tolerance in the copepod Calanoides carinatus and the effect of an intermediate oxygen minimum layer on copepod vertical distribution in the northern Benguela Current upwelling system and the Angola-Benguela Front, J. Exp. Mar. Biol. Ecol., 352, 234–243, https://doi.org/10.1016/j.jembe.2007.07.020, 2007. a
Ayón, P., Criales-Hernandez, M. I., Schwamborn, R., and Hirche, H.-J.: Zooplankton research off Peru: A review, Prog. Oceanogr., 79, 238–255, https://doi.org/10.1016/j.pocean.2008.10.020, 2008a. a, b, c, d, e
Ayón, P., Swartzman, G., Bertrand, A., Gutiérrez, M., and Bertrand, S.: Zooplankton and forage fish species off Peru: Large-scale bottom-up forcing and local-scale depletion, Prog. Oceanogr., 79, 208–214, https://doi.org/10.1016/j.pocean.2008.10.023, 2008b. a, b, c, d
Ayón, P., Swartzman, G., Espinoza, P., and Bertrand, A.: Long-term changes in zooplankton size distribution in the Peruvian Humboldt Current System: conditions favouring sardine or anchovy, Mar. Ecol. Prog. Ser., 422, 211–222, 2011. a, b, c, d
Bach, L. T., Boxhammer, T., Larsen, A., Hildebrandt, N., Schulz, K. G., and Riebesell, U.: Influence of plankton community structure on the sinking velocity of marine aggregates, Global Biogeochem. Cy., 30, 1145–1165, https://doi.org/10.1002/2016GB005372, 2016. a
Bach, L. T., Paul, A. J., Boxhammer, T., von der Esch, E., Graco, M., Schulz, K. G., Achterberg, E., Aguayo, P., Arístegui, J., Ayón, P., Baños, I., Bernales, A., Boegeholz, A. S., Chavez, F., Chavez, G., Chen, S.-M., Doering, K., Filella, A., Fischer, M., Grasse, P., Haunost, M., Hennke, J., Hernández-Hernández, N., Hopwood, M., Igarza, M., Kalter, V., Kittu, L., Kohnert, P., Ledesma, J., Lieberum, C., Lischka, S., Löscher, C., Ludwig, A., Mendoza, U., Meyer, J., Meyer, J., Minutolo, F., Ortiz Cortes, J., Piiparinen, J., Sforna, C., Spilling, K., Sanchez, S., Spisla, C., Sswat, M., Zavala Moreira, M., and Riebesell, U.: Factors controlling plankton community production, export flux, and particulate matter stoichiometry in the coastal upwelling system off Peru, Biogeosciences, 17, 4831–4852, https://doi.org/10.5194/bg-17-4831-2020, 2020. a, b, c, d, e, f, g, h, i, j, k, l, m, n, o, p, q
Bakun, A. and Weeks, S. J.: The marine ecosystem off Peru: What are the secrets of its fishery productivity and what might its future hold?, Prog. Oceanogr., 79, 290–299, https://doi.org/10.1016/j.pocean.2008.10.027, 2008. a, b, c
Båmstedt, U., Gifford, D., Irigoien, X., Atkinson, A., and Roman, M.: Feeding, in: ICES Zooplankton Methodology Manual, edited by Harris, R., Wiebe, P., Lenz, J., Skjoldal, H. R., and Huntley, M., Academic Press, London, 297–399, https://doi.org/10.1016/B978-012327645-2/50009-8, 2000. a, b, c
Barlow, R. G., Cummings, D. G., and Gibb, S. W.: Improved resolution of mono- and divinyl chlorophylls a and b and zeaxanthin and lutein in phytoplankton extracts using reverse phase C-8 HPLC, Mar. Ecol. Prog. Ser., 161, 303–307, 1997. a
Bernales, A., Sanchez, S., Bach, L. T., Graco, M., Ledesma, J., Chang, F., Franco, A., Walz, K., and Riebesell, U.: Succession of phytoplankton in response to a simulated upwelling event in the Northern Humboldt Current System, in preparation, 2023. a
Bertrand, A., Chaigneau, A., Peraltilla, S., Ledesma, J., Graco, M., Monetti, F., and Chavez, F. P.: Oxygen: A Fundamental Property Regulating Pelagic Ecosystem Structure in the Coastal Southeastern Tropical Pacific, PLOS ONE, 6, 1–8, https://doi.org/10.1371/journal.pone.0029558, 2011. a
Cabana, G. and Rasmussen, J. B.: Modelling food chain structure and contaminant bioaccumulation using stable nitrogen isotopes, Nature, 372, 255–257, https://doi.org/10.1038/372255a0, 1994. a
Carr, M.-E.: Estimation of potential productivity in Eastern Boundary Currents using remote sensing, Deep Sea Res. Pt. II, 49, 59–80, https://doi.org/10.1016/S0967-0645(01)00094-7, 2001. a
Chavez, F. P. and Messié, M.: A comparison of Eastern Boundary Upwelling Ecosystems, Prog. Oceanogr., 83, 80–96, https://doi.org/10.1016/j.pocean.2009.07.032, 2009. a, b
Chavez, F. P., Bertrand, A., Guevara-Carrasco, R., Soler, P., and Csirke, J.: The northern Humboldt Current System: Brief history, present status and a view towards the future, Prog. Oceanogr., 79, 95–105, https://doi.org/10.1016/j.pocean.2008.10.012, 2008. a, b
Checkley, D. M.: Food limitation of egg production by a marine, planktonic copepod in the sea off southern California, Limnol. Oceanogr., 25, 991–998, https://doi.org/10.4319/lo.1980.25.6.0991, 1980a. a, b, c
Checkley, D. M.: The egg production of a marine planktonic copepod in relation to its food supply: Laboratory studies, Mar. Ecol. Prog. Ser. 25, 430–446, https://doi.org/10.4319/lo.1980.25.3.0430, 1980b. a, b, c
Criales-Hernández, M. I., Schwamborn, R., Graco, M., Ayón, P., Hirche, H. J., and Wolff, M.: Zooplankton vertical distribution and migration off Central Peru in relation to the oxygen minimum layer, Helgoland Mar. Res., 62, 85–100, https://doi.org/10.1007/s10152-007-0094-3, 2008. a
Cullen, J. J., Lewis, M. R., Davis, C. O., and Barber, R. T.: Photosynthetic characteristics and estimated growth rates indicate grazing is the proximate control of primary production in the equatorial Pacific, J. Geophys. Res., 97, 639–654, https://doi.org/10.1029/91JC01320, 1992. a
Dalsgaard, J., St John, M., Kattner, G., Müller-Navarra, D., and Hagen, W.: Fatty acid trophic markers in the pelagic marine environment, Adv. Mar. Biol., 46, 225–340, https://doi.org/10.1016/s0065-2881(03)46005-7, 2003. a, b, c
Ehrhardt, M. and Koeve, W.: Determination of particulate organic carbon and nitrogen, Chap. 17, John Wiley and Sons, Ltd, 437–444, https://doi.org/10.1002/9783527613984.ch17, 1999. a
Escribano, R.: Population dynamics of Calanus chilensis in the Chilean Eastern Boundary Humboldt Current, Fish. Oceanogr., 7, 245–251, https://doi.org/10.1046/j.1365-2419.1998.00078.x, 1998. a
Escribano, R., Hidalgo, P., Fuentes, M., and Donoso, K.: Zooplankton time series in the coastal zone off Chile: Variation in upwelling and responses of the copepod community, Prog. Oceanogr., 97, 174–186, https://doi.org/10.1016/j.pocean.2011.11.006, 2012. a
Espinoza, P. and Bertrand, A.: Revisiting Peruvian anchovy (Engraulis ringens) trophodynamics provides a new vision of the Humboldt Current system, Prog. Oceanogr., 79, 215–227, https://doi.org/10.1016/j.pocean.2008.10.022, 2008. a, b, c
Espinoza, P. and Bertrand, A.: Ontogenetic and spatiotemporal variability in anchoveta Engraulis ringens diet off Peru, J. Fish Biol., 84, 422–435, https://doi.org/10.1111/jfb.12293, 2014. a, b
Espinoza, P., Bertrand, A., van der Lingen, C. D., Garrido, S., and Rojas de Mendiola, B.: Diet of sardine (Sardinops sagax) in the northern Humboldt Current system and comparison with the diets of clupeoids in this and other eastern boundary upwelling systems, Prog. Oceanogr., 83, 242–250, https://doi.org/10.1016/j.pocean.2009.07.045, 2009. a, b
Espinoza, P., Lorrain, A., Ménard, F., Cherel, Y., Tremblay-Boyer, L., Argüelles, J., Tafur, R., Bertrand, S., Tremblay, Y., Ayón, P., Munaron, J. M., Richard, P., and Bertrand, A.: Trophic structure in the northern Humboldt Current system: new perspectives from stable isotope analysis, Mar. Biol., 164, 86, https://doi.org/10.1007/s00227-017-3119-8, 2017. a
Field, A., Miles, J., and Fields, Z. (Eds.): Discovering Statistics using R, Sage Publications, Ltd, ISBN 978-1-4462-0046-9, 2012. a
Folch, J., Lees, M. B., and Stanley, G.: A simple method for the isolation and purification of total lipids from animal tissues, J. Biol. Chem., 2261, 497–509, 1957. a
Franz, J., Krahmann, G., Lavik, G., Grasse, P., Dittmar, T., and Riebesell, U.: Dynamics and stoichiometry of nutrients and phytoplankton in waters influenced by the oxygen minimum zone in the eastern tropical Pacific, Deep Sea Res. Pt I, 62, 20–31, https://doi.org/10.1016/j.dsr.2011.12.004, 2012a. a, b
Franz, J. M. S., Hauss, H., Sommer, U., Dittmar, T., and Riebesell, U.: Production, partitioning and stoichiometry of organic matter under variable nutrient supply during mesocosm experiments in the tropical Pacific and Atlantic Ocean, Biogeosciences, 9, 4629–4643, https://doi.org/10.5194/bg-9-4629-2012, 2012b. a
Gannes, L. Z., O'Brien, D. M., and del Rio Martínez, C.: Stable isotopes in animal ecology: assumptions, caveats, and a call for more laboratory experiments, Ecology, 78, 1271–1276, https://doi.org/10.1890/0012-9658(1997)078[1271:SIIAEA]2.0.CO;2, 1997. a
García-Reyes, M., Sydeman, W. J., Schoeman, D. S., Rykaczewski, R. R., Black, B. A., Smit, A. J., and Bograd, S. J.: Under Pressure: Climate Change, Upwelling, and Eastern Boundary Upwelling Ecosystems, Front. Mar. Sci., 2, 109, https://doi.org/10.3389/fmars.2015.00109, 2015. a
Gentsch, E., Kreibich, T., Hagen, W., and Niehoff, B.: Dietary shifts in the copepod Temora longicornis during spring: evidence from stable isotope signatures, fatty acid biomarkers and feeding experiments, J. Plankton Res., 31, 45–60, https://doi.org/10.1093/plankt/fbn097, 2008. a
Gorsky, G., Ohman, M. D., Picheral, M., Gasparini, S., Stemmann, L., Romagnan, J.-B., Cawood, A., Pesant, S., García-Comas, C., and Prejger, F.: Digital zooplankton image analysis using the ZooScan integrated system, J. Plankton Res., 32, 285–303, https://doi.org/10.1093/plankt/fbp124, 2010. a, b
Graco, M. I., Purca, S., Dewitte, B., Castro, C. G., Morón, O., Ledesma, J., Flores, G., and Gutiérrez, D.: The OMZ and nutrient features as a signature of interannual and low-frequency variability in the Peruvian upwelling system, Biogeosciences, 14, 4601–4617, https://doi.org/10.5194/bg-14-4601-2017, 2017. a, b, c
Graham, B., Koch, P., Newsome, S., McMahon, K., and Aurioles, D.: Using isoscapes to trace the movements and foraging behavior of top predators in oceanic ecosystems, in: Isoscapes: Understanding movement, pattern, and process on Earth through isotope mapping, edited by: West, J., Bowen, G., Dawson, T., and Tu, K., Springer Netherlands, Dordrecht, 299–318, 2010. a
Granger, J., Sigman, D. M., Lehmann, M. F., and Tortell, P. D.: Nitrogen and oxygen isotope fractionation during dissimilatory nitrate reduction by denitrifying bacteria, Limnol. Oceanogr., 53, 2533–2545, https://doi.org/10.4319/lo.2008.53.6.2533, 2008. a
Gruber, N., Hauri, C., Lachkar, Z., Loher, D., Frölicher, T. L., and Plattner, G. K.: Rapid progression of ocean acidification in the California Current System, Science, 337, 220–223, https://doi.org/10.1126/science.1216773, 2012. a
Hagen, W.: Lipids, in: ICES Zooplankton Methodology Manual, edited by: Harris, R., Wiebe, P., Lenz, J., Skjoldal, H. R., and Huntley, M., Academic Press, London, 113–119, 45, https://doi.org/10.1016/B978-012327645-2/50009-8, 2000. a
Hauss, H., Franz, J. M. S., and Sommer, U.: Changes in N:P stoichiometry influence taxonomic composition and nutritional quality of phytoplankton in the Peruvian upwelling, J. Sea Res., 73, 74–85, https://doi.org/10.1016/j.seares.2012.06.010, 2012. a
Hauss, H., Franz, J. M., Hansen, T., Struck, U., and Sommer, U.: Relative inputs of upwelled and atmospheric nitrogen to the eastern tropical North Atlantic food web: Spatial distribution of δ15N in mesozooplankton and relation to dissolved nutrient dynamics, Deep Sea Res. Pt. I, 75, 135–145, https://doi.org/10.1016/j.dsr.2013.01.010, 2013. a
Hobson, K. A., Alisauskas, R. T., and Clark, R. G.: Stable-Nitrogen Isotope Enrichment in Avian Tissues Due to Fasting and Nutritional Stress: Implications for Isotopic Analyses of Diet, The Condor, 95, 388–394, https://doi.org/10.2307/1369361, 1993. a
Ingall, E. and Jahnke, R.: Evidence for enhanced phosphorus regeneration from marine sediments overlain by oxygen depleted waters, Geochim. Cosmochim. Ac., 58, 2571–2575, https://doi.org/10.1016/0016-7037(94)90033-7, 1994. a
Itoh, H. and Nishida, S.: Life history of the copepod Hemicyclops gomsoensis (Poecilostomatoida, Clausidiidae) associated with decapod burrows in the Tama-River estuary, central Japan, Plankton Benthos Res., 2, 134–146, https://doi.org/10.3800/pbr.2.134, 2007. a
Itoh, H. and Nishida, S.: Life history of the copepod Hemicyclops spinulosus (Poecilostomatoida, Clausidiidae) associated with crab burrows with notes on male polymorphism and precopulatory mate guarding, Plankton Benthos Res., 3, 189–201, https://doi.org/10.3800/pbr.3.189, 2008. a
Judkins, D. C.: Vertical distribution of zooplankton in relation to the oxygen minimum off Peru, Deep Sea Res., 27, 475–487, https://doi.org/10.1016/0198-0149(80)90057-6, 1980. a
Kalvelage, T., Jensen, M. M., Contreras, S., Revsbech, N. P., Lam, P., Günter, M., LaRoche, J., Lavik, G., and Kuypers, M. M. M.: Oxygen Sensitivity of Anammox and Coupled N-Cycle Processes in Oxygen Minimum Zones, PLoS ONE, 6, e29299, https://doi.org/10.1371/journal.pone.0029299, 2011. a
Karl, D. M., Letelier, R., Hebel, D., Tupas, L., Dore, J., Christian, J., and Winn, C.: Ecosystem changes in the North Pacific subtropical gyre attributed to the 1991–92 El Niño, Nature, 373, 230–234, https://doi.org/10.1038/373230a0, 1995. a
Kattner, G. and Fricke, H. S.: Simple gas-liquid chromatographic method for the simultaneous determination of fatty acids and alcohols in wax esters of marine organisms, J. Chromatogr. A, 361, 263–268, https://doi.org/10.1016/S0021-9673(01)86914-4, 1986. a
Kiørboe, T., Møhlenberg, F., and Riisgård, H. U.: In situ feeding rates of planktonic copepods: A comparison of four methods, J. Exp. Mar. Biol. Ecol., 88, 67–81, https://doi.org/10.1016/0022-0981(85)90202-3, 1985.  a
Kleppel, G. S. and Pieper, R. E.: Phytoplankton pigments in the gut contents of planktonic copepods from coastal waters off southern California, Mar. Biol., 78, 193–198, https://doi.org/10.1007/BF00394700, 1984. a
Kleppel, G. S., Pieper, R. E., and Trager, G.: Variability in the gut contents of individual Acartia tonsa from waters off Southern California, Mar. Biol., 97, 185–190, https://doi.org/10.1007/BF00391301, 1988. a
Konchina, Y.: Trophic status of the Peruvian Anchovy and Sardine, J. Ichtyol., 31, 240–252, 1991. a
Lee, R., Hagen, W., and Kattner, G.: Lipid storage in marine zooplankton, Mar. Ecol. Prog. Ser., 307, 273–306, https://doi.org/10.3354/meps307273, 2006. a
Lehette, P. and Hernández-León, S.: Zooplankton biomass estimation from digitized images: a comparison between subtropical and Antarctic organisms, Limnol. Oceanogr.-Meth., 7, 304–308, https://doi.org/10.4319/lom.2009.7.304, 2009. a
Lischka, S. and Hagen, W.: Seasonal lipid dynamics of the copepods Pseudocalanus minutus (Calanoida) and Oithona similis (Cyclopoida) in the Arctic Kongsfjorden (Svalbard), Mar. Biol., 150, 443–454, https://doi.org/10.1007/s00227-006-0359-4, 2007. a
Lischka, S., Bach, L. T., Schulz, K.-G., and Riebesell, U.: Ciliate and mesozooplankton community response to increasing CO2 levels in the Baltic Sea: insights from a large-scale mesocosm experiment, Biogeosciences, 14, 447–466, https://doi.org/10.5194/bg-14-447-2017, 2017. a
Lischka, S., Ayón, P., Pinedo Arteaga, E. L., Schukat, A., Taucher, J., Kiko, R., Hauss, H., Dorschner, S., Hagen, W., and Segura-Noguera, M.: Response of zooplankton community succession and trophic links to simulated upwelling conditions during a mesocosm experiment in the coastal upwelling off Callao Bay (Peru) in austral summer 2017 (KOSMOS 2017 Peru mesocosm study), https://doi.org/10.1594/PANGAEA.947833, 2022. a, b, c
Löscher, C. R., Bange, H. W., Schmitz, R. A., Callbeck, C. M., Engel, A., Hauss, H., Kanzow, T., Kiko, R., Lavik, G., Loginova, A., Melzner, F., Meyer, J., Neulinger, S. C., Pahlow, M., Riebesell, U., Schunck, H., Thomsen, S., and Wagner, H.: Water column biogeochemistry of oxygen minimum zones in the eastern tropical North Atlantic and eastern tropical South Pacific oceans, Biogeosciences, 13, 3585–3606, https://doi.org/10.5194/bg-13-3585-2016, 2016. a
Mackas, D. and Bohrer, R.: Fluorescence analysis of zooplankton gut contents and an investigation of diel feeding patterns, J. Exp. Mar. Biol. Ecol., 25, 77–85, https://doi.org/10.1016/0022-0981(76)90077-0, 1976. a, b, c
Marcus, N. H., Richmond, C., Sedlacek, C., Miller, G. A., and Oppert, C.: Impact of hypoxia on the survival, egg production and population dynamics of Acartia tonsa Dana, J. Exp. Mar. Biol. Ecol., 301, 111–128, https://doi.org/10.1016/j.jembe.2003.09.016, 2004. a
Massing, J. C., Schukat, A., Auel, H., Auch, D., Kittu, L., Pinedo Arteaga, E. L., Correa Acosta, J., and Hagen, W.: Toward a Solution of the "Peruvian Puzzle": Pelagic Food-Web Structure and Trophic Interactions in the Northern Humboldt Current Upwelling System Off Peru, Front. Mar. Sci., 8, 2296–7745, https://doi.org/10.3389/fmars.2021.759603, 2022. a
Minagawa, M. and Wada, E.: Stepwise enrichment of δ15N along food chains: Further evidence and the relation between δ15N and animal age, Geochim. Cosmochim. Ac., 48, 1135–1140, https://doi.org/10.1016/0016-7037(84)90204-7, 1984. a
Minas, H. J., Minas, M., and Packard, T. T.: Productivity in upwelling areas deduced from hydrographic and chemical fields, Limnol. Oceanogr., 31, 1182–1206, https://doi.org/10.4319/lo.1986.31.6.1182, 1986. a
Mollier-Vogel, E., Ryabenko, E., Martinez, P., Wallace, D., Altabet, M. A., and Schneider, R.: Nitrogen isotope gradients off Peru and Ecuador related to upwelling, productivity, nutrient uptake and oxygen deficiency, Deep Sea Res. Pt. I, 70, 14–25, https://doi.org/10.1016/j.dsr.2012.06.003, 2012. a
Peters, J., Dutz, J., and Hagen, W.: Role of essential fatty acids on the reproductive success of the copepod Temora longicornis in the North Sea, Mar. Ecol. Prog. Ser., 341, 153–163, 2007. a
Peterson, B. J. and Fry, B.: Stable isotopes in ecosystem studies, Annu. Rev. Ecol. Syst., 18, 293–320, https://doi.org/10.1146/annurev.es.18.110187.001453, 1987. a
Picheral, M., Colin, S., and Irisson, J.-O.: EcoTaxa, a tool for the taxonomic classification of images, http://ecotaxa.obs-vlfr.fr (last access: 25 May 2021), 2017. a
R Core Team: R: A Language and Environment for Statistical Computing, R Foundation for Statistical Computing, Vienna, Austria, ISBN 3-900051-07-0, 2014. a
Rau, G. H., Ohman, M. D., and Pierrot-Bults, A.: Linking nitrogen dynamics to climate variability off central California: a 51 year record based on δ15N/δ14N in CalCOFI zooplankton, Deep Sea Res. Pt. II, 50, 2431–2447, https://doi.org/10.1016/S0967-0645(03)00128-0, 2003. a
Richmond, C., Marcus, N. H., Sedlacek, C., Miller, G. A., and Oppert, C.: Hypoxia and seasonal temperature: Short-term effects and long-term implications for Acartia tonsa dana, J. Exp. Mar. Biol. Ecol., 328, 177–196, https://doi.org/10.1016/j.jembe.2005.07.004, 2006. a, b
Ruz, P., Hidalgo, P., Riquelme-Bugueño, R., Franco-Cisterna, B., and Cornejo, M.: Vertical distribution of copepod eggs in the oxygen minimum zone off Mejillones Bay (23∘ S) in the Humboldt Current System, Mar. Ecol. Prog. Ser., 571, 83–96, 2017. a, b, c, d
Ryther, J. H.: Photosynthesis and Fish Production in the Sea, Science, 166, 72–76, https://doi.org/10.1126/science.166.3901.72, 1969. a
Sandel, V., Kiko, R., Brandt, P., Dengler, M., Stemmann, L., Vandromme, P., Sommer, U., and Hauss, H.: Nitrogen Fuelling of the Pelagic Food Web of the Tropical Atlantic, PLOS ONE, 10, 1–19, https://doi.org/10.1371/journal.pone.0131258, 2015. a
Schmidtko, S., Stramma, L., and Visbeck, M.: Decline in global oceanic oxygen content during the past five decades, Nature, 542, 335–339, https://doi.org/10.1038/nature21399, 2017. a, b
Schröder, S.-M., Kiko, R., and Koch, R.: MorphoCluster: Efficient Annotation of Plankton Images by Clustering, Sensors, 20, 3060, https://doi.org/10.3390/s20113060, 2020. a
Schukat, A., Auel, H., Teuber, L., Lahajnar, N., and Hagen, W.: Complex trophic interactions of calanoid copepods in the Benguela upwelling system, J. Sea Res., 85, 186–196, https://doi.org/10.1016/j.seares.2013.04.018, 2014. a
Schwartzlose, R. A., Alheit, J., Bakun, A., Baumgartner, T. R., Cloete, R., Crawford, R. J., Fletcher, W. J., Green-Ruiz, Y., Hagen, E., Kawasaki, T., Lluch-Belda, D., Lluch-Cota, S. E., MacCall, A. D., Matsuura, Y., Nevárez-Martínez, M. O., Parrish, R. H., Roy, C., Serra, R., Shust, K. V., Ward, M. N., and Zuzunaga, J. Z.: Worldwide large-scale fluctuations of sardine and anchovy populations, S. Af. J. Mar. Sci., 21, 289–347, https://doi.org/10.2989/025776199784125962, 1999. a
Segura-Noguera, M., Blasco, D., and Fortuño, J.-M.: An improved energy-dispersive X-ray microanalysis method for analyzing simultaneously carbon, nitrogen, oxygen, phosphorus, sulfur, and other cation and anion concentrations in single natural marine microplankton cells, Limnol. Oceanogr.-Meth., 10, 666–680, https://doi.org/10.4319/lom.2012.10.666, 2012. a
Segura-Noguera, M., Blasco, D., and Fortuño, J.-M.: Taxonomic and Environmental Variability in the Elemental Composition and Stoichiometry of Individual Dinoflagellate and Diatom Cells from the NW Mediterranean Sea, PLOS ONE, 11, e0154050, https://doi.org/10.1371/journal.pone.0154050, 2016. a, b
Sharp, J. H.: Improved analysis for "particulate" organic carbon and nitrogen from seawater, Limnol. Oceanogr., 19, 984–989, https://doi.org/10.4319/lo.1974.19.6.0984, 1974. a
Sigman, D. M., Altabet, M. A., Francois, R., McCorkle, D. C., and Gaillard, J.-F.: The isotopic composition of diatom-bound nitrogen in Southern Ocean sediments, Paleoceanography, 14, 118–134, https://doi.org/10.1029/1998PA900018, 1999. a
Stramma, L., Johnson, G. C., Sprintall, J., and Mohrholz, V.: Expanding Oxygen-Minimum Zones in the Tropical Oceans, Science, 320, 655–658, https://doi.org/10.1126/science.1153847, 2008.  a, b
Taucher, J., Bach, L. T., Boxhammer, T., Nauendorf, A., Achterberg, E. P., Algueró-Muñiz, M., Arístegui, J., Czerny, J., Esposito, M., Guan, W., Haunost, M., Horn, H. G., Ludwig, A., Meyer, J., Spisla, C., Sswat, M., Stange, P., and Riebesell, U.: Influence of Ocean Acidification and Deep Water Upwelling on Oligotrophic Plankton Communities in the Subtropical North Atlantic: Insights from an In situ Mesocosm Study, Front. Mar. Sci., 4, 2296–7745, https://doi.org/10.3389/fmars.2017.00085, 2017. a
Teuber, L., Schukat, A., Hagen, W., and Auel, H.: Trophic interactions and life strategies of epi- to bathypelagic calanoid copepods in the tropical Atlantic Ocean, J. Plankton Res., 36, 1109–1123, https://doi.org/10.1093/plankt/fbu030, 2014. a
van Guelpen, L., Markle, D. F., and Duggan, D. J.: An evaluation of accuracy, precision, and speed of several zooplankton subsampling techniques, ICES J. Mar. Sci., 40, 226–236, https://doi.org/10.1093/icesjms/40.3.226, 1982. a
Walsh, J. J.: A carbon budget for overfishing off Peru, Nature, 290, 300–304, https://doi.org/10.1038/290300a0, 1981. a
Ward, B. B., Kilpatrick, K. A., Renger, E. H., and Eppley, R. W.: Biological nitrogen cycling in the nitracline, Limnol. Oceanogr., 34, 493–513, https://doi.org/10.4319/lo.1989.34.3.0493, 1989. a
Welschmeyer, N. A.: Fluorometric analysis of chlorophyll a in the presence of chlorophyll b and pheopigments, Limnol. Oceanogr., 39, 1985–1992, https://doi.org/10.4319/lo.1994.39.8.1985, 1994. a
Wiebe, P. and Holland, W.: Plankton patchiness: Effects on repeated net tows, Limnol. Oceanogr., 13, 315–321, https://doi.org/10.4319/lo.1968.13.2.0315, 1968. a