Articles | Volume 19, issue 6
https://doi.org/10.5194/bg-19-1611-2022
© Author(s) 2022. This work is distributed under
the Creative Commons Attribution 4.0 License.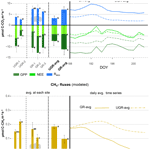 Grazing enhances carbon cycling but reduces methane emission during peak growing season in the Siberian Pleistocene Park tundra site
Large-herbivore grazing has been shown to substantially alter tundra soil and vegetation properties as well as carbon fluxes, yet observational evidence to quantify the impact of herbivore introduction into Arctic permafrost ecosystems remains sparse. In this study we investigated growing-season CO2 and CH4 fluxes with flux chambers on a former wet tussock tundra inside Pleistocene Park, a landscape experiment in northeast Siberia with a 22-year history of grazing. Reference data for an undisturbed system were collected on a nearby ungrazed tussock tundra. Linked to a reduction in soil moisture, topsoil temperatures at the grazed site reacted 1 order of magnitude faster to changes in air temperatures compared to the ungrazed site and were significantly higher, and the difference strongly decreased with depth. Overall, both GPP (gross primary productivity, i.e., CO2 uptake by photosynthesis) and Reco (ecosystem respiration, i.e., CO2 release from the ecosystem) were significantly higher at the grazed site with notable variations across plots at each site. The increases in CO2 component fluxes largely compensated for each other, leaving NEE (net ecosystem exchange) similar across grazed and ungrazed sites for the observation period. Soil moisture and CH4 fluxes at the grazed site decreased over the observation period, while in contrast the constantly waterlogged soils at the ungrazed site kept CH4 fluxes at significantly higher levels. Our results indicate that grazing of large herbivores may promote topsoil warming and drying, in this way effectively accelerating CO2 turnover while decreasing methane emissions in the summer months of peak ecosystem activity. Since we lack quantitative information on the pre-treatment status of the grazed ecosystem, however, these findings need to be considered qualitative trends for the peak growing season, and absolute differences between treatments are subject to elevated uncertainty. Moreover, our experiment did not include autumn and winter fluxes, and thus no inferences can be made for the annual NEE and CH4 budgets in tundra ecosystems.
Received: 23 Apr 2021 – Discussion started: 09 Jun 2021 – Revised: 01 Feb 2022 – Accepted: 02 Feb 2022 – Published: 21 Mar 2022
In the context of global climate change, surface air temperatures in polar regions have been shown to have risen about twice as fast as the global mean in the past (Overland et al., 2015). Since this trend is expected to continue in the future, Northern Hemisphere permafrost ecosystems are at exceptional risk of degradation. The Arctic permafrost region stores about 50 % of the belowground organic carbon stocks on Earth (Hugelius et al., 2014), with an estimated pool of organic C of between 1307 and 1672 Gt (Hugelius et al., 2014; Tarnocai et al., 2009). Based on several independent approaches, it is estimated that 130 to 160 Gt C could be released by 2100 under a high warming scenario (i.e., Representative Concentration Pathway scenario 8.5; Schuur et al., 2015), so even a partial release of this currently deep-frozen material would constitute a substantial positive feedback with ongoing warming trends.
Warming of the active layer facilitates the enhanced decomposition of soil organic carbon, leading to higher rates of ecosystem respiration (Reco) that contribute to higher CO2 emissions (Natali et al., 2015; Schädel et al., 2016; Schuur et al., 2009). Moreover, warming-induced permafrost thaw may make organic matter that was previously perennially frozen vulnerable to mineralization (Natali et al., 2014, 2015; Harden et al., 2012; Schuur et al., 2009). At the same time, warmer and longer growing seasons have the potential to change vegetation species composition (e.g., from graminoid-/moss- to shrub-dominated; Myers-Smith et al., 2011; Hollister et al., 2015; Mekonnen et al., 2021) and increase living plant biomass, leading to an increase in gross primary productivity (GPP) (Epstein et al., 2012). Deeper thaw depths may also open up nutrient reservoirs (Chapin et al., 2005; Salmon et al., 2016; Hollister et al., 2015), in this way promoting vegetation growth and carbon uptake. Interactions with various other influencing factors, for example changes in snow cover (Grogan, 2012) or soil moisture (Oberbauer et al., 2007; Natali et al., 2015; Kwon et al., 2016), further complicate an assessment of the net effect of these changes.
Large herbivores (reindeer, muskoxen, horses, bison, etc.) are an additional forcing which may substantially alter the characteristics of high-latitude landscapes, but their potential influence is rarely considered in studies predicting the future state of Arctic permafrost ecosystems. Herbivores can trigger distinct shifts in vegetation communities, e.g., from shrub- or moss-dominated ecosystems to graminoid tundra dominated by dense grass tillers (Manseau et al., 1996; Olofsson, 2006; Ylänne et al., 2018; Kitti et al., 2009; Falk et al., 2015; Raillard and Svoboda, 2000; Gornall et al., 2009). Grazing has been shown to promote certain Carex species that produce a high belowground biomass (Tolvanen and Henry, 2000), allowing reliable compensation for growth after being grazed off (Raillard and Svoboda, 1999; Kitti et al., 2009). Shifts in vegetation composition are usually associated with an increase in albedo (Te Beest et al., 2016; Chapin et al., 2005; Cohen et al., 2013). Regarding belowground ecosystem properties, previous studies have reported an increased annual amplitude in soil temperatures (higher in summer, lower in winter) and significant shifts in soil moisture and texture (Olofsson et al., 2004; Te Beest et al., 2016; Zimov et al., 1995, 2012; Beer et al., 2020; Olofsson et al., 2001), which in combination with snow trampling in winter (Beer et al., 2020) tend to reduce annual permafrost temperatures. Finally, herbivore grazing can cause an increase in nutrient availability and acceleration in nutrient cycling (Olofsson et al., 2004, 2001; Raillard and Svoboda, 1999, 2000). The combinations of these changes leads to strong and variable alterations in carbon cycle processes (higher Reco, higher/lower GPP, higher/lower NEE) (Falk et al., 2015; Metcalfe and Olofsson, 2015; Väisänen et al., 2014; Cahoon et al., 2012; Ylänne et al., 2018; Ylänne and Stark, 2019), with net effects highly dependent on site-specific characteristics.
Most existing studies focusing on grazing effects were conducted in Scandinavian upland tundra, while other Arctic domains, and particularly wet tundra ecosystems (e.g., Falk et al., 2015; Raillard and Svoboda, 2000; Kitti et al., 2009), remain sparsely examined to date. A long-term, landscape-scale experiment called "Pleistocene Park", established in northeastern Siberia in 1996, provides an opportunity to address this research gap. While initially designed to reestablish a "mammoth steppe" ecosystem which dominated this region in the Pleistocene (Zimov et al., 2012), the experiment also allows us to study the impact of large herds of herbivores as an agent to stabilize permafrost ecosystems against degradation linked to Arctic warming. Some of the underlying hypotheses related to the Pleistocene Park project are that herbivore grazing (a) increases carbon sequestration by simultaneously increasing productivity and root formation during the growing season, (b) increases the surface albedo by decreasing shrub and tree cover, and (c) decreases CH4 emissions by decreasing soil moisture through condensing soils and increased evapotranspiration by more active vegetation.
While all the grazing effects listed above have the potential to reduce future positive feedbacks between alterations of the permafrost carbon cycling and the changing climate, so far only limited observational evidence has been presented that allows for evaluating the management effects inside Pleistocene Park. The main objective of the presented study is therefore to provide new insights into the effects of herbivore grazing on carbon cycle processes and ecosystem characteristics within the park. For this purpose, we compare growing-season carbon fluxes from flux chamber measurements along with soil parameters and radiation balance components across an intensively grazed area within Pleistocene Park and a nearby undisturbed site.
3.1

 Environmental conditions and ecosystem characteristics
3.1.1

 Albedo and energy fluxes

Linked to the differences in vegetation community structure described in Sect. 2, the average daily albedo was slightly higher at GR, with an average value of 0.217±0.008, compared to the UGR (0.192±0.006). The difference between SWd (downwelling shortwave radiation) between sites was insignificant (p=0.23), while the difference between SWu (upwelling shortwave radiation) was significant (p<0.0001). This enhanced reflectivity of the surface increased the upward-directed shortwave radiation by an average of 6.3±3.8 W m−2 over the course of the observation period (mean SWu for GR, 48.6±13.9 W m−2; for UGR, 42.3±13.0 W m−2), in effect reducing the net radiative energy available to the grazed ecosystem.
3.1.2

 Soil moisture

Soil hydrologic conditions were distinctly different between grazed and ungrazed sites. At the beginning of the observation period, both sites were primarily waterlogged since the water levels from the preceding spring flooding had not fully receded. From this starting point, we observed deviating temporal dynamics in drying between both ecosystems during the peak of the growing season. Water levels declined only marginally, or not at all, within the ungrazed reference area, with water levels remaining above the ground. Soil moisture at the grazed ecosystem (GR), on the other hand, gradually decreased across all measured depths over the period of observation, especially in the topsoil (SM7.5 cm, 63.1 %–49.9 %; SM15 cm, 64.3 %–54.2 %; SM30 cm, 60.7 %–56.7 %, changes from the first to the last measurement day).
3.1.3

 Air and soil temperatures

A change in the general weather pattern around mid-July 2019 split our observation period roughly into a warm and sunny first half, and a cool and cloudy second half. Regarding the mean air temperatures, during the first period (7–15 July), daily average Tair ranged between 14.3–26.9 ∘C, while conditions during the second period (16–22 July) were much cooler (6.9–10.9 ∘C). Mean air temperatures at the grazed site were observed to be about 1 ∘C warmer compared to the ungrazed site, with similar daily minima, while daily maxima were distinctly higher at GR.

The trends in soil temperatures matched those described for air temperature: while Tsoil across the observed vertical profile was rising during the first part of the observation period, in the second half it declined (see also Fig. 1). We found topsoil temperatures at 5 cm depth at the grazed site (GR max 19.6 ∘C, min 9.0 ∘C) to be significantly higher (p<0.0001) compared to the ungrazed reference (UGR-1 max 15.4 ∘C, min 5.6 ∘C; UGR-2 max 11.6 ∘C, min 4.3 ∘C) during the whole observation period. Fitting interpolation equations to the observational data also revealed that the time lag of Tsoil reacting to Tair was 1 order of magnitude shorter at GR – moving averages of air temperatures explaining Tsoil at 5 cm showed best fits when integrated over the last 4.3 h at GR, while they reached back 40.7 h at UGR-1 and even 86.7 h at UGR-2.

In the deeper soil layers (15, 25, 35 cm), the temperatures at the UGR-2 site were consistently lower than observed at all other sites (GR, UGR-1). Comparing observations from GR and UGR-1 sites showed similar average soil temperatures during the first week, while during the second week soils became warmer for the drier grazed site. Notably, Tsoil values at 35 and 25 cm at GR were lower compared to UGR-1 during the first measurement days, but due to a steeper warming rate at the grazed site, this changed after 5 d into the observations.
3.1.4

 Thaw depths

Measured thaw depths were greater at all GR sites compared to all UGR sites throughout the observation period: while the values within the ungrazed reference area varied between 31–36 cm over time and across sites, that range was 39–58 cm at the grazed site. Importantly, the temporal dynamics as well as the variability across sites also differed strongly between these two study areas. At UGR, the average increase in thaw depths was 0.25 cm d−1 during the observation period. Even though both observation plots were situated about 50 m apart, conditions were fairly uniform between them, and thaw depths did not differ by more than 2 cm. In contrast, the GR sites showed a higher average thaw depth increase (0.91 cm d−1). Differences in measurements between plots reached up to 11 cm, even though sites were only separated by about 3 m and vegetation and soil conditions seemed similar.
3.2

 Carbon fluxes

All interpolation models described in Sect. 2.4 yielded a significant linear regression fit between observed and calculated values (for details, see Table 2).

****, ***, **, * and ns indicate p<0.0001, p<0.001, p<0.01, p<0.05, p>0.05 and non-significant, respectively.
3.2.1

 CO2 fluxes

As reflected in the strong enhancement in both component fluxes of NEE, i.e., GPP and Reco, the carbon turnover rates in the grazed ecosystem increased as a response to the warmer and drier conditions in the topsoil layers (see Fig. A1). Regarding photosynthetic uptake of CO2, the average GPP was significantly higher at GR compared to UGR (p<0.0001; see Fig. 2). While all three GR plots show higher GPP compared to the UGR sites, the difference in average GPP between the sites is dominated by differences between the greater fluxes at plot GR-2 and lower fluxes at UGR-2, while differences between GR-1, GR-3 and UGR-1 were significant (at least with the pairwise t tests used) but rather small to negligible.

Across the entire measurement period, ecosystem respiration Reco was distinctly higher at GR compared to UGR. In this case, site differences were more consistent; i.e., differences in flux rates between plots for each site were minor. Greater Tsoil and decreasing SM were identified as the main controls for the higher Reco at the GR sites, except for GR-3 where Reco did not increase in response to drying. Possible reasons for that are discussed in Sect. 4.2.

For NEE, the observed differences in both GPP and Reco canceled out, resulting in no significant changes in NEE as a function of grazing disturbance. Temporal dynamics in NEE largely matched each other across sites, including a decrease in net uptake rates during the first and warmer week of the observation period and an increased uptake during the subsequent, cooler days. GR-2 was found to be the strongest carbon sink in the first period, while NEE at UGR-1 was largest during the second. Overall, all sites were consistent sinks for atmospheric CO2 during the observation period.
3.2.2

 CH4 fluxes

We observed strong variations in CH4 fluxes between the plots at GR and UGR sites. While flux rates at both GR and UGR were similarly large at the beginning of the experiment, average CH4 fluxes at GR plots started to decline within the first week of observation, in close correlation with decreasing soil moisture. In contrast, the high water table at UGR facilitated high CH4 fluxes throughout the observation period, and changes in time were mostly connected to changes in soil temperatures.

At both sites, the variability in CH4 fluxes across plots for each site was larger compared to the CO2 fluxes. Particularly for GR, flux estimates even between closely co-located plots changed from virtually zero to rates similar to those found at the ungrazed site. Fluxes at GR-3 were smallest throughout the observation period. During the first days of the experiment, characterized by high soil moisture, CH4 emissions at GR-1 and UGR-2 were largest, while in the second period, when soils at GR dried, they were largest at UGR-2 and UGR-1.
In this study, we investigated the impact of long-term grazing disturbance on a previously wet tussock tundra ecosystem underlain by permafrost in the Siberian Arctic using flux chamber observations over 2.5 weeks during the growing season in summer 2019. Over the past 22 years, introduction of large herds of herbivores in the context of the so-called Pleistocene Park experiment has altered vegetation and soil properties within the affected area, in this way initiating an ongoing transformation from a waterlogged, overgrown tussock tundra towards a drier ecosystem featuring more turf-like vegetation. We compared the managed ecosystem inside Pleistocene Park to a nearby undisturbed reference site, focusing our study on differences in soil thermal and hydrological properties and how these influenced the exchange fluxes of carbon between the ecosystem and the atmosphere.
We measured a significantly lower albedo at the grazed site compared to the undisturbed reference, which can be mostly explained by a lower abundance of shrubs. Soil compaction as a result of trampling, in combination with higher evapotranspiration losses, led to a decrease in soil moisture. Linked to the associated reduction in soil heat capacity, topsoil temperatures in the park were higher and reacted 1 order of magnitude faster to changes in air temperatures compared to the undisturbed tundra. Due to warmer and drier conditions in the soil, both GPP and Reco during July were significantly higher at the grazed site in the park compared to an undisturbed wet tussock tundra, while no substantial differences in NEE were found. CH4 emissions, following the shift in hydrological properties, were distinctly lower in the park but also highly variable between plots.
With respect to the hypotheses postulated for the net impact of grazing disturbance within the Pleistocene Park, our findings agree with the assumed acceleration of carbon turnover, a reduction in albedo linked to shifts in vegetation communities and a reduction in methane emissions; however, due to the short observation period, our results cannot be regarded as proofs of this concept, and more experiments are required to evaluate spatial and temporal representativeness. The effect of grazing on nutrient availability and associated responses of the vegetation community remain open questions that must be quantitatively assessed at Pleistocene Park. Furthermore, it is essential that carbon fluxes will be investigated over longer timescales, with year-round data coverage. Especially fluxes during autumn and early winter, which account for a significant part of the annual carbon budget, need to be included to enable a more comprehensive assessment of the net effects of grazing management on carbon sequestration in the Arctic tundra. Accordingly, future experiments are planned to address these research topics.
Appendix A:
 Location of study sites
Appendix B:
 Derivation of models for the interpolation of C fluxes
Code and data availability
The observational data used within the context of this study have been published on Edmond – The Open Research Data Repository operated by the Max Planck Society (https://edmond.mpdl.mpg.de, last access: 14 March 2022) (Göckede and Fischer , 2022). The dataset archived there is openly accessible through https://doi.org/10.17617/3.91. The code used to process the data is available from the corresponding author upon request.
MG was responsible for study conception. WF, MG and CKT contributed to development of the methodology. NZ provided logistics at the study site and has an overall prominent role in designing permafrost studies within Pleistocene Park. WF conducted the fieldwork, with support from MG and NZ. Formal data analysis and interpretation were carried out by WF under supervision of MG and CKT. WF led the drafting of the manuscript with contributions from MG. All authors contributed to refining the manuscript.
The contact author has declared that neither they nor their co-authors have any competing interests.
Publisher's note: Copernicus Publications remains neutral with regard to jurisdictional claims in published maps and institutional affiliations.
This work was supported through funding by the European Commission (INTAROS project, H2020-BG-09-2016 (grant no. 727890), Nunataryuk project, H2020-BG-11-2016/17 (grant no. 773421)) and the German Ministry of Education and Research (KoPf project (grant no. 03F0764D)). Further funding was provided by the Max Planck Institute for Biogeochemistry (MPI-BGC) in Jena, Germany. The authors appreciate the technical support of Olaf Kolle and Martin Hertel from the Field Experiments and Instrumentation service group at MPI-BGC and also the contribution of staff members of the Northeast Scientific Station in Chersky for facilitating the field experiments.
The article processing charges for this open-access publication were covered by the Max Planck Society.
This paper was edited by Sara Vicca and reviewed by Torben Windirsch and one anonymous referee.
Aalto, J., Le Roux, P. C., and Luoto, M.: Vegetation mediates soil temperature and moisture in arctic-alpine environments, Arct. Antarct. Alp. Res., 45, 429–439, https://doi.org/10.1657/1938-4246-45.4.429, 2013. a
Aurela, M., Riutta, T., Laurila, T., Tuovinen, J. P., Vesala, T., Tuittila, E. S., Rinne, J., Haapanala, S., and Laine, J.: CO2 exchange of a sedge fen in southern Finland – The impact of a drought period, Tellus B, 59, 826–837, https://doi.org/10.1111/j.1600-0889.2007.00309.x, 2007. a
Bakeman, R.: Recommended effect size statistics for repeated measures designs, Behav. Res. Methods, 37, 379–384, 2005. a
Barthelemy, H., Stark, S., Michelsen, A., and Olofsson, J.: Urine is an important nitrogen source for plants irrespective of vegetation composition in an Arctic tundra: Insights from a 15N-enriched urea tracer experiment, J. Ecol., 106, 367–378, https://doi.org/10.1111/1365-2745.12820, 2018. a, b
Beer, C., Zimov, N., Olofsson, J., Porada, P., and Zimov, S.: Protection of Permafrost Soils from Thawing by Increasing Herbivore Density, Sci. Rep., 10, 4170, https://doi.org/10.1038/s41598-020-60938-y, 2020. a, b
Britton, C. M. and Dodd, J. D.: Relationships of Photosynthetically Active Radiation, Agr. Meteorol., 17, 1–7, https://doi.org/10.1016/0002-1571(76)90080-7, 1976. a
Cahoon, S. M., Sullivan, P. F., Post, E., and Welker, J. M.: Large herbivores limit CO2 uptake and suppress carbon cycle responses to warming in West Greenland, Glob. Change Biol., 18, 469–479, https://doi.org/10.1111/j.1365-2486.2011.02528.x, 2012. a, b, c, d
Canty, A. and Ripley, B. D.: boot: Bootstrap R (S-Plus) Functions, r package version 1.3–28, 2021. a
Cassidy, A. E., Christen, A., and Henry, G. H. R.: The effect of a permafrost disturbance on growing-season carbon-dioxide fluxes in a high Arctic tundra ecosystem, Biogeosciences, 13, 2291–2303, https://doi.org/10.5194/bg-13-2291-2016, 2016. a
Celis, G., Mauritz, M., Bracho, R., Salmon, V. G., Webb, E. E., Hutchings, J., Natali, S. M., Schädel, C., Crummer, K. G., and Schuur, E. A.: Tundra is a consistent source of CO2 at a site with progressive permafrost thaw during 6 years of chamber and eddy covariance measurements, J. Geophys. Res.-Biogeo., 122, 1471–1485, https://doi.org/10.1002/2016JG003671, 2017. a
Chang, Q., Wang, L., Ding, S., Xu, T., Li, Z., Song, X., Zhao, X., Wang, D., and Pan, D.: Grazer effects on soil carbon storage vary by herbivore assemblage in a semi-arid grassland, J. Appl. Ecol., 55, 2517–2526, https://doi.org/10.1111/1365-2664.13166, 2018. a, b
Chang, Q., Xu, T., Ding, S., Wang, L., Liu, J., Wang, D., Wang, Y., Li, Z., Zhao, X., Song, X., and Pan, D.: Herbivore Assemblage as an Important Factor Modulating Grazing Effects on Ecosystem Carbon Fluxes in a Meadow Steppe in Northeast China, J. Geophys. Res.-Biogeo., 125, 1–12, https://doi.org/10.1029/2020JG005652, 2020. a, b
Chapin III, F. S., Sturm, M., Serreze, M. C., McFadden, J. P., Key, J. R., Lloyd, A. H., McGuire, A. D., Rupp, T. S., Lynch, A. H., Schimel, J. P., Beringer, J., Chapman, W. L., Epstein, H. E., Euskirchen, E. S., Hinzman, L. D., Jia, G., Ping, C. L., Tape, K. D., Thompson, C. D., Walker, D. A., and Welker, J. M.: Role of land-surface changes in arctic summer warming, Science, 310, 657–660, https://doi.org/10.1126/science.1117368, 2005. a, b, c
Christensen, T. R., Friborg, T., Sommerkorn, M., Kaplan, J., Illeris, L., Soegaard, H., Nordstroem, C., and Jonasson, S.: Trace gas exchange in a high-Arctic valley: 1. Variations in CO2 and CH4 Flux between tundra vegetation types, Global Biogeochem. Cy., 14, 701–713, https://doi.org/10.1029/1999GB001134, 2000. a
Cohen, J., Pulliainen, J., Ménard, C. B., Johansen, B., Oksanen, L., Luojus, K., and Ikonen, J.: Effect of reindeer grazing on snowmelt, albedo and energy balance based on satellite data analyses, Remote Sens. Environ., 135, 107–117, https://doi.org/10.1016/j.rse.2013.03.029, 2013. a
Cromsigt, J. P., Kemp, Y. J., Rodriguez, E., and Kivit, H.: Rewilding Europe's large grazer community: how functionally diverse are the diets of European bison, cattle, and horses?, Restor. Ecol., 26, 891–899, https://doi.org/10.1111/rec.12661, 2018. a
Curasi, S. R., Loranty, M. M., and Natali, S. M.: Water track distribution and effects on carbon dioxide flux in an eastern Siberian upland tundra landscape, Environ. Res. Lett., 11, 045002, https://doi.org/10.1088/1748-9326/11/4/045002, 2016. a, b
Davidson, E. A., Savage, K., Verchot, L. V., and Navarro, R.: Minimizing artifacts and biases in chamber-based measurements of soil respiration, Agr. Forest Meteorol., 113, 21–37, 2002. a, b, c, d
Dyksterhuis, E. J. and Schmutz, E. M.: Natural Mulches or "Litter" of Grasslands: With Kinds and Amounts on a Southern Prairie, Ecology, 28, 163–179, https://doi.org/10.2307/1930949, 1947. a, b
Epstein, H. E., Raynolds, M. K., Walker, D. A., Bhatt, U. S., Tucker, C. J., and Pinzon, J. E.: Dynamics of aboveground phytomass of the circumpolar Arctic tundra during the past three decades, Environ. Res. Lett., 7, 015506, https://doi.org/10.1088/1748-9326/7/1/015506, 2012. a
Euskirchen, E. S., Edgar, C. W., Syndonia Bret-Harte, M., Kade, A., Zimov, N., and Zimov, S.: Interannual and Seasonal Patterns of Carbon Dioxide, Water, and Energy Fluxes From Ecotonal and Thermokarst-Impacted Ecosystems on Carbon-Rich Permafrost Soils in Northeastern Siberia, J. Geophys. Res.-Biogeo., 122, 2651–2668, https://doi.org/10.1002/2017JG004070, 2017. a
Falk, J. M., Schmidt, N. M., Christensen, T. R., and Ström, L.: Large herbivore grazing affects the vegetation structure and greenhouse gas balance in a high arctic mire, Environ. Res. Lett., 10, 045001, https://doi.org/10.1088/1748-9326/10/4/045001, 2015. a, b, c, d, e, f, g, h, i, j
Farquhar, G. D. and Sharkey, T. D.: Stomatal conductance and photosynthesis, Annu. Rev. Plant Phys., 33, 317–345, 1982. a
Field, C. B., Chapin III, F. S., Matson, P. A., and Mooney, H. A.: Responses of terrestrial ecosystems to the changing atmosphere: a resource-based approach, Annu. Rev. Ecol. Syst., 23, 201–235, 1992. a
Glover, S. and Dixon, P.: Likelihood ratios: A simple and flexible statistic for empirical psychologists, Psychon. B. Rev., 11, 791–806, 2004. a
Göckede, M., Kittler, F., Jung Kwon, M., Burjack, I., Heimann, M., Kolle, O., Zimov, N., and Zimov, S.: Shifted energy fluxes, increased Bowen ratios, and reduced thaw depths linked with drainage-induced changes in permafrost ecosystem structure, Cryosphere, 11, 2975–2996, https://doi.org/10.5194/tc-11-2975-2017, 2017. a
Göckede, M., Kwon, M. J., Kittler, F., Heimann, M., Zimov, N., and Zimov, S.: Negative feedback processes following drainage slow down permafrost degradation, Global Change Biol., 25, 3254–3266, 2019. a, b
Goeckede, M. and Fischer, W.: Flux chamber data and ancillary measurements from Pleistocene Park, Northeast Siberia, Edmond, V1 [data set], https://doi.org/10.17617/3.91, 2022. a
Gornall, J. L., Woodin, S. J., Jónsdóttir, I. S., and van der Wal, R.: Herbivore impacts to the moss layer determine tundra ecosystem response to grazing and warming, Oecologia, 161, 747–758, https://doi.org/10.1007/s00442-009-1427-5, 2009. a
Grogan, P.: Cold season respiration across a low arctic landscape: The influence of vegetation type, snow depth, and interannual climatic variation, Arct. Antarct. Alp. Res., 44, 446–456, https://doi.org/10.1657/1938-4246-44.4.446, 2012. a
Harden, J. W., Koven, C. D., Ping, C. L., Hugelius, G., McGuire, A. D., Camill, P., Jorgenson, T., Kuhry, P., Michaelson, G. J., O'Donnell, J. A., Schuur, E. A. G., Tarnocai, C., Johnson, K., and Grosse, G.: Field information links permafrost carbon to physical vulnerabilities of thawing, Geophys. Res. Lett., 39, 1–6, https://doi.org/10.1029/2012GL051958, 2012. a
Hofstede, R. G. and Rossenaar, A. J.: Biomass of Grazed, Burned, and Undisturbed Páramo Grasslands, Colombia. II. Root Mass and Aboveground:Belowground Ratio, Arctic Alpine Res., 27, 13–18, https://doi.org/10.2307/1552063, 1995. a, b
Hollister, R. D., May, J. L., Kremers, K. S., Tweedie, C. E., Oberbauer, S. F., Liebig, J. A., Botting, T. F., Barrett, R. T., and Gregory, J. L.: Warming experiments elucidate the drivers of observed directional changes in tundra vegetation, Ecol. Evol., 5, 1881–1895, https://doi.org/10.1002/ece3.1499, 2015. a, b
Holm, S.: A simple sequentially rejective multiple test procedure, Scand. J. Stat., 6, 65–70, 1979. a
Huemmrich, K. F., Kinoshita, G., Gamon, J. A., Houston, S., Kwon, H., and Oechel, W. C.: Tundra carbon balance under varying temperature and moisture regimes, J. Geophys. Res.-Biogeo., 115, G00I02, https://doi.org/10.1029/2009jg001237, 2010. a, b, c
Hugelius, G., Strauss, J., Zubrzycki, S., Harden, J. W., Schuur, E. A. G., Ping, C.-L., Schirrmeister, L., Grosse, G., Michaelson, G. J., Koven, C. D., O'Donnell, J. A., Elberling, B., Mishra, U., Camill, P., Yu, Z., Palmtag, J., and Kuhry, P.: Estimated stocks of circumpolar permafrost carbon with quantified uncertainty ranges and identified data gaps, Biogeosciences, 11, 6573–6593, https://doi.org/10.5194/bg-11-6573-2014, 2014. a, b
Kelsey, K. C., Leffler, A. J., Beard, K. H., Schmutz, J. A., Choi, R. T., and Welker, J. M.: Interactions among vegetation, climate, and herbivory control greenhouse gas fluxes in a subarctic coastal wetland, J. Geophys. Res.-Biogeo., 121, 2960–2975, https://doi.org/10.1002/2016JG003546, 2016. a, b
Killick, R., Haynes, K., and Eckley, I.: Changepoint: an R package for changepoint analysis, R package version 2.2., 2, 2016. a
Kitti, H., Forbes, B. C., and Oksanen, J.: Long- and short-term effects of reindeer grazing on tundra wetland vegetation, Polar Biol., 32, 253–261, https://doi.org/10.1007/s00300-008-0526-9, 2009. a, b, c, d, e
Kittler, F., Burjack, I., Corradi, C. A. R., Heimann, M., Kolle, O., Merbold, L., Zimov, N., Zimov, S., and Göckede, M.: Impacts of a decadal drainage disturbance on surface–atmosphere fluxes of carbon dioxide in a permafrost ecosystem, Biogeosciences, 13, 5315–5332, https://doi.org/10.5194/bg-13-5315-2016, 2016. a
Kittler, F., Heimann, M., Kolle, O., Zimov, N., Zimov, S., and Göckede, M.: Long-Term Drainage Reduces CO2 Uptake and CH4 Emissions in a Siberian Permafrost Ecosystem, Global Biogeochem. Cy., 31, 1704–1717, https://doi.org/10.1002/2017GB005774, 2017. a
Kutzbach, L., Schneider, J., Sachs, T., Giebels, M., Nykänen, H., Shurpali, N. J., Martikainen, P. J., Alm, J., and Wilmking, M.: CO2 flux determination by closed-chamber methods can be seriously biased by inappropriate application of linear regression, Biogeosciences, 4, 1005–1025, https://doi.org/10.5194/bg-4-1005-2007, 2007. a, b
Kwon, M. J., Heimann, M., Kolle, O., Luus, K. A., Schuur, E. A. G., Zimov, N., Zimov, S. A., and Göckede, M.: Long-term drainage reduces CO2 uptake and increases CO2 emission on a Siberian floodplain due to shifts in vegetation community and soil thermal characteristics, Biogeosciences, 13, 4219–4235, https://doi.org/10.5194/bg-13-4219-2016, 2016. a, b, c, d, e, f, g, h, i, j, k, l, m
Kwon, M. J., Beulig, F., Ilie, I., Wildner, M., Küsel, K., Merbold, L., Mahecha, M. D., Zimov, N., Zimov, S. A., Heimann, M., Schuur, E. A., Kostka, J. E., Kolle, O., Hilke, I., and Göckede, M.: Plants, microorganisms, and soil temperatures contribute to a decrease in methane fluxes on a drained Arctic floodplain, Glob. Change Biol., 23, 2396–2412, https://doi.org/10.1111/gcb.13558, 2017. a, b, c
Lafleur, P. M.: Connecting atmosphere and wetland: Trace gas exchange, Geography Compass, 3, 560–585, https://doi.org/10.1111/j.1749-8198.2008.00212.x, 2009. a
Larson, F. and Whitman, W.: A Comparison of Used and Unused Grassland Mesas in the Badlands of South Dakota, Ecology, 23, 438–445, 1942. a, b
Larter, N. C. and Nagy, J. A.: Variation between Snow Conditions at Peary Caribou and Muskox Feeding Sites and Elsewhere in Foraging Habitats on Banks Island in the Canadian High Arctic, Arct. Antarct. Alp. Res., 33, 123–130, https://doi.org/10.1080/15230430.2001.12003414, 2001. a
Lawrence, M. A.: ez: Easy Analysis and Visualization of Factorial Experiments, https://CRAN.R-project.org/package=ez (last access: 14 March 2022), r package version 4.4-0, 2016. a
López-Blanco, E., Lund, M., Williams, M., Tamstorf, M. P., Westergaard-Nielsen, A., Exbrayat, J.-F., Hansen, B. U., and Christensen, T. R.: Exchange of CO2 in Arctic tundra: impacts of meteorological variations and biological disturbance, Biogeosciences, 14, 4467–4483, https://doi.org/10.5194/bg-14-4467-2017, 2017. a
Manseau, M., Huot, J., and Crete, M.: Effects of Summer Grazing by Caribou on Composition and Productivity of Vegetation: Community and Landscape Level, J. Ecol., 84, 503, https://doi.org/10.2307/2261473, 1996. a, b
McEwing, K. R., Fisher, J. P., and Zona, D.: Environmental and vegetation controls on the spatial variability of CH4 emission from wet-sedge and tussock tundra ecosystems in the Arctic, Plant Soil, 388, 37–52, https://doi.org/10.1007/s11104-014-2377-1, 2015. a
Mekonnen, Z. A., Riley, W. J., Berner, L. T., Bouskill, N. J., Torn, M. S., Iwahana, G., Breen, A. L., Myers-Smith, I. H., Criado, M. G., Liu, Y., Euskirchen, E. S., Goetz, S. J., Mack, M. C., and Grant, R. F.: Arctic tundra shrubification: a review of mechanisms and impacts on ecosystem carbon balance, Environ. Res. Lett., 16, 053001, https://doi.org/10.1088/1748-9326/abf28b, 2021. a
Metcalfe, D. B. and Olofsson, J.: Distinct impacts of different mammalian herbivore assemblages on arctic tundra CO2 exchange during the peak of the growing season, Oikos, 124, 1632–1638, https://doi.org/10.1111/oik.02085, 2015. a, b, c, d
Myers-Smith, I. H., Forbes, B. C., Wilmking, M., Hallinger, M., Lantz, T., Blok, D., Tape, K. D., Macias-Fauria, M., Sass-Klaassen, U., Lévesque, E., Boudreau, S., Ropars, P., Hermanutz, L., Trant, A., Collier, L. S., Weijers, S., Rozema, J., Rayback, S. A., Schmidt, N. M., Schaepman-Strub, G., Wipf, S., Rixen, C., Ménard, C. B., Venn, S., Goetz, S., Andreu-Hayles, L., Elmendorf, S., Ravolainen, V., Welker, J., Grogan, P., Epstein, H. E., and Hik, D. S.: Shrub expansion in tundra ecosystems: Dynamics, impacts and research priorities, Environ. Res. Lett., 6, 045509, https://doi.org/10.1088/1748-9326/6/4/045509, 2011. a
Natali, S. M., Schuur, E. A., Webb, E. E., Pries, C. E., and Crummer, K. G.: Permafrost degradation stimulates carbon loss from experimentally warmed tundra, Ecology, 95, 602–608, https://doi.org/10.1890/13-0602.1, 2014. a
Natali, S. M., Schuur, E. A., Mauritz, M., Schade, J. D., Celis, G., Crummer, K. G., Johnston, C., Krapek, J., Pegoraro, E., Salmon, V. G., and Webb, E. E.: Permafrost thaw and soil moisture driving CO2 and CH4 release from upland tundra, J. Geophys. Res.-Biogeo., 120, 525–537, https://doi.org/10.1002/2014JG002872, 2015. a, b, c, d
Oberbauer, S. F., Tweedie, C. E., Welker, J. M., Fahnestock, J. T., Henry, G. H., Webber, P. J., Hollister, R. D., Walker, M. D., Kuchy, A., Elmore, E., and Starr, G.: Tundra CO2 fluxes in response to experimental warming across latitudinal and moisture gradients, Ecol. Monogr., 77, 221–238, https://doi.org/10.1890/06-0649, 2007. a
Ochsner, T. E., Horton, R., and Ren, T.: A New Perspective on Soil Thermal Properties, Soil Sci. Soc. Am. J., 65, 1641–1647, https://doi.org/10.2136/sssaj2001.1641, 2001. a
Oechel, W. C., Vourlitis, G. L., Hastings, S. J., Ault, R. P., and Bryant, P.: The effects of water table manipulation and elevated temperature on the net CO2 flux of wet sedge tundra ecosystems, Glob. Change Biol., 4, 77–90, https://doi.org/10.1046/j.1365-2486.1998.00110.x, 1998. a
Olofsson, J.: Short- and long-term effects of changes in reindeer grazing pressure on tundra heath vegetation, J. Ecol., 94, 431–440, https://doi.org/10.1111/j.1365-2745.2006.01100.x, 2006. a, b
Olofsson, J., Kitti, H., Rautiainen, P., Stark, S., and Oksanen, L.: Effects of summer grazing by reindeer on composition of vegetation, productivity and nitrogen cycling, Ecography, 24, 13–24, https://doi.org/10.1034/j.1600-0587.2001.240103.x, 2001. a, b, c, d, e
Olofsson, J., Stark, S., and Oksanen, L.: Reindeer influence on ecosystem processes in the tundra, Oikos, 105, 386–396, https://doi.org/10.1111/j.0030-1299.2004.13048.x, 2004. a, b, c, d
Overland, J., Francis, J. A., Hall, R., Hanna, E., Kim, S.-J., and Vihma, T.: The melting Arctic and midlatitude weather patterns: Are they connected?, J. Climate, 28, 7917–7932, 2015. a
Pucheta, E., Bonamici, I., Cabido, M., and Díaz, S.: Below-ground biomass and productivity of a grazed site and a neighbouring ungrazed exclosure in a grassland in central Argentina, Austral Ecol., 29, 201–208, https://doi.org/10.1111/j.1442-9993.2004.01337.x, 2004. a, b
Raillard, M. C. and Svoboda, J.: Exact Growth and Increased Nitrogen Compensation by the Arctic Sedge Carex aquatilis var. stans after Simulated Grazing, Arct. Antarct. Alp. Res., 31, 21–26, https://doi.org/10.1080/15230430.1999.12003277, 1999. a, b, c, d
Raillard, M. and Svoboda, J.: High Grazing Impact, Selectivity, and Local Density of Muskoxen in Central Ellesmere Island, Canadian High Arctic, Arct. Antarct. Alp. Res., 32, 278–285, https://doi.org/10.1080/15230430.2000.12003365, 2000. a, b, c, d, e, f, g
R Core Team: R: A Language and Environment for Statistical Computing, version 4.1.1, R Foundation for Statistical Computing, Vienna, Austria, https://www.R-project.org/ (last access: 14 March 2022), 2021. a
Runkle, B. R. K., Sachs, T., Wille, C., Pfeiffer, E.-M., and Kutzbach, L.: Bulk partitioning the growing season net ecosystem exchange of CO2 in Siberian tundra reveals the seasonality of its carbon sequestration strength, Biogeosciences, 10, 1337–1349, https://doi.org/10.5194/bg-10-1337-2013, 2013. a, b
Salmon, V. G., Soucy, P., Mauritz, M., Celis, G., Natali, S. M., Mack, M. C., and Schuur, E. A.: Nitrogen availability increases in a tundra ecosystem during five years of experimental permafrost thaw, Glob. Change Biol., 22, 1927–1941, https://doi.org/10.1111/gcb.13204, 2016. a
Schädel, C., Bader, M. K., Schuur, E. A., Biasi, C., Bracho, R., Capek, P., De Baets, S., Diáková, K., Ernakovich, J., Estop-Aragones, C., Graham, D. E., Hartley, I. P., Iversen, C. M., Kane, E., Knoblauch, C., Lupascu, M., Martikainen, P. J., Natali, S. M., Norby, R. J., O'Donnell, J. A., Chowdhury, T. R., Šantrucková, H., Shaver, G., Sloan, V. L., Treat, C. C., Turetsky, M. R., Waldro, M. P., and Wickland, K. P.: Potential carbon emissions dominated by carbon dioxide from thawed permafrost soils, Nat. Clim. Change, 6, 950–953, https://doi.org/10.1038/nclimate3054, 2016. a
Schuur, E. A., Vogel, J. G., Crummer, K. G., Lee, H., Sickman, J. O., and Osterkamp, T. E.: The effect of permafrost thaw on old carbon release and net carbon exchange from tundra, Nature, 459, 556–559, https://doi.org/10.1038/nature08031, 2009. a, b
Schuur, E. A., McGuire, A. D., Schädel, C., Grosse, G., Harden, J. W., Hayes, D. J., Hugelius, G., Koven, C. D., Kuhry, P., Lawrence, D. M., Natali, S. M., Olefeldt, D., Romanovsky, V. E., Schaefer, K., Turetsky, M. R., Treat, C. C., and Vonk, J. E.: Climate change and the permafrost carbon feedback, Nature, 520, 171–179, https://doi.org/10.1038/nature14338, 2015. a
Sitters, J., Kimuyu, D. M., Young, T. P., Claeys, P., and Olde Venterink, H.: Negative effects of cattle on soil carbon and nutrient pools reversed by megaherbivores, Nature Sustainability, 3, 360–366, https://doi.org/10.1038/s41893-020-0490-0, 2020. a, b
Stark, S., Julkunen-Tiitto, R., and Kumpula, J.: Ecological role of reindeer summer browsing in the mountain birch (Betula pubescens ssp. czerepanovii) forests: Effects on plant defense, litter decomposition, and soil nutrient cycling, Oecologia, 151, 486–498, https://doi.org/10.1007/s00442-006-0593-y, 2007. a
Tarnocai, C., Canadell, J. G., Schuur, E. A. G., Kuhry, P., Mazhitova, G., and Zimov, S.: Soil organic carbon pools in the northern circumpolar permafrost region, Global Biogeochem. Cy., 23, GB2023, https://doi.org/10.1029/2008gb003327, 2009. a
Te Beest, M., Sitters, J., Ménard, C. B., and Olofsson, J.: Reindeer grazing increases summer albedo by reducing shrub abundance in Arctic tundra, Environ. Res. Lett., 11, 125013, https://doi.org/10.1088/1748-9326/aa5128, 2016. a, b, c, d
Tolvanen, A. and Henry, G. H. R.: Population Structure of Three Dominant Sedges under Muskox Herbivory in the High Arctic, Arct. Antarct. Alp. Res., 32, 449–455, https://doi.org/10.1080/15230430.2000.12003389, 2000. a, b
Ueyama, M., Iwata, H., and Harazono, Y.: Autumn warming reduces the CO2 sink of a black spruce forest in interior Alaska based on a nine-year eddy covariance measurement, Glob. Change Biol., 20, 1161–1173, https://doi.org/10.1111/gcb.12434, 2014.  a
Vandandorj, S., Eldridge, D. J., Travers, S. K., Val, J., and Oliver, I.: Microsite and grazing intensity drive infiltration in a semiarid woodland, Ecohydrology, 10, e183, https://doi.org/10.1002/eco.1831, 2017. a
Väisänen, M., Ylänne, H., Kaarlejärvi, E., Sjögersten, S., Olofsson, J., Crout, N., and Stark, S.: Consequences of warming on tundra carbon balance determined by reindeer grazing history, Nat. Clim. Change, 4, 384–388, https://doi.org/10.1038/nclimate2147, 2014. a, b, c
Windirsch, T., Grosse, G., Ulrich, M., Forbes, B. C., Göckede, M., Wolter, J., Macias-Fauria, M., Olofsson, J., Zimov, N., and Strauss, J.: Large Herbivores Affecting Permafrost – Impacts of Grazing on Permafrost Soil Carbon Storage in Northeastern Siberia, Biogeosciences Discuss. [preprint], https://doi.org/10.5194/bg-2021-227, in review, 2021. a
Winslow, L. A., Zwart, J. A., Batt, R. D., Dugan, H. A., Woolway, R. I., Corman, J. R., Hanson, P. C., and Read, J. S.: LakeMetabolizer: an R package for estimating lake metabolism from free-water oxygen using diverse statistical models, Inland Waters, 6, 622–636, 2016. a
Yan, Y., Yan, R., Chen, J., Xin, X., Eldridge, D. J., Shao, C., Wang, X., Lv, S., Jin, D., Chen, J., Guo, Z., Chen, B., and Xu, L.: Grazing modulates soil temperature and moisture in a Eurasian steppe, Agr. Forest Meteorol., 262, 157–165, https://doi.org/10.1016/j.agrformet.2018.07.011, 2018. a
Ylänne, H. and Stark, S.: Distinguishing Rapid and Slow C Cycling Feedbacks to Grazing in Sub-arctic Tundra, Ecosystems, 22, 1145–1159, https://doi.org/10.1007/s10021-018-0329-y, 2019. a, b, c, d
Ylänne, H., Olofsson, J., Oksanen, L., and Stark, S.: Consequences of grazer-induced vegetation transitions on ecosystem carbon storage in the tundra, Funct. Ecol., 32, 1091–1102, https://doi.org/10.1111/1365-2435.13029, 2018. a, b, c, d, e, f, g
Zimov, S. A., Chuprynin, V. I., Oreshko, A. P., Chapin, F. S., Reynolds, J. F., and Chapin, M. C.: Steppe-Tundra Transition – a Herbivore-Driven Biome Shift at the End of the Pleistocene, Am. Nat., 146, 765–794, https://doi.org/10.1086/285824, 1995. a
Zimov, S. A., Zimov, N. S., Tikhonov, A. N., and Chapin III, F. S.: Mammoth steppe: A high-productivity phenomenon, Quaternary Sci. Rev., 57, 26–45, https://doi.org/10.1016/j.quascirev.2012.10.005, 2012. a, b
Zona, D., Lipson, D. A., Zulueta, R. C., Oberbauer, S. F., and Oechel, W. C.: Microtopographic controls on ecosystem functioning in the Arctic Coastal Plain, J. Geophys. Res.-Biogeo., 116, 1–12, https://doi.org/10.1029/2009JG001241, 2011. a, b