Articles | Volume 19, issue 9
https://doi.org/10.5194/bg-19-2487-2022
© Author(s) 2022. This work is distributed under
the Creative Commons Attribution 4.0 License.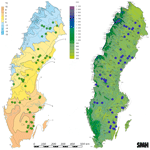 Climatic variation drives loss and restructuring of carbon and nitrogen in boreal forest wildfire
The boreal forest landscape covers approximately 10 % of the earth's land area and accounts for almost 30 % of the global annual terrestrial sink of carbon (C). Increased emissions due to climate-change-amplified fire frequency, size, and intensity threaten to remove elements such as C and nitrogen (N) from forest soil and vegetation at rates faster than they accumulate. This may result in large areas within the region becoming a net source of greenhouse gases, creating a positive feedback loop with a changing climate. Meter-scale estimates of area-normalized fire emissions are limited in Eurasian boreal forests, and knowledge of their relation to climate and ecosystem properties is sparse. This study sampled 50 separate Swedish wildfires, which occurred during an extreme fire season in 2018, providing quantitative estimates of C and N loss due to fire along a climate gradient. Mean annual precipitation had strong positive effects on total fuel, which was the strongest driver for increasing C and N losses. Mean annual temperature (MAT) influenced both pre- and postfire organic layer soil bulk density and C : N ratio, which had mixed effects on C and N losses. Significant fire-induced loss of C estimated in the 50 plots was comparable to estimates in similar Eurasian forests but approximately a quarter of those found in typically more intense North American boreal wildfires. N loss was insignificant, though a large amount of fire-affected fuel was converted to a low C : N surface layer of char in proportion to increased MAT. These results reveal large quantitative differences in C and N losses between global regions and their linkage to the broad range of climate conditions within Fennoscandia. A need exists to better incorporate these factors into models to improve estimates of global emissions of C and N due to fire in future climate scenarios. Additionally, this study demonstrated a linkage between climate and the extent of charring of soil fuel and discusses its potential for altering C and N dynamics in postfire recovery.
Received: 07 Jul 2021 – Discussion started: 09 Jul 2021 – Revised: 15 Apr 2022 – Accepted: 21 Apr 2022 – Published: 13 May 2022
Worldwide, boreal forests cover approximately 10 % of land area (Keenan et al., 2015) and account for a net carbon (C) sink into plants and soil of 0.31 ± 0.19 Pg C yr−1, equivalent to 27.3 ± 16.7 % of the planet's terrestrial C sink (Tagesson et al., 2020). This sink plays a pivotal role in the greenhouse gas content of the atmosphere (Lemprière et al., 2013). Low temperatures and often waterlogged soil conditions reduce the rate of decomposition relative to litter additions, resulting in the buildup of thick layers of soil organic material where the majority of C is stored (Malhi et al., 1999; Rapalee et al., 1998). The balance of C transferred between atmospheric and terrestrial stocks on the yearly timescale is dictated by rates of terrestrial net primary production and respiration, which are themselves controlled by temperature, moisture, and nitrogen (N) availability (Deluca and Boisvenue, 2012).
The predominant disturbance to this C balance in the boreal region is outbreaks of wildfires which reoccur in individual forest stands at the centurial timescale (Bond-Lamberty et al., 2007). Among the immediate effects of fire are a substantial release of C to the atmosphere from soil and vegetation (Schultz et al., 2008) as well as physical restructuring of the habitat through varying degrees of over- and understory removal and changes in soil properties such as bulk density (Certini, 2005). Further, bioavailability of energy sources and nutrients is substantially affected as elements such as C and N are lost and their chemical structure is altered by heating, i.e., charred (Pellegrini et al., 2021; Neff et al., 2005). Along with a changing climate, these effects influence community structure and processes such as soil respiration and nutrient cycling, which can shape future forest C and N cycles on decadal to centurial timescales (Johnstone et al., 2020; Mekonnen et al., 2019). Changing patterns of temperature and precipitation in recent decades have caused increases in frequency, intensity, and size of fires across the global boreal region, with further amplification predicted in the future (de Groot et al., 2013b; Gillett et al., 2004; Kelly et al., 2013; de Groot et al., 2003). Increasing emissions of C to the atmosphere due to fire and changing C cycling in recovering ecosystems may accelerate climate change (Li et al., 2017).
Both long-term (interannual variability) and short-term (intra-annual variability) processes have been identified as drivers of the dynamics of fire events. In particular, in North American boreal forests, the strongest driver of area-normalized emissions of C from wildfires appears to be total fuel (i.e., potentially combustible organic material) (Walker et al., 2018, 2020a, b). Fuel accumulation has been found to be strongly related to stand age and longer-term moisture levels (a factor of drainage conditions, evapotranspiration, and inputs through precipitation and lateral water flow) (Walker et al., 2018, 2020a, b). However, in order for this fuel to be available to be ignited and sustain fire, it must be both adequately dried and located within sufficient proximity to high heat and oxygen exposure during an active fire. This instantaneous proportion of total fuel that is readily combustible is termed fuel availability. Therefore, boreal wildfire models often incorporate short-term fire weather variables (e.g. drought indices, temperature, wind speed, relative humidity) and separate soil fuel loads into distinct compartments such as surface litter (influencing ignition and rate of spread) and the more compactly arranged layers below (acting as a heat reservoir that supports extended smoldering over days to weeks) (de Groot et al., 2003; Van Wagner, 1987; Rabin et al., 2017; Kasischke et al., 2005; Wiggins et al., 2021). Composition of tree species, with their associated fire adaptation strategies, has also been shown to have a strong impact on fire severity and intensity and distinguishes the boreal wildfire regimes of the North American and Eurasian continents (Rogers et al., 2015). Furthermore, climate has been observed to have a conditioning effect on fuel chemical composition through its control over vegetation characteristics and the decomposition state of their detrital inputs, which are often represented by the C : N weight ratio in soils (Vanhala et al., 2008; Kohl et al., 2018). Fuel chemical composition, arrangement, moisture content, applied heat, and oxygen availability in turn have all been related to the efficiency of the combustion reaction during fire and therefore emission chemistry and the charring of remaining fuel, which can form a surface pyrogenic layer with C and N weight concentrations that differ from the original material (Santín et al., 2016; Dymov et al., 2021; Schmidt and Noack, 2000). Production of charred material is an innately fire-driven process and a representative measure of these interrelated effects. Because additions of char to soils have been observed to have strong impacts on C storage and nutrient cycling (Pellegrini et al., 2021; Schmidt and Noack, 2000; Preston and Schmidt, 2006), this fire-induced transformation of remaining fuel is valuable to study alongside its loss from the ecosystem during wildfire.
A general approach to estimating boreal C emissions due to a single wildfire can be taken by multiplying total area burned by estimates of area-normalized C emissions (French et al., 2004; van der Werf et al., 2017). While total area burned may be evaluated directly through remote sensing (Giglio et al., 2018; Ruiz et al., 2012), estimating area-normalized C emissions entails a variety of approaches. These approaches are most often derived from the results of labor-intensive wildfire field sampling or controlled burns which are extrapolated to the larger scale either directly or through weighting by remotely sensed data (e.g. topography, vegetation cover, aerosol density) or poorly constrained parameters such as total fuel load (French et al., 2004; Soja et al., 2004; van der Werf et al., 2017; Veraverbeke et al., 2015; Kaiser et al., 2012). This field sampling has been regionally limited and biased towards a few high-intensity burn complexes in North America (Veraverbeke et al., 2021), which may in turn bias global emission estimates (van Leeuwen et al., 2014; Akagi et al., 2011). For example, the Eurasian boreal region is dominated by relatively fire-resistant overstory vegetation that avoids excessive heating by promoting lower-intensity ground and surface fires than that in boreal North America, which is more prone to spread rapid flaming combustion throughout the canopy (Rogers et al., 2015; de Groot et al., 2013a). C losses in surface fires in Siberian boreal pine forests were found to be 0.88 and 1.69 kg C m−2 under experimental and wild conditions, respectively (Ivanova et al., 2011; Kukavskaya et al., 2017). These are between one-quarter to half of what is typical in North American wildfire (3.3 kg C m−2) (Boby et al., 2010; Walker et al., 2020a). Although Eurasia contains over 70 % of the boreal global land area (de Groot et al., 2013a) and about 50 % (20 Mha yr−1) of its yearly burnt area (Rogers et al., 2015), methodologies for estimating global and regional C emissions are severely lacking ground validation and meter-scale assessments of drivers of C loss variability from this continent (Veraverbeke et al., 2021; van der Werf et al., 2017; Kaiser et al., 2012). Additionally, field measurements of total N loss from wildfire are rare in all boreal regions despite its recognized role as a limiting nutrient and evidence of its immediate removal in similar percentages to C (Boby et al., 2010). Lastly, direct field sampling of boreal wildfire has often focused on individual or small groups of fires located relatively close to each other, with little information about the representativeness of the observations or context of the results within the broader spectrum of fire impacts across the wider region, especially those relating to variation in climate. This knowledge gap has thus far been addressed with conglomerated studies spanning different fire seasons, ecosystem types, and research methodologies (Walker et al., 2020a; Gaboriau et al., 2020). Therefore, widely replicated, systematic field measurements of single-season fire processes in undersampled regions, with particular attention to climate, are needed to derive more robust, generalizable conclusions about boreal forest responses to wildfire.
This study sampled 50 separate fire complexes spanning broad gradients of mean annual temperature (MAT) and precipitation (MAP) which ignited in Sweden during summer 2018 (Fig. 1). This summer, along with that of 2014, were two of the most extreme fire seasons within Sweden in recent history, driven by severe drought conditions (Wilcke et al., 2020). The goal of this study is to distinguish the effects of climate on fire-induced changes in C and N stocks in an undersampled region with in situ, fine-scale measurements that both provide insight into local processes and allow for global comparison. Space-for-time substitution (De Frenne et al., 2013) along with a paired-sample design (Boby et al., 2010; Granath et al., 2021) provided insight into possible future conditions of Fennoscandian forests under a changing climate and fire regime. Specifically, the following was hypothesized: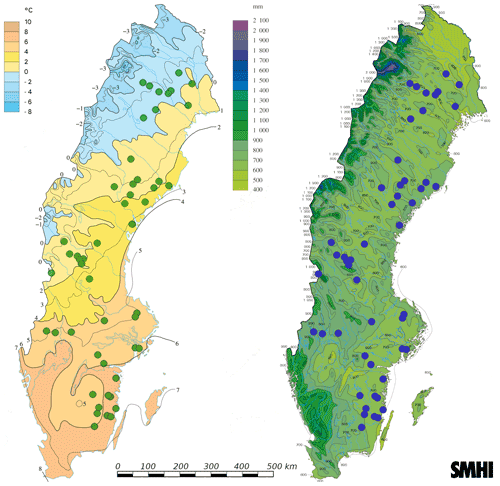 Fire significantly reduced C and N stocks across forest compartments.

Fire restructured organic layer C and N stocks by increasing overall bulk density and adjusting their weight concentrations across residual compartments and a newly formed pyrogenic layer.

Loss of soil and understory C and N stocks and their transfer to the surface pyrogenic layer were correlated to prefire total fuel amount, composition, and distribution amongst forest compartments.

A direct relation between climate variables and fire-induced C and N stock changes exists.

The relation between climate and fire-driven C and N stock changes is mediated by long-term ecosystem properties that affect the amount of forest fuel removed during fire.
This study measured wildfire impacts across current climatic gradients of precipitation and temperature to show that climate controls total releases of C and N during fire events mainly due to its effect on increasing organic layer fuel load. The role of MAP is focused on the total quantity of this fuel load, whereas MAT has a more qualitative effect by influencing bulk density, CR, and NR in the organic layer. When controlling for total organic layer fuel, increasing MAT, and to a lesser extent MAP, reduces C loss due to fire through preconditioning of the organic layer as measured by a lowered C : N ratio. Additionally, both C and N losses are mitigated by increased MAT through the sequestering of fire-affected fuel into a surface layer of charred material. This conservation effect is stronger for N, which had no overall significant loss in stocks due to fire, and which also had stronger unexplained direct mitigating effects of MAT on its loss that were hypothesized to be related to time-of-fire properties such as fire intensity and temperature. While remaining ecosystem variables regarding fuel composition and distribution could not be strongly linked to total C and N losses, it is of interest to analyze their role in cross-regional comparisons and to investigate whether they influence other fire-related properties such as ignition likelihood, fire propagability, and fire intensity. Advancing knowledge of the intricate ties between instantaneous processes of fire events and their long-term effects on C and N cycling demands comprehensive research approaches that pay particular attention to climate sensitivity. This knowledge is imperative for producing accurate predictions of boreal forest functioning under future climate scenarios.
Author contributions using the CRediT contributor roles taxonomy are as follows: conceptualization (JAE, JAK, DBM), data curation (JAE), formal analysis (JAE), funding acquisition (JAK, DBM), investigation (JAE, JAK, DBM), methodology (JAE, JAK, DBM), project administration (JAE, JAK, DBM), resources (JAE, DBM), software (JAE), supervision (JAE, JAK, DBM), validation (JAE, JAK, DBM), visualization (JAE), writing – original draft preparation (JAE), and writing – review and editing (JAE, JAK, DBM).
The contact author has declared that neither they nor their co-authors have any competing interests.
Publisher's note: Copernicus Publications remains neutral with regard to jurisdictional claims in published maps and institutional affiliations.
This article is part of the special issue "The role of fire in the Earth system: understanding interactions with the land, atmosphere, and society (ESD/ACP/BG/GMD/NHESS inter-journal SI)". It is a result of the EGU General Assembly 2020, 3–8 May 2020.
C and N analyses were performed in the Department of Geology, Lund University under supervision of Karl Ljung. Valuable information was provided by representatives from the Swedish Forest Agency and Swedish Civil Contingencies Agency. Thank you to Geerte Fälthammar-de Jong for dedicated assistance in fieldwork planning and execution. Crucial field and lab assistance was provided by Rieke Madsen, Femke Pijcke, Lotte Wendt, Julia Iwan, and Henni Ylänne. Guidance from Karl Ljung, Åsa Wallin, Patrik Vestin, and Michael Gundale in sample collection and processing was critical and highly appreciated. Thanks are given to the three anonymous reviewers, who provided helpful suggestions for improvement during manuscript development. Friends, family, and colleagues were vital sources of support and inspiration throughout this work.
Johan A. Eckdahl was supported by the strategic research area Biodiversity and Ecosystems in a Changing Climate, BECC, at Lund University. Jeppe A. Kristensen was supported by the Carlsberg Foundation (grant CF20-0238). Daniel B. Metcalfe was supported by funding from the European Research Council under the European Union's Horizon 2020 research and innovation programme (ECOHERB; grant no. 682707).
This paper was edited by Sander Veraverbeke and reviewed by three anonymous referees.
Akagi, S. K., Yokelson, R. J., Wiedinmyer, C., Alvarado, M. J., Reid, J. S., Karl, T., Crounse, J. D., and Wennberg, P. O.: Emission factors for open and domestic biomass burning for use in atmospheric models, Atmos. Chem. Phys., 11, 4039–4072, https://doi.org/10.5194/acp-11-4039-2011, 2011. a
Akaike, H.: A new look at the statistical model identification, IEEE T. Automat. Contr., 19, 716–723, https://doi.org/10.1109/TAC.1974.1100705, 1974. a
Alexander, H. D., Natali, S. M., Loranty, M. M., Ludwig, S. M., Spektor, V. V., Davydov, S., Zimov, N., Trujillo, I., and Mack, M. C.: Impacts of increased soil burn severity on larch forest regeneration on permafrost soils of far northeastern Siberia, Forest Ecol. Manage., 417, 144–153, https://doi.org/10.1016/j.foreco.2018.03.008, 2018. a
Alin, A.: Multicollinearity, WIREs Computational Statistics, 2, 370–374, https://doi.org/10.1002/wics.84, 2010. a, b
Bataineh, A. L., Oswald, B. P., Bataineh, M., Unger, D., Hung, I.-K., and Scognamillo, D.: Spatial autocorrelation and pseudoreplication in fire ecology, Fire Ecol., 2, 107–118, https://doi.org/10.4996/fireecology.0202107, 2006. a
Beguería, S., Latorre, B., Reig, F., and Vicente-Serrarno, S. M.: Global SPEI database, https://spei.csic.es/database.html, last access: 15 July 2019. a
Beven, K. J. and Kirkby, M. J.: A physically based, variable contributing area model of basin hydrology, Hydrol. Sci. B., 24, 43–69, https://doi.org/10.1080/02626667909491834, 1979. a
Boby, L. A., Schuur, E. A. G., Mack, M. C., Verbyla, D., and Johnstone, J. F.: Quantifying fire severity, carbon, and nitrogen emissions in Alaska's boreal forest, Ecol. Appl., 20, 1633–1647, https://doi.org/10.1890/08-2295.1, 2010. a, b, c, d, e, f, g, h
Bodí, M. B., Martin, D. A., Balfour, V. N., Santín, C., Doerr, S. H., Pereira, P., Cerdà, A., and Mataix-Solera, J.: Wildland fire ash: Production, composition and eco-hydro-geomorphic effects, Earth-Sci. Rev., 130, 103–127, https://doi.org/10.1016/j.earscirev.2013.12.007, 2014. a, b
Bond-Lamberty, B., Peckham, S. D., Ahl, D. E., and Gower, S. T.: Fire as the dominant driver of central Canadian boreal forest carbon balance, Nature, 450, 89–92, https://doi.org/10.1038/nature06272, 2007. a
Buchanan, B. P., Fleming, M., Schneider, R. L., Richards, B. K., Archibald, J., Qiu, Z., and Walter, M. T.: Evaluating topographic wetness indices across central New York agricultural landscapes, Hydrol. Earth Syst. Sci., 18, 3279–3299, https://doi.org/10.5194/hess-18-3279-2014, 2014. a
Callesen, I., Raulund-Rasmussen, K., Westman, C., and Tau-Strand, L.: Nitrogen pools and C : N ratios in well-drained Nordic forest soils related to climate and soil texture, Boreal Environ. Res., 12, 681–692, 2007. a
Canada Soil Survey Committee: The Canadian system of soil classification, Research Branch, Canada Department of Agriculture, ISBN-13 978-0-66001-620-7, 1978. a
Certini, G.: Effects of fire on properties of forest soils: a review, Oecologia, 143, 1–10, https://doi.org/10.1007/s00442-004-1788-8, 2005. a, b, c
Chen, D., Zhang, P., Seftigen, K., Ou, T., Giese, M., and Barthel, R.: Hydroclimate changes over Sweden in the twentieth and twenty-first centuries: a millennium perspective, Geogr. Ann. A, 103, 103–131, https://doi.org/10.1080/04353676.2020.1841410, 2021. a
De Frenne, P., Graae, B. J., Rodríguez-Sánchez, F., Kolb, A., Chabrerie, O., Decocq, G., De Kort, H., De Schrijver, A., Diekmann, M., Eriksson, O., Gruwez, R., Hermy, M., Lenoir, J., Plue, J., Coomes, D. A., and Verheyen, K.: Latitudinal gradients as natural laboratories to infer species' responses to temperature, J. Ecol., 101, 784–795, https://doi.org/10.1111/1365-2745.12074, 2013. a
de Groot, W., Bothwell, P., Carlsson, D., and Logan, K.: Simulating the effects of future fire regimes on western Canadian boreal forests, J. Veg. Sci., 14, 355–364, https://doi.org/10.1111/j.1654-1103.2003.tb02161.x, 2003. a, b
de Groot, W. J., Cantin, A. S., Flannigan, M. D., Soja, A. J., Gowman, L. M., and Newbery, A.: A comparison of Canadian and Russian boreal forest fire regimes, Forest Ecol. Manage., 294, 23–34, https://doi.org/10.1016/j.foreco.2012.07.033, 2013a. a, b, c
de Groot, W. J., Flannigan, M. D., and Cantin, A. S.: Climate change impacts on future boreal fire regimes, Forest Ecol. Manage., 294, 35–44, https://doi.org/10.1016/j.foreco.2012.09.027, 2013b. a
Deluca, T. H. and Boisvenue, C.: Boreal forest soil carbon: distribution, function and modelling, Forestry, 85, 161–184, https://doi.org/10.1093/forestry/cps003, 2012. a, b
Dept. of Forest Resource Management, Swedish University of Agricultural Sciences: SLU Forest Map, https://www.slu.se/centrumbildningar-och-projekt/riksskogstaxeringen/statistik-om-skog/slu-skogskarta/om-slu-skogskarta/ (last access: 15 July 2019), 2015. a
Dieleman, C. M., Rogers, B. M., Potter, S., Veraverbeke, S., Johnstone, J. F., Laflamme, J., Solvik, K., Walker, X. J., Mack, M. C., and Turetsky, M. R.: Wildfire combustion and carbon stocks in the southern Canadian boreal forest: Implications for a warming world, Glob. Change Biol., 26, 6062–6079, https://doi.org/10.1111/gcb.15158, 2020. a
Dymov, A., Startsev, V., Milanovsky, E., Valdes-Korovkin, I., Farkhodov, Y., Yudina, A., Donnerhack, O., and Guggenberger, G.: Soils and soil organic matter transformations during the two years after a low-intensity surface fire (Subpolar Ural, Russia), Geoderma, 404, 115278, https://doi.org/10.1016/j.geoderma.2021.115278, 2021. a, b, c
Eckdahl, J., Kristensen, J., and Metcalfe, D.: Dataset for "Climatic Variation Drives Loss and Restructuring of Carbon and Nitrogen in Boreal Forest Wildfire", Zenodo [data set], https://doi.org/10.5281/zenodo.5078669, 2021. a
Esri Inc.: ArcGIS Pro, Esri Inc., https://www.esri.com/en-us/arcgis/products/arcgis-pro/, last access: 15 July 2019. a
French, N. H., Goovaerts, P., and Kasischke, E. S.: Uncertainty in estimating carbon emissions from boreal forest fires, J. Geophys. Res.-Atmos., 109, D14S08, https://doi.org/10.1029/2003JD003635, 2004. a, b
Gaboriau, D. M., Remy, C. C., Girardin, M. P., Asselin, H., Hély, C., Bergeron, Y., and Ali, A. A.: Temperature and fuel availability control fire size/severity in the boreal forest of central Northwest Territories, Canada, Quaternary Sci. Rev., 250, 106697, https://doi.org/10.1016/j.quascirev.2020.106697, 2020. a
Giglio, L., Boschetti, L., Roy, D. P., Humber, M. L., and Justice, C. O.: The Collection 6 MODIS burned area mapping algorithm and product, Remote Sens. Environ., 217, 72–85, https://doi.org/10.1016/j.rse.2018.08.005, 2018. a
Gillett, N., Weaver, A., Zwiers, F., and Flannigan, M.: Detecting the effect of climate change on Canadian forest fires, Geophys. Res. Lett., 31, L18211, https://doi.org/10.1029/2004GL020876, 2004. a
Granath, G., Evans, C. D., Strengbom, J., Fölster, J., Grelle, A., Strömqvist, J., and Köhler, S. J.: The impact of wildfire on biogeochemical fluxes and water quality in boreal catchments, Biogeosciences, 18, 3243–3261, https://doi.org/10.5194/bg-18-3243-2021, 2021. a, b, c, d
Gundale, M. J. and DeLuca, T. H.: Temperature and source material influence ecological attributes of ponderosa pine and Douglas-fir charcoal, Forest Ecol. Manage., 231, 86–93, https://doi.org/10.1016/j.foreco.2006.05.004, 2006. a
Gustafsson, L., Berglind, M., Granström, A., Grelle, A., Isacsson, G., Kjellander, P., Larsson, S., Lindh, M., Pettersson, L. B., Strengbom, J., Stridh, B., Sävström, T., Thor, G., Wikars, L.-O., and Mikusiński, G.: Rapid ecological response and intensified knowledge accumulation following a north European mega-fire, Scand. J. Forest Res., 34, 234–253, https://doi.org/10.1080/02827581.2019.1603323, 2019. a
Ivanova, G., Conard, S., Kukavskaya, E., and McRae, D.: Fire impact on carbon storage in light conifer forests of the Lower Angara region, Siberia, Environ. Res. Lett., 6, 045203, https://doi.org/10.1088/1748-9326/6/4/045203, 2011. a, b
Johnstone, J., Celis, G., Chapin III, F., Hollingsworth, T., Jean, M., and Mack, M.: Factors shaping alternate successional trajectories in burned black spruce forests of Alaska, Ecosphere, 11, e03129, https://doi.org/10.1002/ecs2.3129, 2020. a
Jonsson, B. G., Ekström, M., Esseen, P.-A., Grafström, A., Ståhl, G., and Westerlund, B.: Dead wood availability in managed Swedish forests – Policy outcomes and implications for biodiversity, Forest Ecol. Manage., 376, 174–182, https://doi.org/10.1016/j.foreco.2016.06.017, 2016. a
Kaiser, J. W., Heil, A., Andreae, M. O., Benedetti, A., Chubarova, N., Jones, L., Morcrette, J.-J., Razinger, M., Schultz, M. G., Suttie, M., and van der Werf, G. R.: Biomass burning emissions estimated with a global fire assimilation system based on observed fire radiative power, Biogeosciences, 9, 527–554, https://doi.org/10.5194/bg-9-527-2012, 2012. a, b
Kasischke, E. S., Hyer, E. J., Novelli, P. C., Bruhwiler, L. P., French, N. H., Sukhinin, A. I., Hewson, J. H., and Stocks, B. J.: Influences of boreal fire emissions on Northern Hemisphere atmospheric carbon and carbon monoxide, Global Biogeochem. Cy., 19, GB1012, https://doi.org/10.1029/2004GB002300, 2005. a
Keenan, R. J., Reams, G. A., Achard, F., de Freitas, J. V., Grainger, A., and Lindquist, E.: Dynamics of global forest area: Results from the FAO Global Forest Resources Assessment 2015, Forest Ecol. Manage., 352, 9–20, https://doi.org/10.1016/j.foreco.2015.06.014, 2015. a
Kelly, J., Ibáñez, T. S., Santín, C., Doerr, S. H., Nilsson, M.-C., Holst, T., Lindroth, A., and Kljun, N.: Boreal forest soil carbon fluxes one year after a wildfire: Effects of burn severity and management, Glob. Change Biol., 27, 4181–4195, https://doi.org/10.1111/gcb.15721, 2021. a
Kelly, R., Chipman, M. L., Higuera, P. E., Stefanova, I., Brubaker, L. B., and Hu, F. S.: Recent burning of boreal forests exceeds fire regime limits of the past 10,000 years, P. Natl. Acad. Sci. USA, 110, 13055–13060, https://doi.org/10.1073/pnas.1305069110, 2013. a
Kohl, L., Philben, M., Edwards, K. A., Podrebarac, F. A., Warren, J., and Ziegler, S. E.: The origin of soil organic matter controls its composition and bioreactivity across a mesic boreal forest latitudinal gradient, Glob. Change Biol., 24, e458–e473, https://doi.org/10.1111/gcb.13887, 2018. a
Kristensen, T., Ohlson, M., Bolstad, P., and Nagy, Z.: Spatial variability of organic layer thickness and carbon stocks in mature boreal forest stands—implications and suggestions for sampling designs, Environ. Monit. Assess., 187, 1–19, https://doi.org/10.1007/s10661-015-4741-x, 2015. a
Kukavskaya, E., Buryak, L., Kalenskaya, O., and Zarubin, D.: Transformation of the ground cover after surface fires and estimation of pyrogenic carbon emissions in the dark-coniferous forests of Central Siberia, Contemp. Probl. Ecol., 10, 62–70, https://doi.org/10.1134/S1995425517010073, 2017. a, b
Lantmäteriet: Markhöjdmodell Nedladdning, grid 50+, https://www.lantmateriet.se/sv/Kartor-och-geografisk-information/geodataprodukter/produktlista/markhojdmodell-nedladdning-grid-50/#steg=1 (last access: 10 May 2022), 2021. a
Lemprière, T., Kurz, W., Hogg, E., Schmoll, C., Rampley, G., Yemshanov, D., McKenney, D., Gilsenan, R., Beatch, A., Blain, D., Bhatti, J., and Krcmar, E.: Canadian boreal forests and climate change mitigation, Environ. Rev., 21, 293–321, https://doi.org/10.1139/er-2013-0039, 2013. a
Li, F., Lawrence, D. M., and Bond-Lamberty, B.: Impact of fire on global land surface air temperature and energy budget for the 20th century due to changes within ecosystems, Environ. Res. Lett., 12, 044014, https://doi.org/10.1088/1748-9326/aa6685, 2017. a
Ludwig, S. M., Alexander, H. D., Kielland, K., Mann, P. J., Natali, S. M., and Ruess, R. W.: Fire severity effects on soil carbon and nutrients and microbial processes in a Siberian larch forest, Glob. Change Biol., 24, 5841–5852, https://doi.org/10.1111/gcb.14455, 2018. a
Makoto, K. and Koike, T.: Charcoal ecology: Its function as a hub for plant succession and soil nutrient cycling in boreal forests, Ecol. Res., 36, 4–12, https://doi.org/10.1111/1440-1703.12179, 2021. a
Makoto, K., Choi, D., Hashidoko, Y., and Koike, T.: The growth of Larix gmelinii seedlings as affected by charcoal produced at two different temperatures, Biol. Fert. Soils, 47, 467–472, https://doi.org/10.1007/s00374-010-0518-0, 2011. a
Makoto, K., Shibata, H., Kim, Y., Satomura, T., Takagi, K., Nomura, M., Satoh, F., and Koike, T.: Contribution of charcoal to short-term nutrient dynamics after surface fire in the humus layer of a dwarf bamboo-dominated forest, Biol. Fert. Soils, 48, 569–577, https://doi.org/10.1007/s00374-011-0657-y, 2012. a
Malhi, Y., Baldocchi, D., and Jarvis, P.: The carbon balance of tropical, temperate and boreal forests, Plant Cell Environ., 22, 715–740, https://doi.org/10.1046/j.1365-3040.1999.00453.x, 1999. a
Marklund, L.: Biomass functions for Norway spruce (Picea abies (L.) Karst.) in Sweden [biomass determination, dry weight], Rapport-Sveriges Lantbruksuniversitet, Institutionen foer Skogstaxering, Sweden, ISBN 91-576-3207-3, 1987. a
Mekonnen, Z. A., Riley, W. J., Randerson, J. T., Grant, R. F., and Rogers, B. M.: Expansion of high-latitude deciduous forests driven by interactions between climate warming and fire, Nat. Plants, 5, 952–958, https://doi.org/10.1038/s41477-019-0495-8, 2019. a
Murphy, P. N., Ogilvie, J., Connor, K., and Arp, P. A.: Mapping wetlands: a comparison of two different approaches for New Brunswick, Canada, Wetlands, 27, 846–854, https://doi.org/10.1672/0277-5212(2007)27[846:MWACOT]2.0.CO;2, 2007. a
Naturvårdsverket: Markfuktighetsindex producerat som del av Nationella marktäckedata, NMD, https://metadatakatalogen.naturvardsverket.se/metadatakatalogen/GetMetaDataById?id=cae71f45-b463-447f-804f-2847869b19b0 (last access: 15 July 2019), 2018. a
Neary, D. G., Klopatek, C. C., DeBano, L. F., and Ffolliott, P. F.: Fire effects on belowground sustainability: a review and synthesis, Forest Ecol. Manage., 122, 51–71, https://doi.org/10.1016/S0378-1127(99)00032-8, 1999. a
Neff, J., Harden, J., and Gleixner, G.: Fire effects on soil organic matter content, composition, and nutrients in boreal interior Alaska, Can. J. Forest Res., 35, 2178–2187, https://doi.org/10.1139/x05-154, 2005. a
Olsson, J., Södling, J., and Wetterhall, F.: Högupplösta nederbördsdata för hydrologisk modellering: en förstudie, SMHI [data set], https://www.smhi.se/publikationer/hogupplosta-nederbordsdata-for-hydrologisk-modellering-en-forstudie-1.32746 (last access: 15 July 2019), 2013. a
Olsson, M. T., Erlandsson, M., Lundin, L., Nilsson, T., Nilsson, Å., and Stendahl, J.: Organic carbon stocks in Swedish Podzol soils in relation to soil hydrology and other site characteristics, Silva Fenn., 43, 209–222, https://doi.org/10.14214/sf.207, 2009. a
Palviainen, M., Pumpanen, J., Berninger, F., Ritala, K., Duan, B., Heinonsalo, J., Sun, H., Köster, E., and Köster, K.: Nitrogen balance along a northern boreal forest fire chronosequence, PloS one, 12, e0174720, https://doi.org/10.1371/journal.pone.0174720, 2017. a
Pellegrini, A. F., Harden, J., Georgiou, K., Hemes, K. S., Malhotra, A., Nolan, C. J., and Jackson, R. B.: Fire effects on the persistence of soil organic matter and long-term carbon storage, Nat. Geosci., 15, 5–13, https://doi.org/10.1038/s41561-021-00867-1, 2021. a, b
Ponomarev, E. I., Kharuk, V. I., and Ranson, K. J.: Wildfires Dynamics in Siberian Larch Forests, Forests, 7, 125, https://doi.org/10.3390/f7060125, 2016. a
Preston, C. M. and Schmidt, M. W. I.: Black (pyrogenic) carbon: a synthesis of current knowledge and uncertainties with special consideration of boreal regions, Biogeosciences, 3, 397–420, https://doi.org/10.5194/bg-3-397-2006, 2006. a
QGIS Development Team: QGIS Geographic Information System, QGIS Association, https://www.qgis.org, last access: 15 July 2019. a
Rabin, S. S., Melton, J. R., Lasslop, G., Bachelet, D., Forrest, M., Hantson, S., Kaplan, J. O., Li, F., Mangeon, S., Ward, D. S., Yue, C., Arora, V. K., Hickler, T., Kloster, S., Knorr, W., Nieradzik, L., Spessa, A., Folberth, G. A., Sheehan, T., Voulgarakis, A., Kelley, D. I., Prentice, I. C., Sitch, S., Harrison, S., and Arneth, A.: The Fire Modeling Intercomparison Project (FireMIP), phase 1: experimental and analytical protocols with detailed model descriptions, Geosci. Model Dev., 10, 1175–1197, https://doi.org/10.5194/gmd-10-1175-2017, 2017. a
Rapalee, G., Trumbore, S. E., Davidson, E. A., Harden, J. W., and Veldhuis, H.: Soil carbon stocks and their rates of accumulation and loss in a boreal forest landscape, Global Biogeochem. Cy., 12, 687–701, https://doi.org/10.1029/98GB02336, 1998. a
Rogers, B. M., Soja, A. J., Goulden, M. L., and Randerson, J. T.: Influence of tree species on continental differences in boreal fires and climate feedbacks, Nat. Geosci., 8, 228–234, https://doi.org/10.1038/ngeo2352, 2015. a, b, c
Ruiz, J. A. M., Riaño, D., Arbelo, M., French, N. H., Ustin, S. L., and Whiting, M. L.: Burned area mapping time series in Canada (1984–1999) from NOAA-AVHRR LTDR: A comparison with other remote sensing products and fire perimeters, Remote Sens. Environ., 117, 407–414, https://doi.org/10.1016/j.rse.2011.10.017, 2012. a
Santín, C., Doerr, S. H., Preston, C. M., and González-Rodríguez, G.: Pyrogenic organic matter production from wildfires: a missing sink in the global carbon cycle, Glob. Change Biol., 21, 1621–1633, https://doi.org/10.1111/gcb.12800, 2015. a
Santín, C., Doerr, S. H., Merino, A., Bryant, R., and Loader, N. J.: Forest floor chemical transformations in a boreal forest fire and their correlations with temperature and heating duration, Geoderma, 264, 71–80, https://doi.org/10.1016/j.geoderma.2015.09.021, 2016. a, b, c, d, e
Schmidt, M. W. and Noack, A. G.: Black carbon in soils and sediments: analysis, distribution, implications, and current challenges, Global Biogeochem. Cy., 14, 777–793, https://doi.org/10.1029/1999GB001208, 2000. a, b, c
Schultz, M. G., Heil, A., Hoelzemann, J. J., Spessa, A., Thonicke, K., Goldammer, J. G., Held, A. C., Pereira, J. M. C., and van het Bolscher, M.: Global wildland fire emissions from 1960 to 2000, Global Biogeochem. Cy., 22, GB2002, https://doi.org/10.1029/2007GB003031, 2008. a
Schweiger, A. H., Irl, S. D. H., Steinbauer, M. J., Dengler, J., and Beierkuhnlein, C.: Optimizing sampling approaches along ecological gradients, Methods Ecol. Evol., 7, 463–471, https://doi.org/10.1111/2041-210X.12495, 2016. a, b
Seabold, S. and Perktold, J.: statsmodels: Econometric and statistical modeling with python, in: 9th Python in Science Conference, edited by: van der Walt, S. and Millman, J., SciPy.org, https://doi.org/10.25080/Majora-92bf1922-011, 2010. a
Sidoroff, K., Kuuluvainen, T., Tanskanen, H., and Vanha-Majamaa, I.: Tree mortality after low-intensity prescribed fires in managed Pinus sylvestris stands in southern Finland, Scand. J. Forest Res., 22, 2–12, https://doi.org/10.1080/02827580500365935, 2007. a, b
Soja, A. J., Cofer, W. R., Shugart, H. H., Sukhinin, A. I., Stackhouse, P. W., McRae, D. J., and Conard, S. G.: Estimating fire emissions and disparities in boreal Siberia (1998–2002), J. Geophys. Res.-Atmos., 109, D14S06, https://doi.org/10.1029/2004JD004570, 2004. a
Stocks, B. J., Mason, J. A., Todd, J. B., Bosch, E. M., Wotton, B. M., Amiro, B. D., Flannigan, M. D., Hirsch, K. G., Logan, K. A., Martell, D. L., and Skinner, W. R.: Large forest fires in Canada, 1959–1997, J. Geophys. Res.-Atmos., 107, FFR 5-1–FFR 5-12, https://doi.org/10.1029/2001JD000484, 2002. a
Tagesson, T., Schurgers, G., Horion, S., Ciais, P., Tian, F., Brandt, M., Ahlström, A., Wigneron, J.-P., Ardö, J., Olin, S., Fan, L., Wu, Z., and Fensholt, R.: Recent divergence in the contributions of tropical and boreal forests to the terrestrial carbon sink, Nat. Ecol. Evol., 4, 202–209, https://doi.org/10.1038/s41559-019-1090-0, 2020. a
Valendik, E.: Temporal and spatial distribution of forest fires in Siberia, in: Fire in Ecosystems of Boreal Eurasia, edited by: Goldammer, J. G. and Furyaev, V. V., 129–138, Springer, https://doi.org/10.1007/978-94-015-8737-2_9, 1996. a
van der Werf, G. R., Randerson, J. T., Giglio, L., van Leeuwen, T. T., Chen, Y., Rogers, B. M., Mu, M., van Marle, M. J. E., Morton, D. C., Collatz, G. J., Yokelson, R. J., and Kasibhatla, P. S.: Global fire emissions estimates during 1997–2016, Earth Syst. Sci. Data, 9, 697–720, https://doi.org/10.5194/essd-9-697-2017, 2017. a, b, c
van Leeuwen, T. T., van der Werf, G. R., Hoffmann, A. A., Detmers, R. G., Rücker, G., French, N. H. F., Archibald, S., Carvalho Jr., J. A., Cook, G. D., de Groot, W. J., Hély, C., Kasischke, E. S., Kloster, S., McCarty, J. L., Pettinari, M. L., Savadogo, P., Alvarado, E. C., Boschetti, L., Manuri, S., Meyer, C. P., Siegert, F., Trollope, L. A., and Trollope, W. S. W.: Biomass burning fuel consumption rates: a field measurement database, Biogeosciences, 11, 7305–7329, https://doi.org/10.5194/bg-11-7305-2014, 2014. a
Van Wagner, C.: Development and structure of the canadian forest fire weather index system, in: Can. For. Serv., Forestry Tech. Rep, Citeseer, ISBN 0-662-15198-4, 1987. a
Vanhala, P., Karhu, K., Tuomi, M., Björklöf, K., Fritze, H., and Liski, J.: Temperature sensitivity of soil organic matter decomposition in southern and northern areas of the boreal forest zone, Soil Biol. Biochem., 40, 1758–1764, https://doi.org/10.1016/j.soilbio.2008.02.021, 2008. a
Veraverbeke, S., Rogers, B. M., and Randerson, J. T.: Daily burned area and carbon emissions from boreal fires in Alaska, Biogeosciences, 12, 3579–3601, https://doi.org/10.5194/bg-12-3579-2015, 2015. a
Veraverbeke, S., Delcourt, C. J., Kukavskaya, E., Mack, M., Walker, X., Hessilt, T., Rogers, B., and Scholten, R. C.: Direct and longer-term carbon emissions from arctic-boreal fires: A short review of recent advances, Current Opinion in Environmental Science & Health, 23, 100277, https://doi.org/10.1016/j.coesh.2021.100277, 2021. a, b, c
Virtanen, P., Gommers, R., Oliphant, T. E., Haberland, M., Reddy, T., Cournapeau, D., Burovski, E., Peterson, P., Weckesser, W., Bright, J., van der Walt, S. J., Brett, M., Wilson, J., Millman, K. J., Mayorov, N., Nelson, A. R. J., Jones, E., Kern, R., Larson, E., Carey, C. J., Polat, İ., Feng, Y., Moore, E. W., VanderPlas, J., Laxalde, D., Perktold, J., Cimrman, R., Henriksen, I., Quintero, E. A., Harris, C. R., Archibald, A. M., Ribeiro, A. H., Pedregosa, F., van Mulbregt, P., and SciPy 1.0 Contributors: SciPy 1.0: Fundamental Algorithms for Scientific Computing in Python, Nat. Methods, 17, 261–272, https://doi.org/10.1038/s41592-019-0686-2, 2020. a
Walker, X. J., Rogers, B. M., Baltzer, J. L., Cumming, S. G., Day, N. J., Goetz, S. J., Johnstone, J. F., Schuur, E. A. G., Turetsky, M. R., and Mack, M. C.: Cross-scale controls on carbon emissions from boreal forest megafires, Glob. Change Biol., 24, 4251–4265, https://doi.org/10.1111/gcb.14287, 2018. a, b, c, d, e
Walker, X., Rogers, B., Veraverbeke, S., Johnstone, J., Baltzer, J., Barrett, K., Bourgeau-Chavez, L., Day, N., Groot, W., Dieleman, C., Goetz, S., Hoy, E., Jenkins, L., Kane, E., Parisien, M.-A., Potter, S., Schuur, E., Turetsky, M., Whitman, E., and Mack, M.: Fuel availability not fire weather controls boreal wildfire severity and carbon emissions, Nat. Clim. Change, 10, 1130–1136, https://doi.org/10.1038/s41558-020-00920-8, 2020a. a, b, c, d, e, f, g
Walker, X. J., Baltzer, J. L., Bourgeau-Chavez, L., Day, N. J., Dieleman, C. M., Johnstone, J. F., Kane, E. S., Rogers, B. M., Turetsky, M. R., Veraverbeke, S., and Mack, M. C.: Patterns of Ecosystem Structure and Wildfire Carbon Combustion Across Six Ecoregions of the North American Boreal Forest, Frontiers in Forests and Global Change, 3, 87, https://doi.org/10.3389/ffgc.2020.00087, 2020b. a, b, c
Wiggins, E. B., Andrews, A., Sweeney, C., Miller, J. B., Miller, C. E., Veraverbeke, S., Commane, R., Wofsy, S., Henderson, J. M., and Randerson, J. T.: Boreal forest fire CO and CH4 emission factors derived from tower observations in Alaska during the extreme fire season of 2015, Atmos. Chem. Phys., 21, 8557–8574, https://doi.org/10.5194/acp-21-8557-2021, 2021. a
Wilcke, R. A. I., Kjellström, E., Lin, C., Matei, D., Moberg, A., and Tyrlis, E.: The extremely warm summer of 2018 in Sweden – set in a historical context, Earth Syst. Dynam., 11, 1107–1121, https://doi.org/10.5194/esd-11-1107-2020, 2020. a
Wooster, M. J. and Zhang, Y. H.: Boreal forest fires burn less intensely in Russia than in North America, Geophys. Res. Lett., 31, L20505, https://doi.org/10.1029/2004GL020805, 2004. a
Zackrisson, O., Nilsson, M.-C., and Wardle, D. A.: Key ecological function of charcoal from wildfire in the Boreal forest, Oikos, 77, 10–19, https://doi.org/10.2307/3545580, 1996. a
Zoltai, S., Morrissey, L., Livingston, G., and Groot, W. D.: Effects of fires on carbon cycling in North American boreal peatlands, Environ. Rev., 6, 13–24, https://doi.org/10.1139/a98-002, 1998. a